The moment a patient steps into your hospital, a unique opportunity arises. One that you and your healthcare digital signage should take full advantage of. You can make use of your network of digital screens to inform and educate patients and curious visitors. This transforms your digital signage into your patient education technology
Utilizing patient education technology, you will reduce patient stress and anxiety. At the same, it promotes a safer, healthier, and more pleasant hospital experience. Bridging the communication divide between patients and doctors, nurses, and other staff members will keep everything running smoother in your hospital.
That's only if you implement digital displays in a smart and effective manner in your healthcare facility, though. Strategically place screens in the most crowded and busy areas of your hospital grounds. Those are the places where people are in the most need of relevant information. Moreover, your patient education technology needs to broadcast content that is highly informative and targeted to your patients.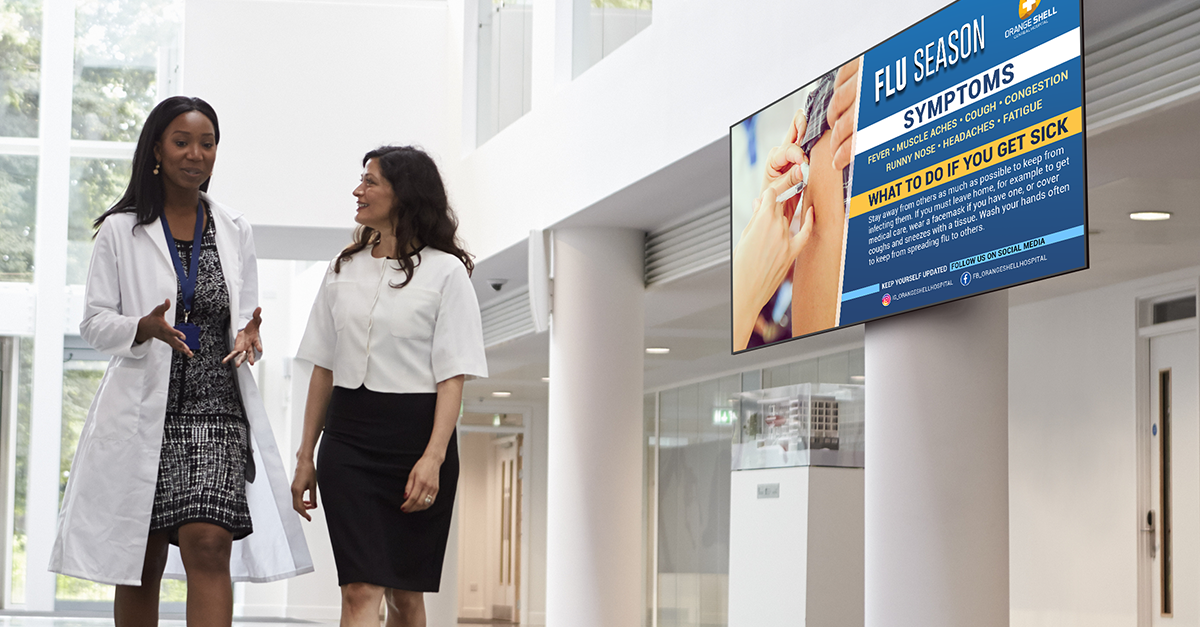 Provide them with useful information at a glance with pictures, videos, and even social media. This will also cut back on the amount of time staff spend explaining or discussing information of minor importance during their busy day.
If a patient has many unanswered questions when the doctor arrives, they are likely to ask the doctor everything. Even logistical and basic facts that could easily be displayed at eye-level during their wait to see the doctor. Digital screens are effective time-savers as well as being great for orienting and educating patients and guests.
Here's everything you need to know to keep your patients and visitors educated from entrance to exit.
Easy Navigation via Wayfinding Signage Through Patient Education Technology
Most hospitals are nothing short of mazes filled with white hallways that look the same. Needless to say, the sheer size and scope of these facilities can cause quite a few headaches for visiting patients. It's important that your hospital use digital wayfinding kiosks to navigate easier from one place to another without any headaches. The last thing they want is any more stress—doctor's visits are already stress-inducing enough.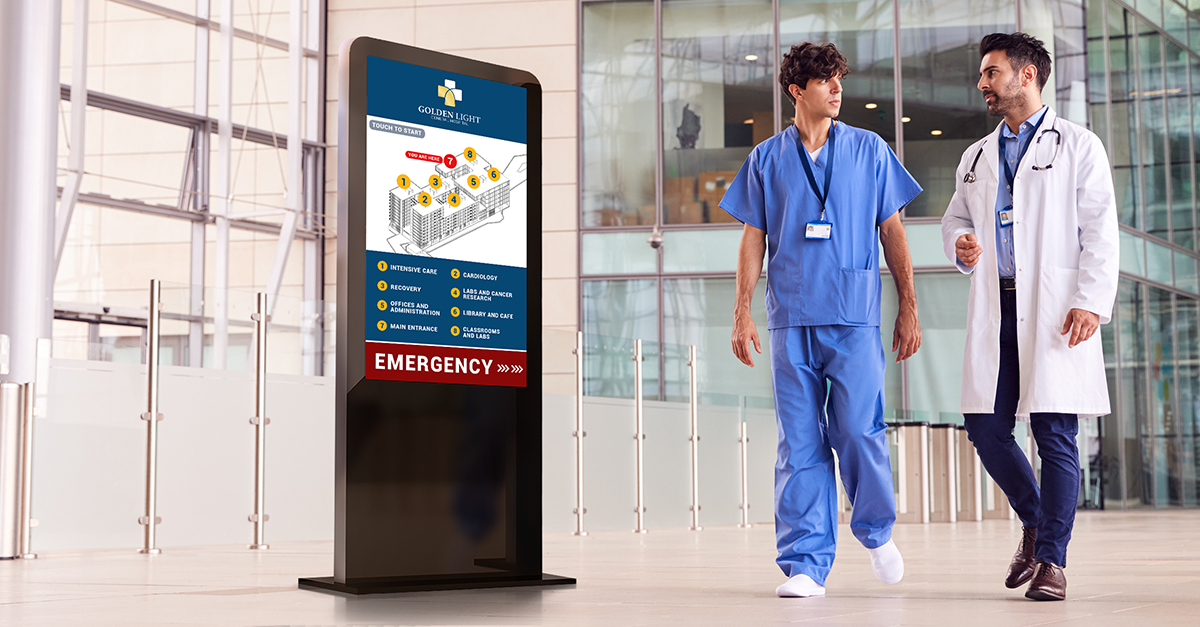 The most obvious placement for interactive wayfinding screens is in your hospital's lobby. When a patient enters your building, they want to be on time for their appointment.
Implement digital signs that point patients in the right direction as they go from your lobby to their intended destination. Long story short: make sure all the high traffic areas of your hospital have wayfinding solutions. It'll ensure that your patients are a lot happier during their visit.
Interactive Patient Waiting Room Information that Promotes Better Health
Oftentimes, long waits during the check-in or registration process can't be avoided in healthcare facilities. But that can be a positive opportunity.
Consider it an opportunity to teach them about preventive healthcare tips such as lifestyle choices, dietary recommendations, and healthy daily habits. You can take it a step further and educate them on the nature of their current illness. Then they can take better care of themselves while also being informed on the subject. This leads to more productive conversations with their doctors and nurses while they're on your premises.
By giving them valuable health-based information while they wait, it will distract them from their overall wait time. They can learn helpful health tips from your screens and hopefully apply that new knowledge to make a positive change in their overall health. This might help stave off another unwanted hospital visit in the future.
Emergency Messaging that Keeps Patients Safe
Not only are hospitals typically gigantic, they have an incredible number of moving parts. They're full of doctors, nurses, staff, patients, and visitors who need up-to-date information. If something ever goes wrong, your hospital needs a contingency plan to ensure everyone stays safe and knows how to respond.
Implement emergency messaging across your hospital's existing digital screens. This ensures that everyone knows how to react quickly and smartly in the event of an emergency.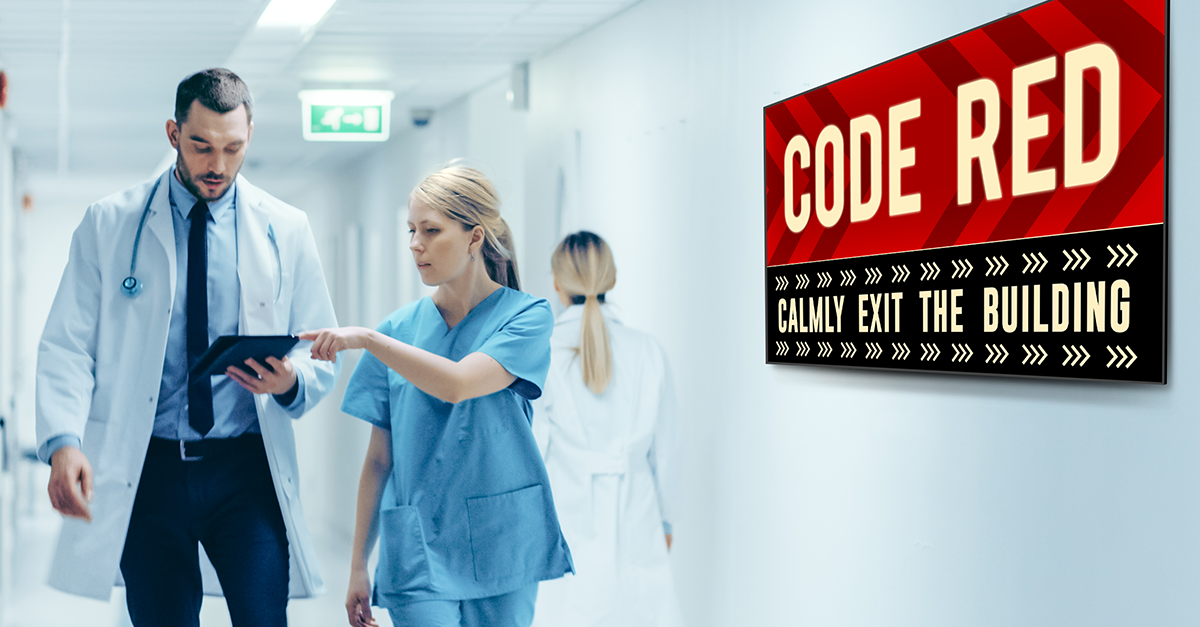 Great hospital mass notification systems are able to send out timely, targeted, and easy to understand emergency alerts. They give your staff, visitors, and patients detailed information on what exactly to do in order to stay safe. Put simply, don't let an extreme weather event, active shooter situation, or some other disastrous event catch your hospital off guard.
Make sure that the emergency messaging solution you choose allows for both pre-built and automated notifications. Those messages should be deployed in seconds. Also, be sure the solution has alert templates that are easy to manually customize on the fly.
Educating patients with visual communications can do a variety of positive things in a healthcare environment. From highlighting valuable health tips and reducing unnecessary stress to helping patients and guests find their way. And, most importantly, always keeping them safe and prepared. All of which your patients will undoubtedly appreciate in both the short and long term.
Conclusion
Patient engagement technology creates meaningful patient interactions from patient questions. Real time effective patient education leads to positive patient experiences. The best option is through digital signage software and hardware.
The software provides patient engagement solutions and better employee communications. The hardware (LCDs, video walls, or menu boards) enables a hospital, clinic, or doctor's office to allow health educators to inform the target audience.
Patient care leads to a personalized health plan with digital signage as one part of your patient education materials. Hospitals see themselves as a resource for patient teaching to create a better health status. And that's the ultimate goal.
Like the idea, but can't rationalize a digital signage purchase without having more uses for it? Check out the 7 Ways Digital Signage for Healthcare Makes Everything Better article for more information.