Obviously, high HCAHPS scores are the difference between hospitals with huge revenue numbers and those that are middling when it comes to overall revenue. That's why boosting your HCAHPS scores is important if you want to maintain a financially thriving hospital. Higher scores equal better payments to your hospital from insurance companies.
Your HCAHPS project team will gather HCAHPS data from your healthcare providers and systems through CAHPS surveys for your score. Digital signage software and hardware will increase that score. The software will be driven on media players, while the hardware will be LCDs, touch screens, menu boards, and video walls. Your images and videos will be managed with a content management system (CMS), viewable to patients and staff.
By adopting or strengthening healthcare digital signage, hospitals greatly impact their HCAHPS scores. Whether your healthcare facility has received poor scores recently or is looking to max out existing high scores across the board, a network of digital screens can make all the difference—and when it comes to HCAHPS scores, minor improvements can lead to hefty revenue gains.
To increase your HCAHPS scores with the help of digital signage, your hospital will need to know exactly how to use a visual communications network to their advantage. That's why we're here to help you determine how you can utilize your digital displays to boost all your hospital's services and your operational efficiency—and, in turn, your HCAHPS scores.
Nurse and Doctor Lounge Communications
Internal communications broadcast on your digital displays in your doctor and nurse lounges can go a long way toward improving employee cooperation and patient care as well as promoting core hospital values.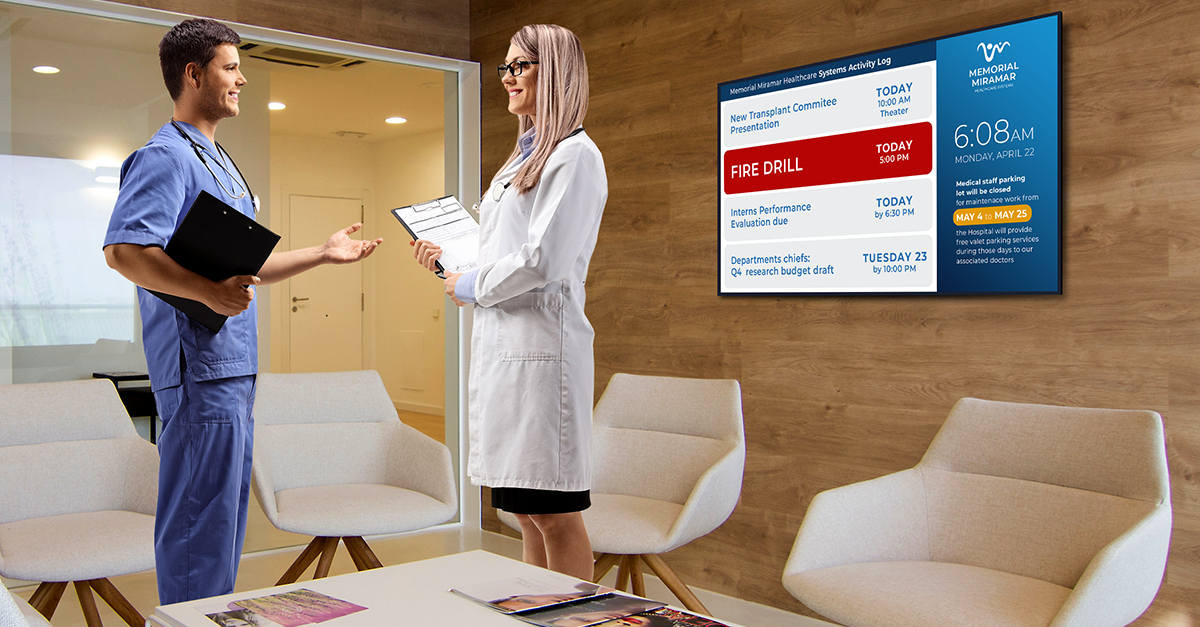 The digital signage content you push on your employee-facing screens shouldn't just be a shot in the dark at improving HCAHPS; it should be strategically designed campaigns aimed at enforcing good HCAHPS scores as laid out by the questions in the HCAHPS patient survey.
For example, the first question in the HCAHPS survey asks patients, "During this hospital stay, how often did nurses treat you with courtesy and respect?" By displaying eye-catching graphics on your internal screens that remind nurses of the core values and mission statements of your hospital, they'll be more likely to always maintain the highest standard of care.
The idea is to have digital signage content run in your nurse and doctor lounges that ensures a healthy and highly motivated work environment that always puts your patients front and center. By displaying continual reminders, your doctors and nurses will be able to stay laser-focused on what's important in regard to HCAHPS standards.
That's a very good thing considering that it's only reasonable to expect nurses and doctors, who often work brutally long and stressful shifts, to start phoning it in on the job sometimes.
Patient-facing Informational Communications
Going to a hospital can be an overwhelming and oftentimes stressful endeavor for patients. A patient's perception of care will lessen their stress if you have a high score.
The best way to ease patient stress—and boost your HCAHPS scores in the process—is to give them the information they need, when and where they need it.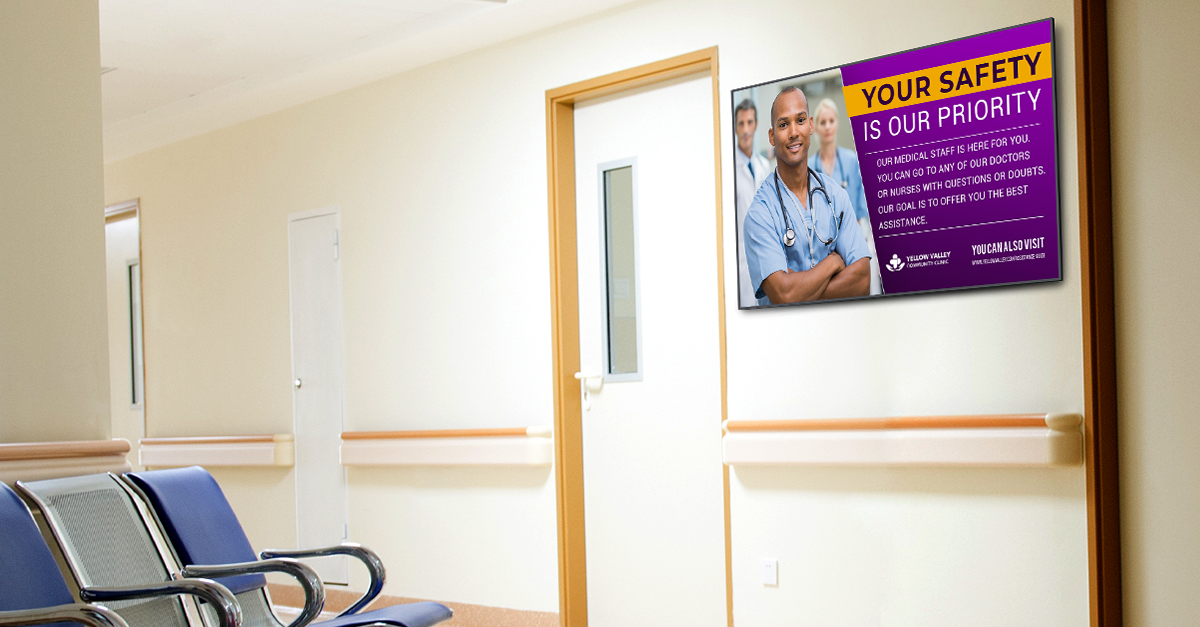 How? Well, you need to display informational marketing across your screens to give patients an idea of what they can expect from doctors and nurses as they are being treated. That way, they'll be able to better engage with their doctors and nurses in more productive ways and remind them if something is lacking in their care, which could dampen your hospital's HCAHPS scores.
Same as before, these educational patient communications displayed on your digital signs should be designed first and foremost with specific questions from the HCAHPS survey in mind.
Question number 14 on the survey asks patients, "Before giving you any new medicine, how often did hospital staff describe possible side effects in a way you could understand?" To improve scores for this question, you could display graphics in hallways that encourage patients to ask their doctors or nurses about the possible side effects of a medicine or treatment if they don't know or can't remember.
When combining your patient communications and employee communications, both your patients and staff will be much more informed, which will help keep everyone on the same page in your hospital. In turn, this will help to strengthen your HCAHPS scores. In fact, studies show that both patients and caregivers overwhelmingly agree (75%) that digital signs enhance the hospital experience.
Put simply, healthcare digital signage is a win all-around.
Communications that Promote a Peaceful Hospital Environment
No one can deny that hospitals are noisy and chaotic environments. In order to make sure it's not a nightmare for everyone involved and a burden on your HCAHPS scores, you should utilize your digital screens to promote a peaceful and pleasant environment as much as humanly possible. This includes calming agitated or confused patients or family members who could become hostile in extreme cases without the proper information at-hand.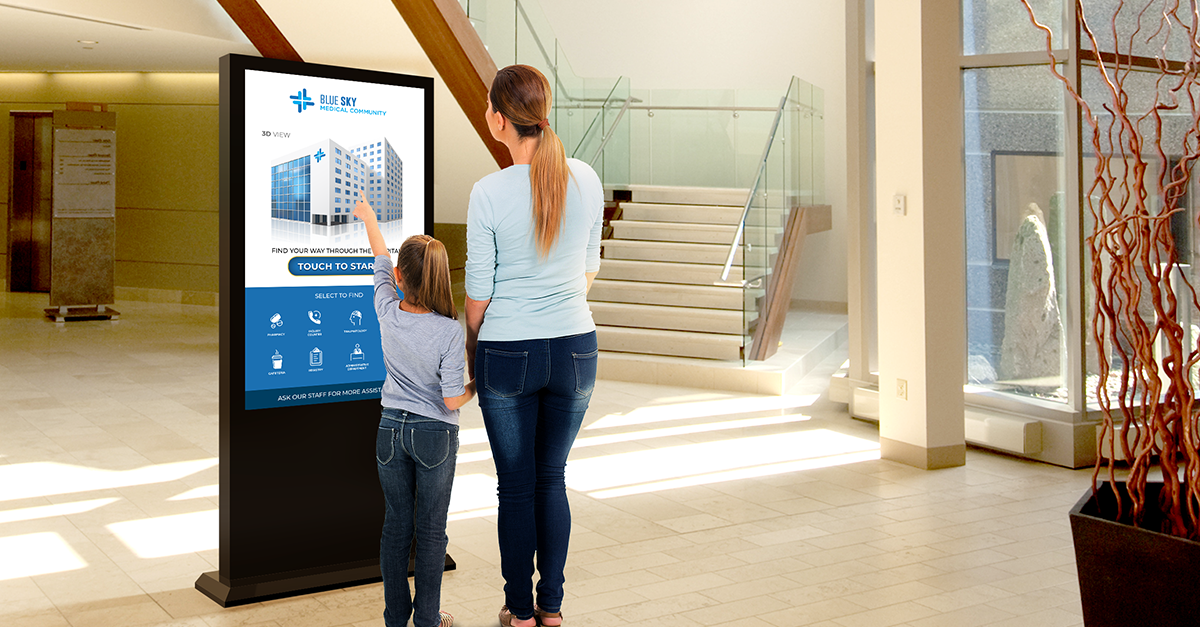 In short, your digital signage solution should display content that is designed to transform your hospital into a more warm and welcoming place for patients, visitors, and staff alike. If you fail and your hospital is a noisy and hectic mess, then surely patients surveyed are going to sound off about it.
The broadest HCAHPS survey question that you want to make sure is addressed by your digital signage is number 19. This question asks how likely patients are to recommend your hospital to friends or family, ranging from definitely yes to definitely no. The best way to make sure patients don't cry foul is to make their visit as easy and stress-free as possible from the moment that they set foot in your hospital to the time they make their exit.
There are many ways to do this. One thing you can do is display content directed at your night shift staff to keep the noise to a minimum as patients are trying to get some much-needed rest. Also, you could use digital wayfinding systems in your hospital's lobby to help patients easily find where they are going upon arrival, which can save them a major headache. You can also use your waiting room screens to display entertaining content like news, sports, educational videos, or live television.
There are many ways to go about it, but just keep your patients in the forefront of your mind when creating content. Patients view it for hours at a time.
Educational Information for Patients Who Are Leaving
Like we said before, patients need to be informed from the moment they arrive in your hospital to the second they leave. Go an extra step if you want to drastically improve your HCAHPS scores.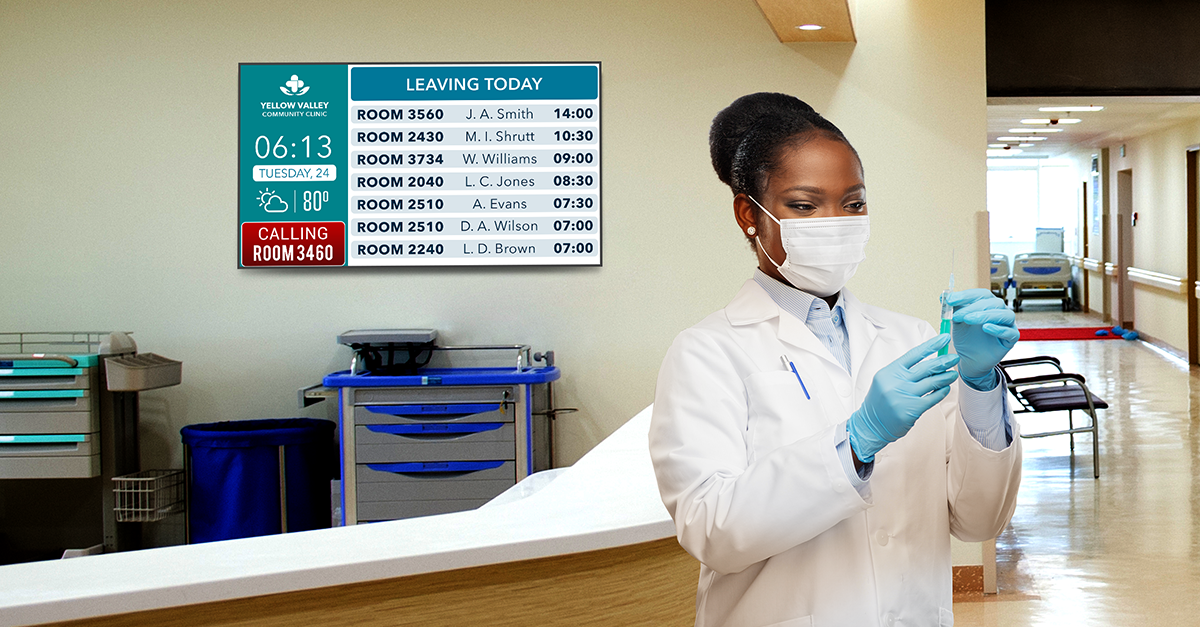 Why? Well, the HCAHPS survey asks more than a handful of questions regarding patient arrangements after they leave from your hospital, from how they'll be transported home and who will help care for them at home to looking out for certain symptoms and how to properly administer the medicine they were given.
In the hospital setting the motto is discharge planning begins on admission. Your nurses and doctors need to fully prepare patients for leaving your hospital in advance. One way to do this is to create a list that automatically stays up to date with the patients leaving your hospital soonest. That way, your nurses and doctors will know ahead of time who needs to be prepped for leaving your hospital and in what order.
By reminding your staff, they'll always remember to go over comprehensive home care tips with patients, medicine dosages, as well as side effects and symptoms—using terms that match the patient's healthcare literacy—to keep an eye on them in the days and weeks following their hospital treatment.
Deploying digital signage is a great tool for making the entire hospital experience better for visitors, staff, and especially your patients, whether it be the quality of the care they receive or the overall vibes they get during their stay—and that alone will go a long way to boosting your HCAHPS scores and, hence, your hospital's revenues.
A consumer's assessment of healthcare comes from healthcare research and the quality of the hospital they want to go to, and from personal experience. Part of that research will involve compare websites showing hospital consumer assessments.
Any agency for healthcare research will rate medical groups higher if they use digital signage. Even displaying Medicare, Medicaid, and services with CMS on your digital screens will be seen as a plus. Digital signage is always a big plus in your HCAHPS score.
Like the idea, but can't rationalize a digital signage purchase without having more uses for it? Check out the 7 Ways Digital Signage for Healthcare Makes Everything Better article for more information.