The life of a doctor or nurse involves long hours, loads of stress, and a ton of pressure with high expectations.
Lives are literally in their hands, after all. There's stress from the weight of residual trauma from working in a volatile and emotionally charged environment. Especially for doctors and nurses working in hospital emergency rooms or intensive care units.
It's no wonder why many medical doctors and nurses struggle with mental health issues on a daily basis. In fact, physicians have a suicide rate conservatively measured at double that of the general population. Moreover, over half of doctors deal with mental burnout in the workplace on a regular basis.
It's estimated that 14% of nurses suffer from post-traumatic stress disorder (PTSD), while 3.5% of the population suffers from PTSD. American nurses in emergency departments or critical care units report even more instances of PTSD—33% and 25% respectively.
When left unchecked, all of these can add up to a super stressed, irritable, emotionally exhausted, depressed, and burnt out workforce. This translates to increased absences, a reduction in the quality of patient care, more medical errors, and poor staff retention rates which can cost your healthcare facility literally millions of dollars per year.
Hospitals should utilize every tool they have to promote better nurse and doctor mental health , including healthcare digital signage. By installing a network of digital screens, or using your hospital's existing digital signage system, you can broadcast content that can help your doctors and nurses. They can maintain a healthy mindset, while at the same time keeping aware of any mental health pitfalls to watch out for and what to do if help is needed with their mental well being.
EAP Awareness Information
As stress becomes too much for health care nurses and doctors, they need an outlet for help. That's why your hospital's vast network of digital signage should highlight the types of mental health symptoms, information on employee assistance programs (EAPs) and types of treatment of mental health symptoms.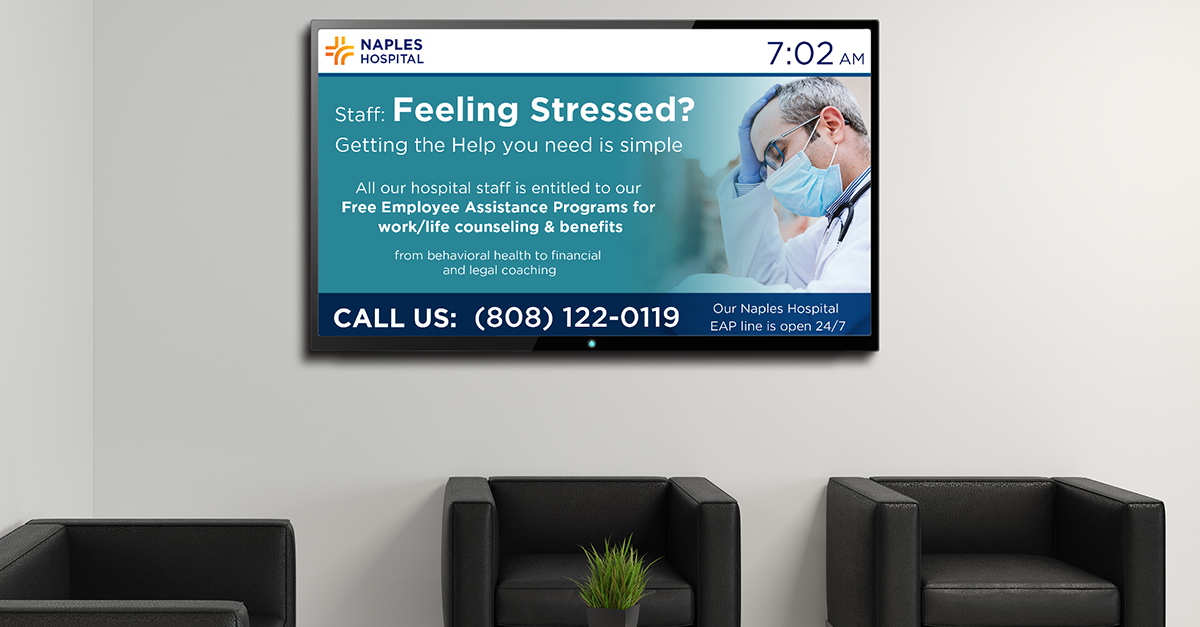 That way, your doctors and nurses will know exactly who to consult when it comes to problems concerning their mental health, such as a primary care doctor, registered nurse, psychiatric nurse, mental health nurse practitioner, or another mental health professional. EAPs can aid in psychological counseling, stress reduction programs, and social workers, to crisis support and legal or financial help . Psychiatric mental health for nurses and doctors is a valuable resource, especially if they're aware of it from digital signs.
Display images, videos, and other content on digital signs, like touch screens and menu boards, to help your doctors and nurses. They'll need to know about treatment plans, talk therapy, and how to treat mental illness. Digital signage software allows you to direct them to their family physician who might prescribe medications. They learned in medical school how to treat patients, but they might not have learned how to treat themselves.
By helping your doctors and nurses find assistance programs (which come at no cost to you or your employees) that can help solve the personal or work-related issues adversely affecting them, they'll be able to dedicate all their time and energy toward their job with better coping mechanisms for stressors, which will inevitably lead to better operational efficiency and patient care.
Gratitude Campaigns
Doctors and nurses have to deal with small amounts of gratitude for the long hours and exhausting work they put in helping people. Many patients will show your staff respect and gratitude. But that is often far outweighed by the blood, sweat, and tears that go into working in a hospital. Especially when the consequences for mistakes are so high.
For that reason, your hospital should do everything in its power to foster a culture of gratitude on its campus, all the way from the staff and organizational leadership to the patients and their family members. Because, at the end of the day, everyone loves to see their dedication and hard work appreciated.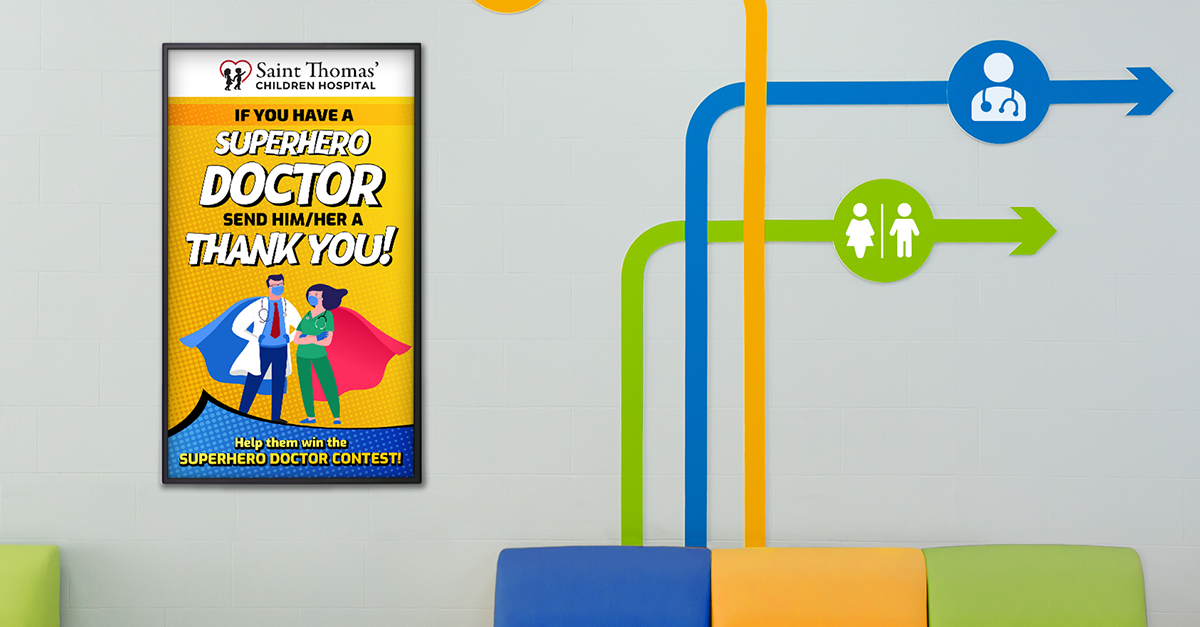 Digital signage can accomplish this is by displaying content that reminds your nurses and doctors of the things they should be thankful for. This includes friends, family, and the impact they have on the lives of others.
Your signs should also encourage patients and their families to leave heartfelt thank you notes on digital screens. Your nurses and doctors will know that the care they give makes a world of difference in the lives of others.
Self-care Reminders
Getting good sleep, practicing proper hygiene, eating healthy, and exercising regularly have a positive impact on good well being. There's no harm in making sure to remind your employees to do each and all of those important things.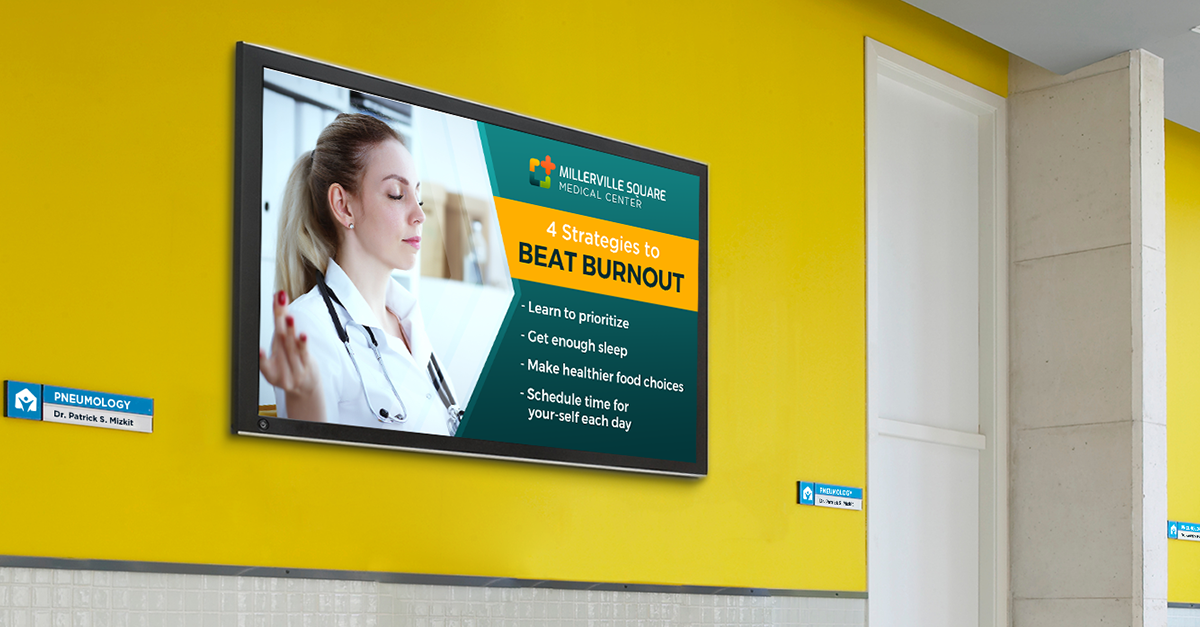 Not only that though, your hospital's digital signage should also promote a healthy mindset and self-awareness. By educating staff members on how to handle trauma in the workplace as well as how to self-reflect, they'll be able to empathize and provide better overall care to patients, while also being more confident in the decisions they make.
Lastly, your network of screens should also emphasize other strategies to boost a positive mental attitude and mindfulness. Your staff should follow of these lifestyle recommendations. Then their chance of not succumbing to burnout and having a better mental state is higher.
Organizational Updates
You've given your nurses and doctors the tools to keep a healthy state of mind. It's now time for the organizational leadership to do their part. Let your staff have a voice in how the organization operates and how it can improve mental health in the workplace.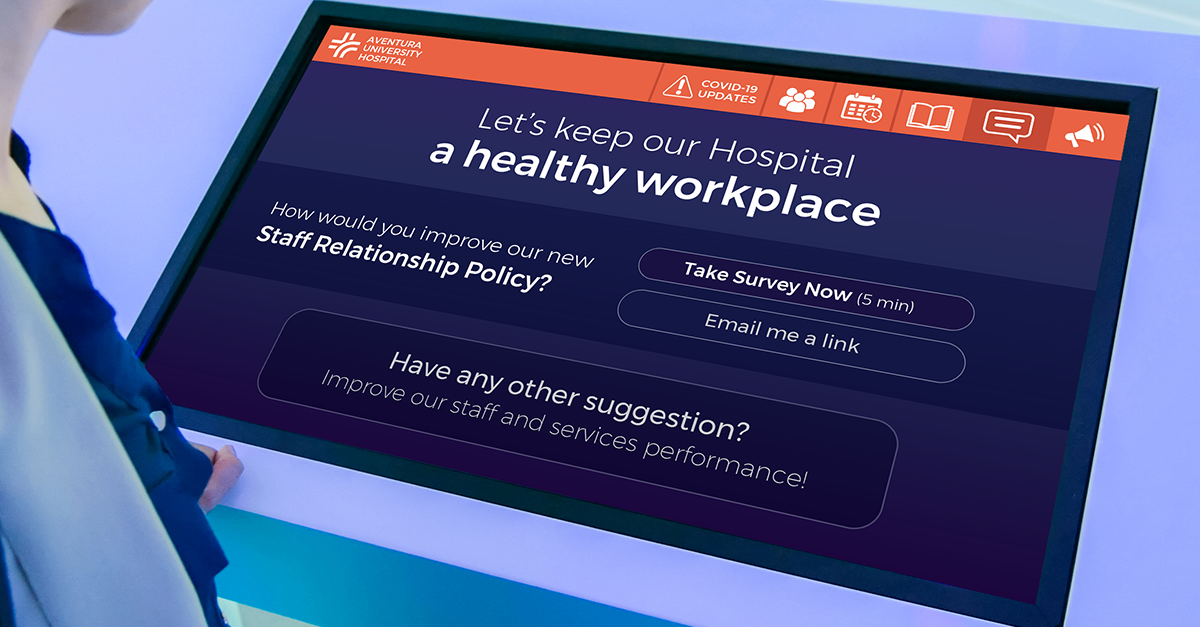 One way to do this is by conducting voluntary polls on your staff area's interactive screens. That can be a good barometer of the overall feeling of your employees—their needs, desires, and complaints. You could also use interactive internal displays to allow your doctors, nurses, and other staff members to log anonymous feedback about your workplace or their problems. Then leadership can have access to it later and institute positive changes or fixes in your hospital.
After you've learned about your employees and their constructive criticism of your hospital, you can make changes and announce them on your screens. This will show your staff that you are listening to them and want to make their workplace the best it can possibly be.
Doctors and nurses exist in a hectic, stress-filled, and oftentimes traumatic work environment. It's important that your hospital's digital signage provides reminders, encouragement, and information to maintain a healthy mental state. It's the right thing to do, but it also keeps the hospital running smoothly, ensuring that your patients get the best care possible.
Broadcast content that encourages, appreciates, and supports doctors, nurses, and other staff in their cause. Use your existing or newly acquired digital signage network to accomplish that. It boosts morale, helps prevent burnout, and creates a more nurturing workplace for your hardworking employees.
Digital signage content run through media players will play an important role for the most valuable people in your hospital. Take full advantage of a tool that gets results.