Needless to say, hospitals and other healthcare facilities are large and chaotic environments which require robust internal and external communication systems. It's a constant uphill battle getting timely information to the people who need it, and where they need it.
With healthcare digital signage and a powerful content strategy, providing real-time and relevant information becomes a whole lot easier. Digital signs help fill in any information gaps that exist between your patients, staff, and guests. This will also create a healthier and more pleasant hospital experience for everyone.
With that said, here's how to take your healthcare communications to the next level with digital signage.
1. Enhance Internal Communications
In a dynamic workplace environment, it's important that everyone stays on the same page. Strategically placed screens can keep all your workers in the loop with info and updates in real-time.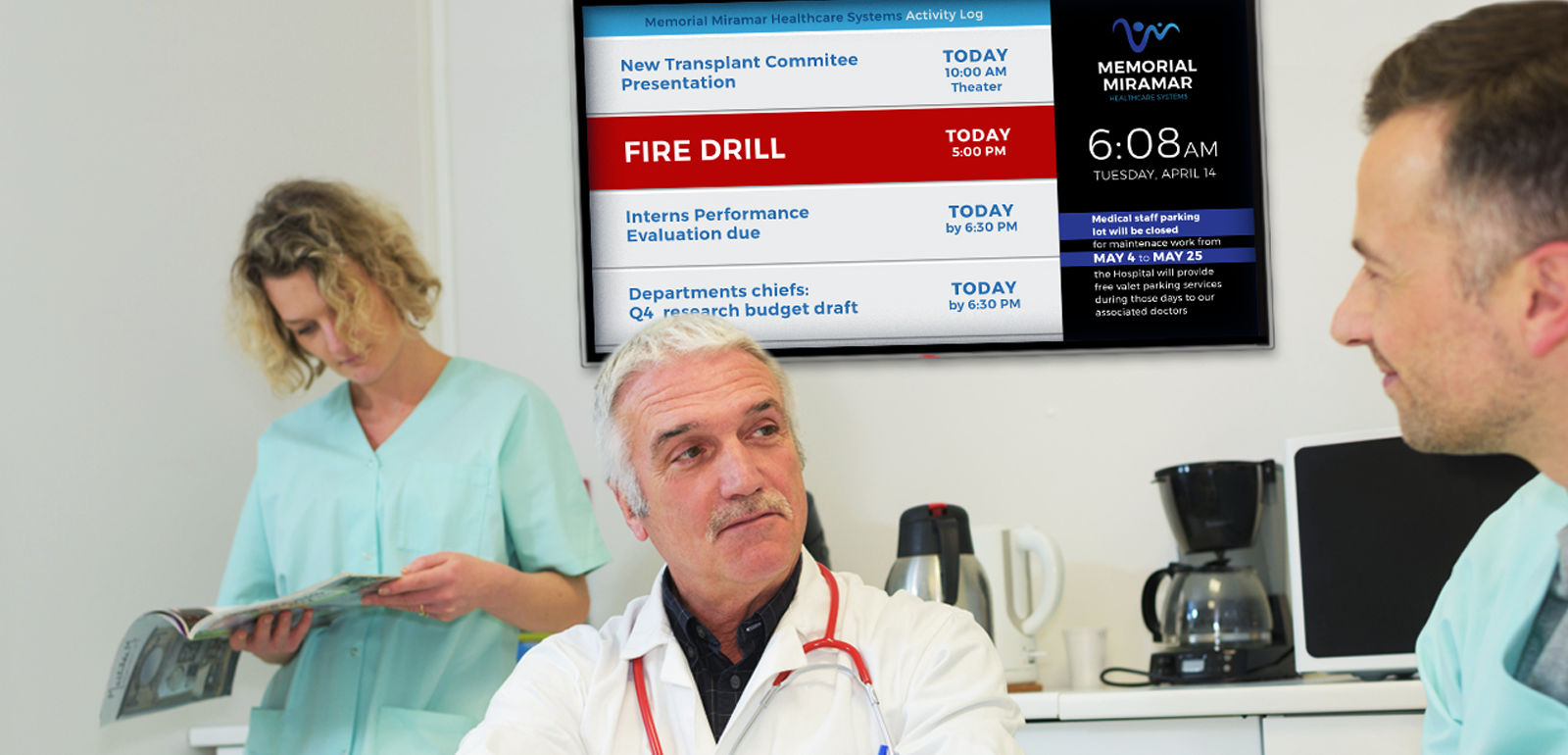 Sending out team member communications on digital displays lets your staff have access to up-to-date and relevant information . Think meeting announcements, department alerts, patient updates, and upcoming events.
Healthcare digital signage will improve internal communications. In return, your hospital will boost its efficiency. It also provides better care, and eliminates communication mistakes or lack of access to pertinent info in a timely manner. In case communication skills fail, digital signs provide a safety net to ensure the information gets delivered.
2. Educate Patients and Promote a Healthier Hospital Environment
Hospitals are places where you treat patients after the fact. When a patient's health improves, they can educate patients on various health topics and provide preventable care tips.
Educational content improves patients' health outcomes and lessens unnecessary hospital visits which lead to overcrowding and delays in their care. Digital signs allow effective communication which will resonate the next time a patient is about to partake in a vice. This will result in overall better quality care and patient outcomes.
Use your network of digital displays to launch awareness campaigns that promote and maintain a healthy hospital environment.
Remind your patients and visitors to wash their hands after visiting the restroom. Or remind them to stay current on their vaccinations at your hospital. Promote your hospital's values and best practices on your digital signs. Your patients, guests, and employees won't miss those important values.
3. Improve Navigation with Wayfinding and Digital Directories
Hospital grounds are more often than not quite hard to navigate, especially for those who are sick, injured, or disabled. That's why you need to make sure visitors, patients, and staff know how to get to their destination. The best way to do this is by installing wayfinding solutions and digital directories.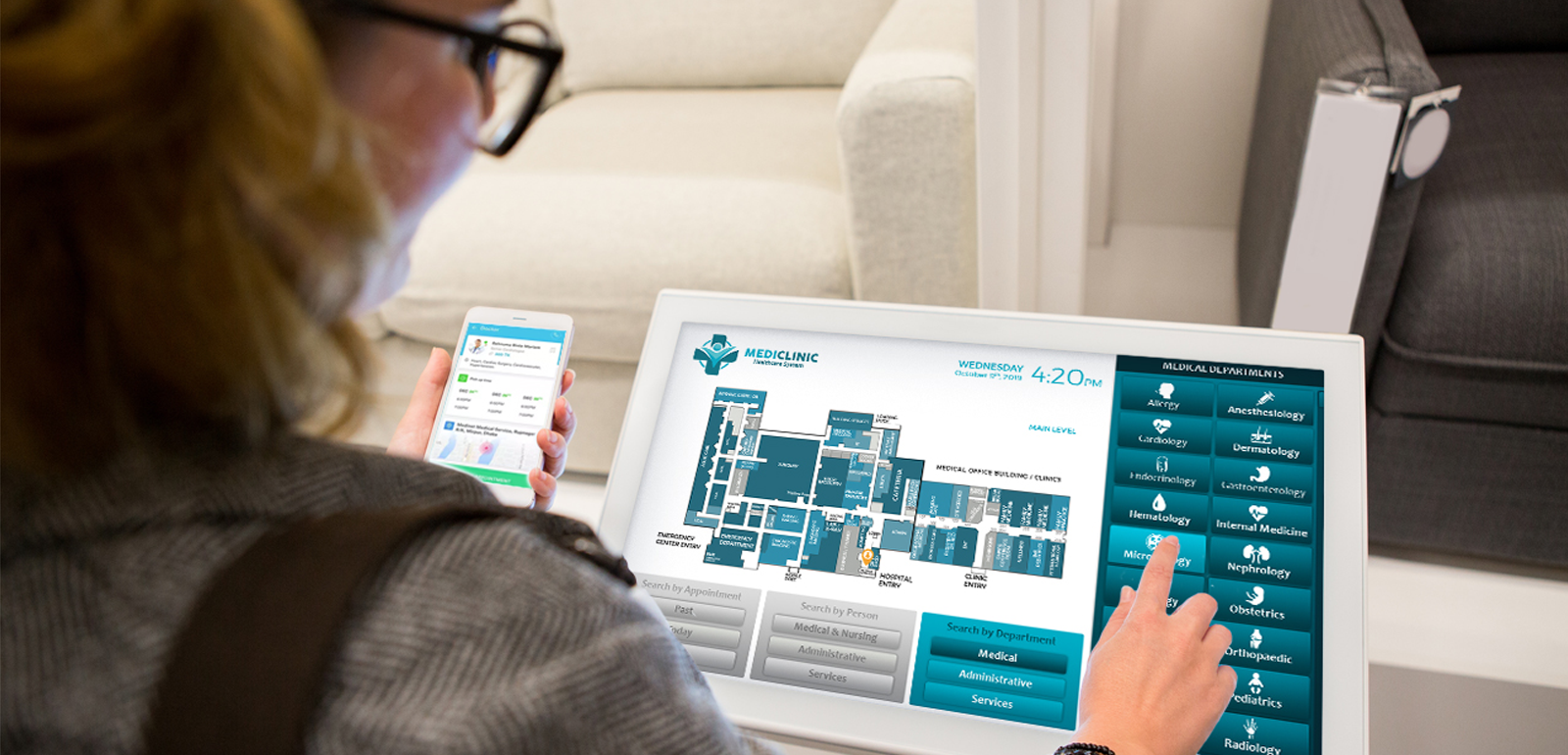 Your hospital's lobby should be fully equipped to direct visitors and patients to exactly where they need to go unaided.
Wayfinding kiosks will allow guests and patients to interact with detailed maps of your facility so they won't be lost. These digital touch screen directories highlight all of your departments' and doctors' locations as well as how to contact them. This will eliminate any headaches for visitors and patients, and will keep everything more organized and flowing a lot more smoothly.
4. Reduce Perceived Wait Times
Digital signage in waiting rooms display videos, wait times, and news and live TV to entertain and inform guests. This contributes toward a more patient centered care model, while simultaneously providing a captive audience to raise awareness of things like fundraising and donor relations activities.
Distracting patients and visitors is definitely a good thing because we all know how stressful a hospital visit can sometimes be. Patients get their minds off the stress while they wait. Have the patients stay put to make your queue run more efficiently by entertaining them.
5. Install Easily Updatable Menu Boards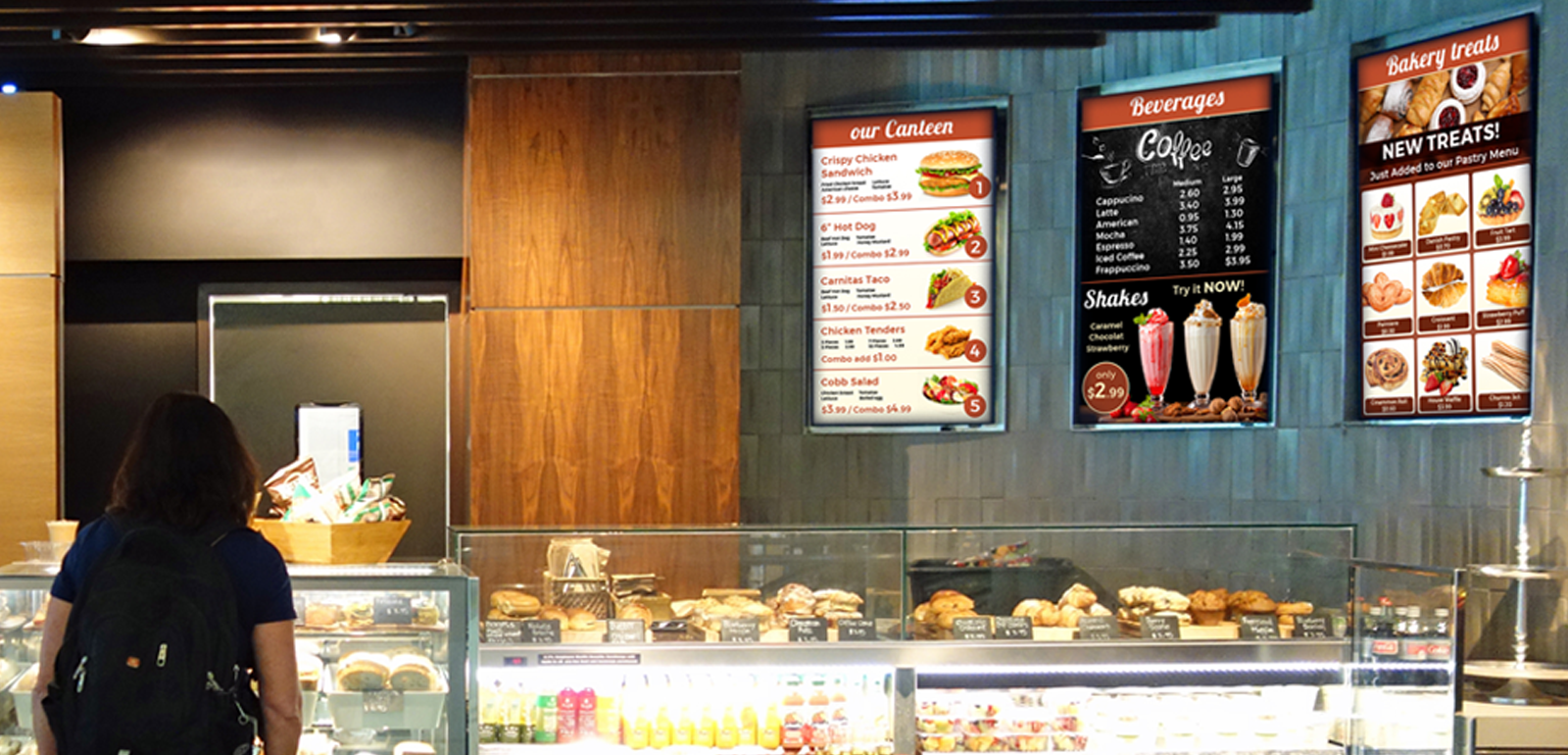 Using digital menu boards for your hospital's eateries and cafes offers a lot more flexibility than traditional signage options. Digital menu boards allow your staff to quickly change or add menu items, alter prices, promote specials, and display nutritional info to customers.
In turn, your staff won't have to spend time fixing signage manually. They can focus their efforts on more productive tasks. Keep the line in your hospital's eatery moving efficiently with the addition of attractive and highly useful digital menus.
6. Generate Higher Revenues with Ads and Donor Boards
Healthcare facilities provide the perfect opportunity for advertisers to reach thousands of patients, visitors, staff, and others on a daily basis. It's vital that your hospital utilizes its digital signage as a marketing platform for local and regional brands.
By generating more revenue through advertising on your screens, your hospital will be able to stay well-funded. This will allow you to expand your facilities, renovate older sections, and provide much better patient care.
Digital donor recognition boards are a great way to raise extra funds to better your hospital in a variety of ways. Recognize big dollar donors and raise awareness about ongoing or upcoming campaigns, so they'll be more likely to donate. Showing your appreciation for their kindness through digital displays thanks them for their contribution.
7. Boost Emergency Response Capabilities
Hospitals are oftentimes filled with many people. It's a major priority that your building have an exceptional emergency response plan, powered in part by digital signage. If something goes wrong, everyone at your facility will be able to react in a timely and informed manner. Anything less jeopardizes their safety and possibly the safety of others.
With emergency messaging, push out pre-made and custom-made patient information and alerts across your network of screens quickly. Then, everyone will know what to do in case of an extreme weather event, active shooter situation, or another unfortunate scenario.
Digital signage is trusted to show the safest exit or which part of the building is too dangerous to pass through. This makes a world of difference in the event of an emergency.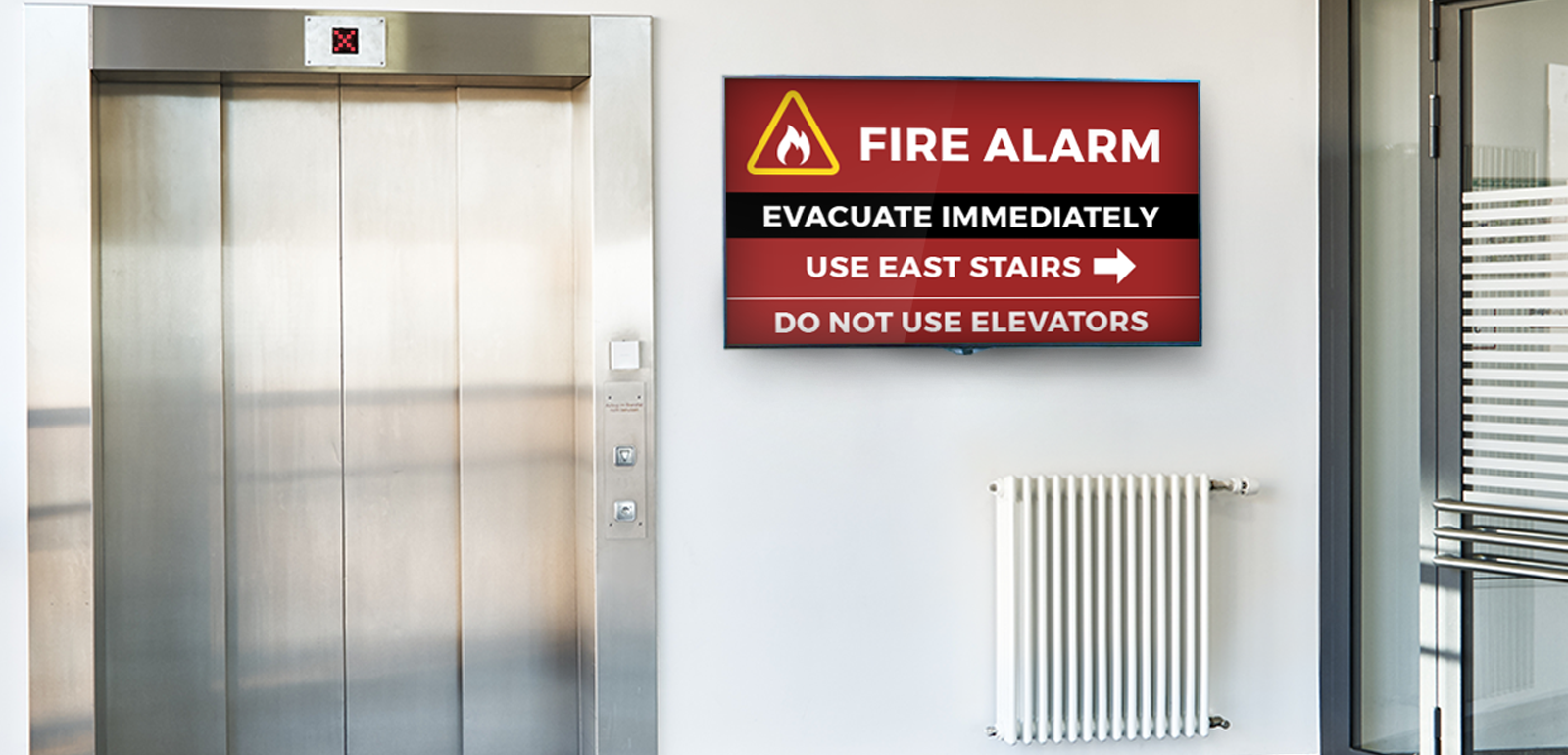 Conclusion
Hospitals and other health care facilities are complex and busy. But with digital signage, it's not only possible that they can run efficiently all the time, it's absolutely achievable. A thoughtful and strategic content plan, in accordance with dynamic digital signage, transforms your hospital into a highly efficient facility.
Your health systems will function at a higher rate, which will improve patient safety and patient satisfaction. The importance of communication in a healthcare setting is already vital. But during a crisis, good communication with patients and staff will save lives.
Great healthcare teams consist of healthcare professionals working together. Digital signage is an important tool in that communication.