In today's world, students are constantly interacting with screens to learn, play, and communicate. There's no excuse why the universality of screens—in this case digital signage—shouldn't extend to classrooms and campuses.
That transformation is happening on campuses all around the country, and around the world, as we speak. More schools and universities have decided to adopt digital signage. They see it as a solution to boost campus efficiency, increase revenue streams, and build a more engaging learning environment.
Digital signs have virtually unlimited applications around campus. Here are just six of the numerous benefits that your school can reap from implementing campus-wide digital signage.
Emergency Preparedness
Emergencies can happen anywhere and at any time, which is an unfortunate reality that can't be ignored.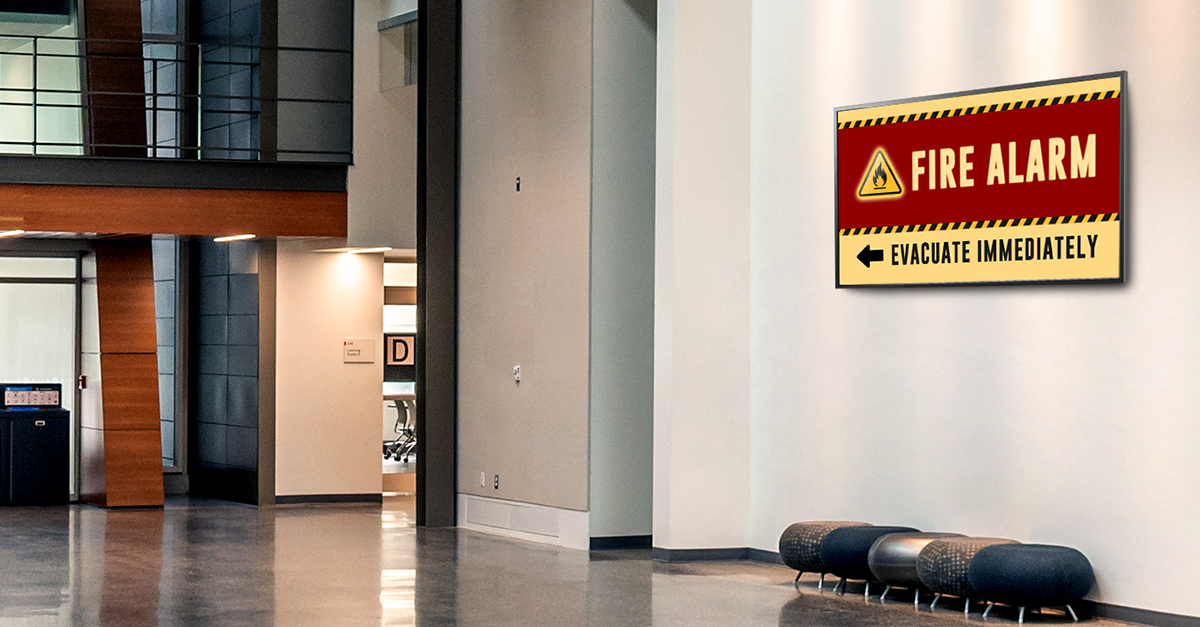 You have countless students, staff, and visitors whose safety you're responsible for. Schools and universities should have a solid emergency preparedness plan (EPP) and an effective system to react to any worst-case scenarios. Although you may already have an EPP in place, adding digital signage will make it much more effective, reliable, and organized.
Your digital signage players will broadcast messages directly from your school's mass communication system in real-time without the need for manual intervention. Otherwise, a dedicated platform can be used to send customized emergency messaging just for the digital signage across campus. Both are effective methods, so you'll have a choice as to which one you prefer.
In a campus emergency, students will have live information about the situation and the necessary steps and precautions to take.
With emergency messaging, your students, faculty, and guests will always be kept as safe as possible.
Improved Communications
Nobody enjoys sifting through an overwhelming number of emails, only to find that most, or all, aren't that relevant. Getting the right information to the right people at the right time is a huge problem for universities. Consider the sheer number of students and staff. Well, that was until digital signage entered the fray.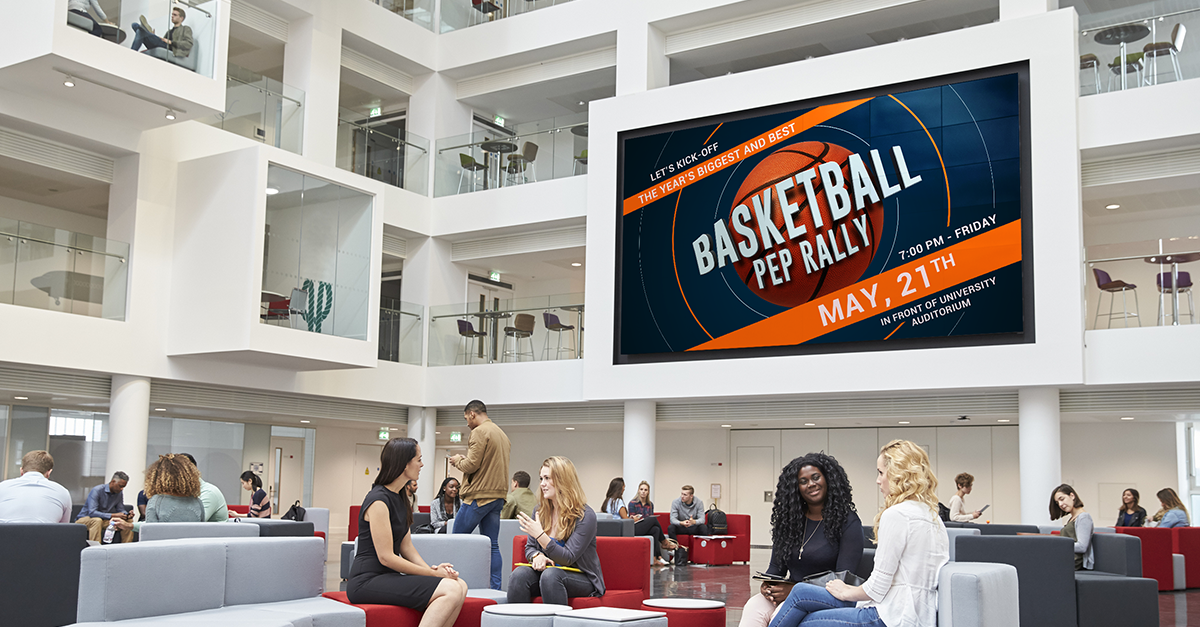 Don't sentence students, faculty, and staff members to information overload of easily ignored and oftentimes annoying emails. Digital signs strategically placed around your campus give people the information they need without being intrusive. Especially if your content is eye-catching and thoughtfully targeted.
Your reach will be limited if you think every student will read an email about your school's upcoming pep rally. To create a lasting impression and a larger turnout, promote it on your school-wide network of digital signs. Your students will thank you for not bombarding their inbox with unnecessary emails.
Your digital signage is the perfect method for information distribution. Use it to showcase everything from important notifications and event reminders to social media feeds and meeting room bookings.
Increased Donations
Donations are a major part of keeping any university sustainable and thriving. For that reason, it's vitally important that you entice donors into contributing to your school.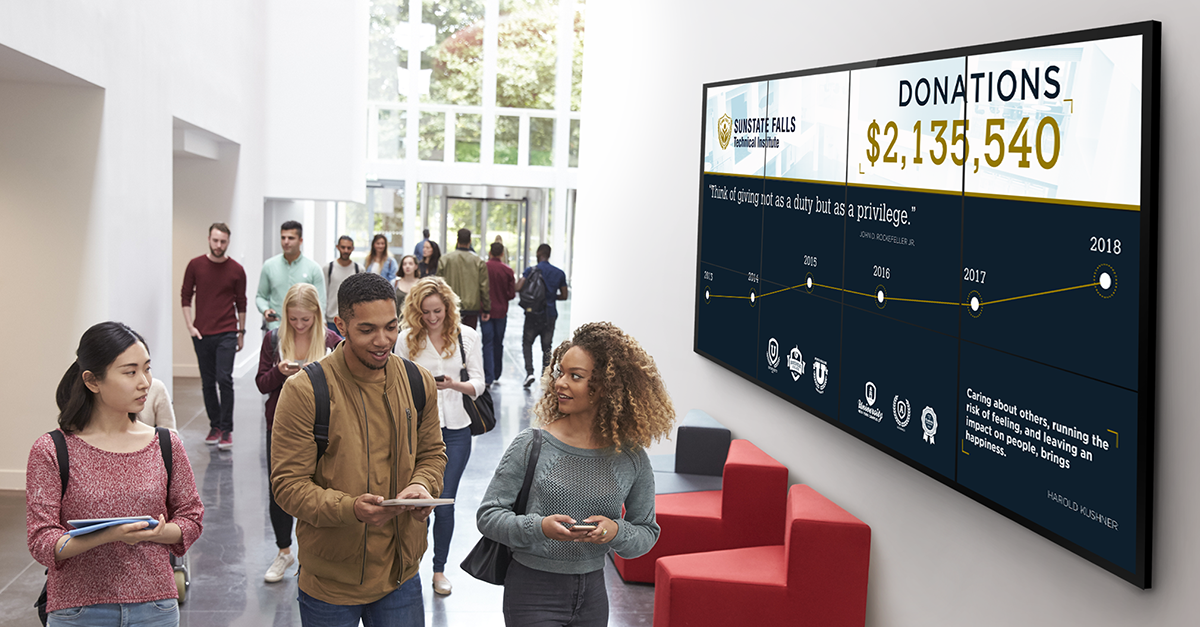 The simplest and most effective way to do this is by deploying digital donor boards. These will lower your college's printing and engraving costs. But you will also be able to add in-depth profiles for each of your donors. You can also highlight successful donor-funded projects and generate awareness for future plans that need funding.
With designable digital donor boards, those who contribute beyond a certain threshold will be highlighted for a fixed period of time. Knowing that their name and profile will be featured on bright, attention-grabbing screens, potential donors will make a generous contribution.Especially if the largest donors are ranked on a menu board. This could lead to a competition to the top.
It'll help boost your college or school's prestige and philanthropic efforts, while also fostering unity and school pride. After all, expressing donor appreciation in a more meaningful way is the least you can do to say thanks.
Better Navigation
Perhaps the most straightforward and useful solution provided by digital signage is without a doubt wayfinding. Even at the smallest schools and universities, getting from point A to point B can be a huge challenge. Finding and making sense of directions is a huge problem that large campuses face on a daily basis.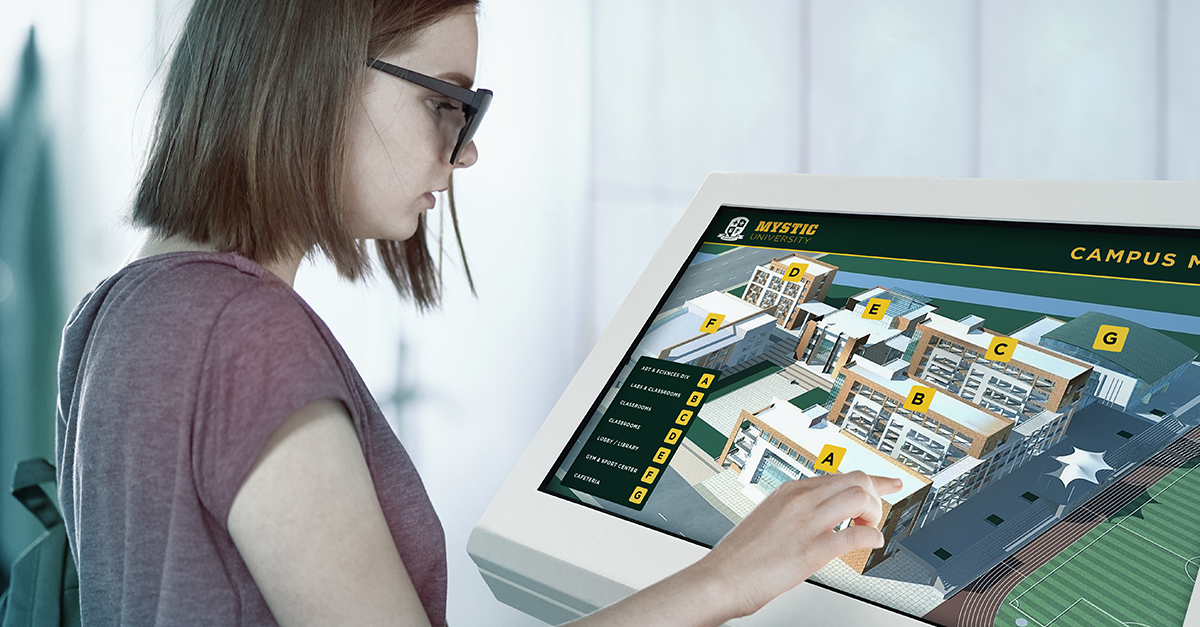 With digital wayfinding maps placed in high traffic areas, your students, visitors, and staff won't get lost on campus. That means boosted productivity among your staff members and faculty—a huge win. Taken from an educational standpoint, it means fewer students arriving late and disrupting lectures—an even bigger win.
It'll help guide those most likely to lose their way on your campus—the guests. Expect a lot of visitors to arrive if your college or university is hosting a big football game over the weekend. Visitors will never become lost.
It will be easy to find any destination on campus. Media players driving digital signage touch screens will show them the way.
If your campus wants to go the extra mile, add digital directories into your wayfinding systems. This will eliminate any verbal direction issues. The system will display information on each of the staff and faculty members, including room location, office hours, and contact details. This will help everything flow more smoothly on your campus.
More Revenue
Get the most bang for your buck once you've positioned your digital signs across your campus. Use the dollars to boost revenue. Then invest all that newfound cash in your coffers to bolster your school's facilities and capabilities.
Use strategically placed screens to run advertisements and promotions for local businesses or events coming to the area, like concerts. Digital signs are flashy and great at grabbing attention, especially if those same screens are combined with stellar content.
Build close donor relationships by focusing on donor recognition boards.
Robust ADA Compliance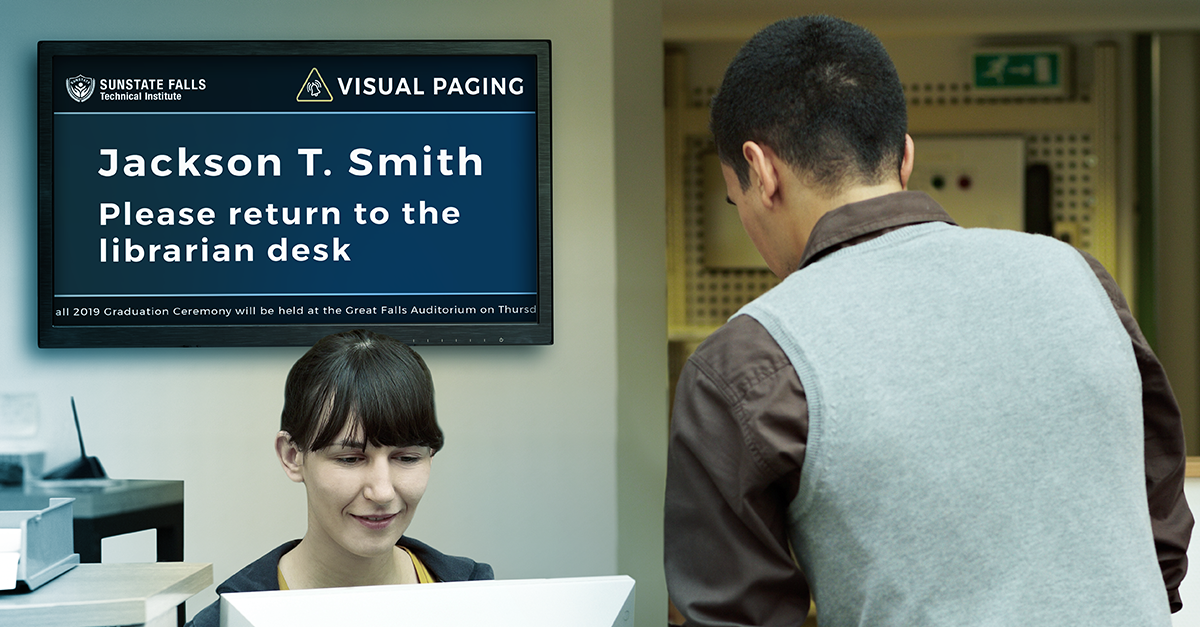 Universities and other educational institutions are held to a stringent standard in complying with The Americans with Disabilities Act (ADA). Lucky for you that plug-and-play digital signage comes ADA compliant already. This includes visual messaging for the hearing impaired, and touch screen programming that accommodates those in wheelchairs.
Another way that digital signage can benefit your campus is by making it ADA compliant with digital signs. Using a content management system, cloud based content can be seen on any screen displaying what your targeted audience needs.
The most modern communication methods are more essential when it comes to reaching young students from the digital age. Digital signage in Education is the way of the future. It offers schools and colleges a wide-range of benefits on top of the few we mentioned.
If your educational institution wants to keep up with the times and be more competitive than ever, then digital signage is a literal no-brainer. Digital signage drives service efficiency, bolsters learning outcomes, and makes your campus an all-around better, safer, and smoother running place.
Conclusion
Any school expecting to grow in the right digital direction will need digital signage software. Technologies such as LCD, LED, and interactive screens will attract more student, faculty, and fundraising dollars. With digital images, videos, and the ability for users to upload data, your so-called digital destination will be assured. Allow digital signage solutions to enhance your college diversity and donor relationships.