Hospitals and other healthcare facilities are oftentimes extremely unwieldy. The healthcare industry tends to be full of large facilities. They have a huge amount of moving pieces to keep track of. Hospitals are always packed with people with appointments on their minds.
That's why hospital digital signage benefits provide absolute musts in this day and age. It makes everything flow smoother across your hospital's campus. It improves the quality of patient care and health care. And helps deliver a more pleasurable visitor experience, generates more revenue, and connects your doctors and staff to vital information.
Here is how digital signage software on media players combined with hospital digital signage benefits your hospital's campus:
1. Remedy Dreadful Waiting Room Experiences
We've all sat in a hospital waiting room for what seems like an eternity. There was nothing to keep our minds occupied, and no idea when we'd be seen. Digital displays in the hospital make those seemingly endless wait times feel much more bearable for patients and visitors.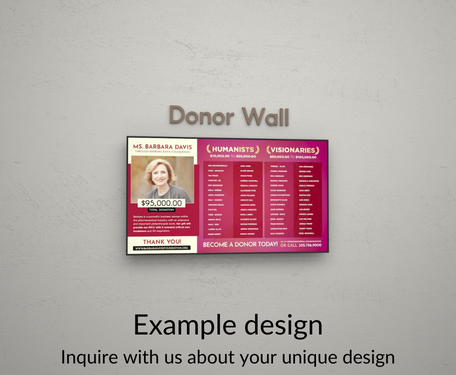 Using your screens in waiting rooms to show estimated wait times and queue numbers can rid unnecessary anxiety for those waiting. It will give them a chance to do other things on the premises.
Your digital screens can be used to entertain and educate patients and visitors who face a lengthy wait time. You can display interesting videos, factual information, live television, as well as scrolling news and headlines.
Use your waiting room digital signage to keep bored patients up-to-date and mentally occupied. This will ease perceived wait times by using images, videos, social media, and even internal marketing or donor relations awareness graphics.
2. HCAHPS Improvement and JCAHO Accreditation
As you know all too well, your Hospital Consumer Assessment of Healthcare Providers and Systems (HCAHPS) scores are extremely important. Digital signage solutions will help you see an increase in patient satisfaction, putting your facility in position to generate more revenue.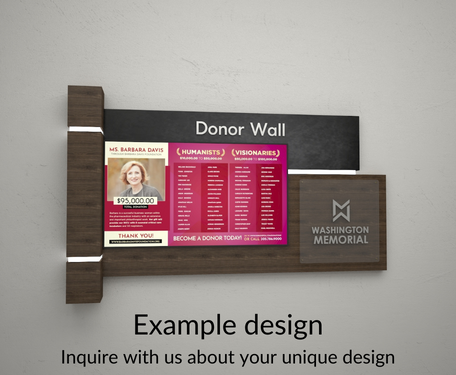 Accreditation from the Joint Commission on Accreditation of Healthcare Organizations (JCAHO) can contribute as well by padding your reputation. A network of digital signs can help your hospital campus meet certain criteria, and upgrade your facility. Put simply, digital signs improve the overall atmosphere and potential utility of your healthcare facility for visitors, guests, and employees.
3. Lengthy and Costly Check-ins
Traditional paper patient registration and check-ins can be a serious burden on your healthcare facility's overall operating efficiency and pocketbook.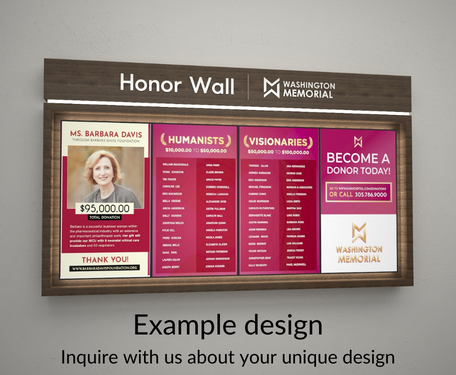 Switch over to self-service kiosks for check-ins and patient registration. This saves significant time your employees spend manually entering patient information. This frees them up to accomplish more important tasks.
Additionally, using self-service kiosks also reduces the vast majority of errors associated with manual data entry. Especially if the patient writing the data has handwriting that is difficult to read. Health insurance companies appreciate accurate data sent to them. A digital check-in experience can also be designed to incorporate multiple languages for your patients who aren't native speakers.
4. Take Your Hospital Lobby to the Next Level
Nailing your lobby experience is a must if you want to provide an exceptional patient and visitor experience. First impressions mean everything to patients and visitors.
What is the best way to impress your patients and guests upon entering your hospital's lobby?
The answer is a top-notch digital wayfinding and directory system. Place interactive wayfinding and directory kiosks in the front of, or at the entrance to, your hospital. Patients and guests will find their destination.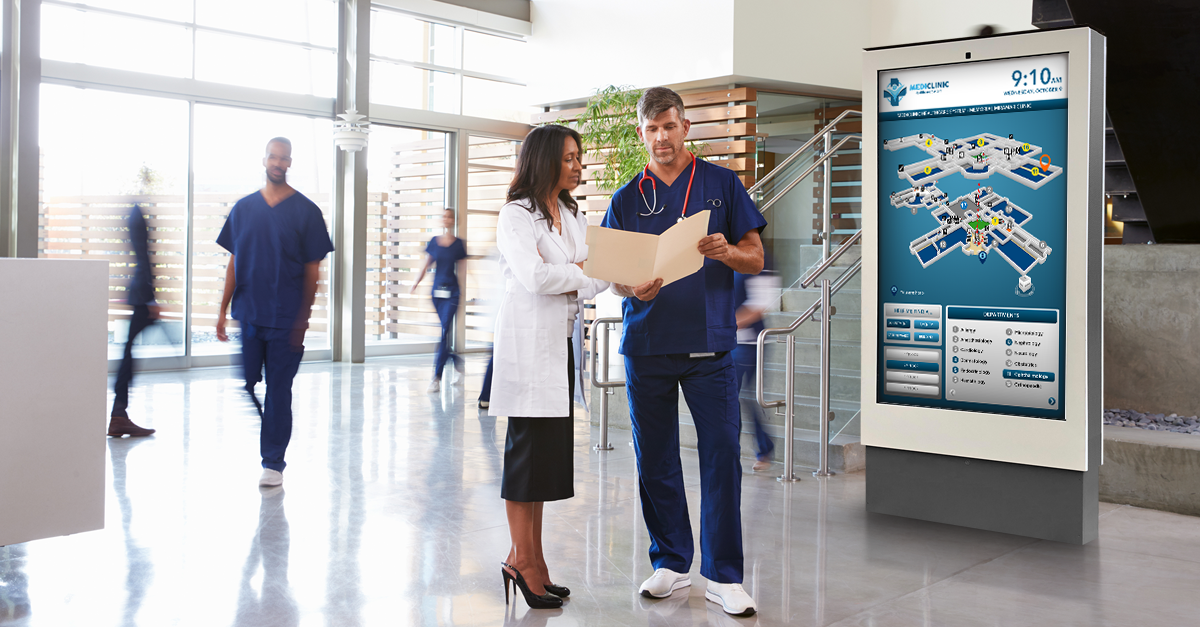 Give the ultimate lobby experience and broadcast any major announcements on your screens, such as fundraising programs or blood drives. As well, show any new services your hospital is offering. Install an eye-catching video wall in your lobby and run promotional content and advertising to boost your hospital's revenue.
The digital signage setup will be paid for with the extra funds generated by third-party advertisers. It's a simple to manage, consistent way to pad your hospitals monthly budget with some extra revenue.
Other areas should have highly targeted digital signage content as well, such as hallways, cafes, and even the ER. Crafting content based on where it will be shown is essential to making the most out of your digital signs.
5. Engage with Streamlined Staff Communications
Similar to your patient- and visitor-facing communications, your internal communications should feature messaging that first and foremost informs and engages. The best way to do this with your employee-facing communications is to deploy content to your staff. Show schedule changes, work policy updates, training information, workplace values, and other general notifications. Let digital signage benefit staff every day through staff communications digital screens.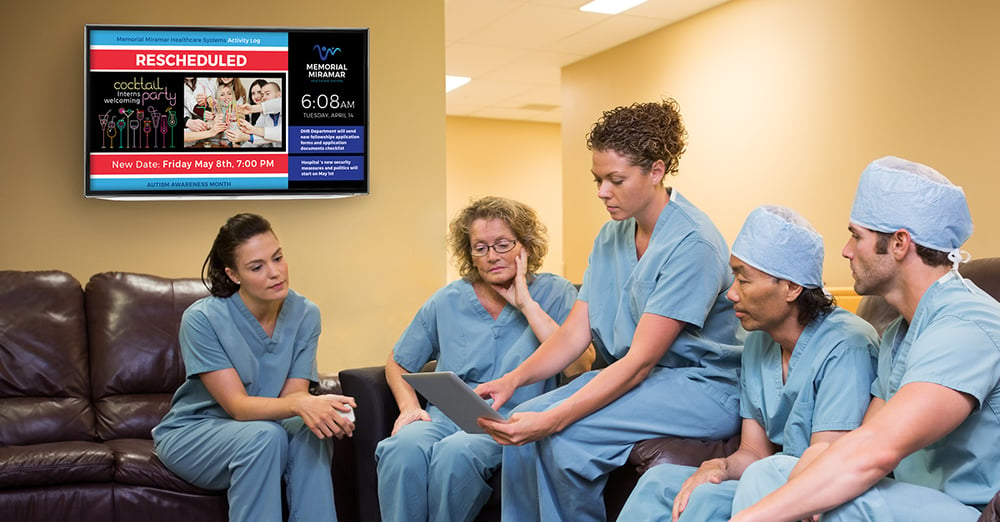 Combine your employee communications under one cloud-based digital signage network. This means fewer delays in work, more collaboration, and an all-around more engaged workforce.
6. Stay Safe with Emergency Messaging
Hospitals, clinics, surgery centers, and other healthcare facilities keep getting bigger and bigger—with an overflow of staff, visitors, and patients. That's why it's important that your healthcare digital signage features a robust and fast emergency messaging system. Everyone will feel safe and prepared on your premises in the unfortunate case that something goes wrong.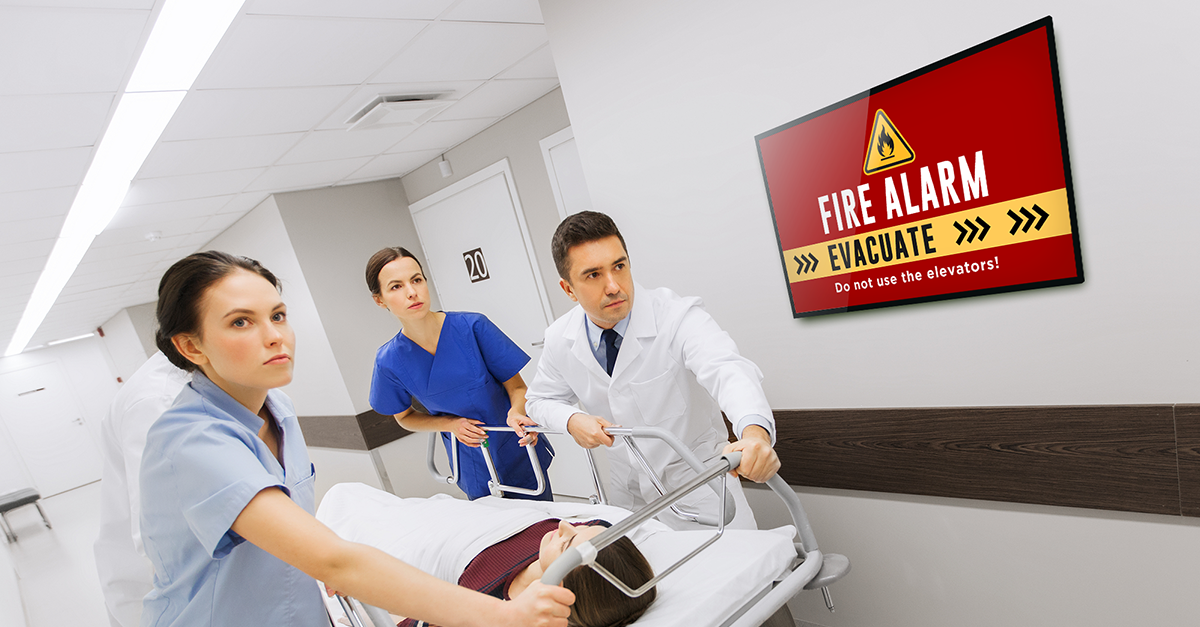 In the event of catastrophic weather, a chemical spill, or some other disaster or accident in the area, every second matters. It's vital that your emergency notifications are broadcast quickly across every screen in your building. This will alert your staff, patients, and visitors in knowing exactly how to react and stay safe.
A first-class digital signage emergency response system includes automated messages which will be deployed at a moment's notice. The system uses notification templates, real-time status updates, and two-way communications. Geo-fencing capabilities allow you to target emergency messaging based on location. These are essential tools in any dire situation.
Any hospital incident command system (HICS) should utilize its digital screens to increase efficiency in an emergency. Installing a all-in-one digital signage system will provide a safe and more effective way to get everyone on the same page in a hurry.
7. Save Time with Digital Cafe Menu Boards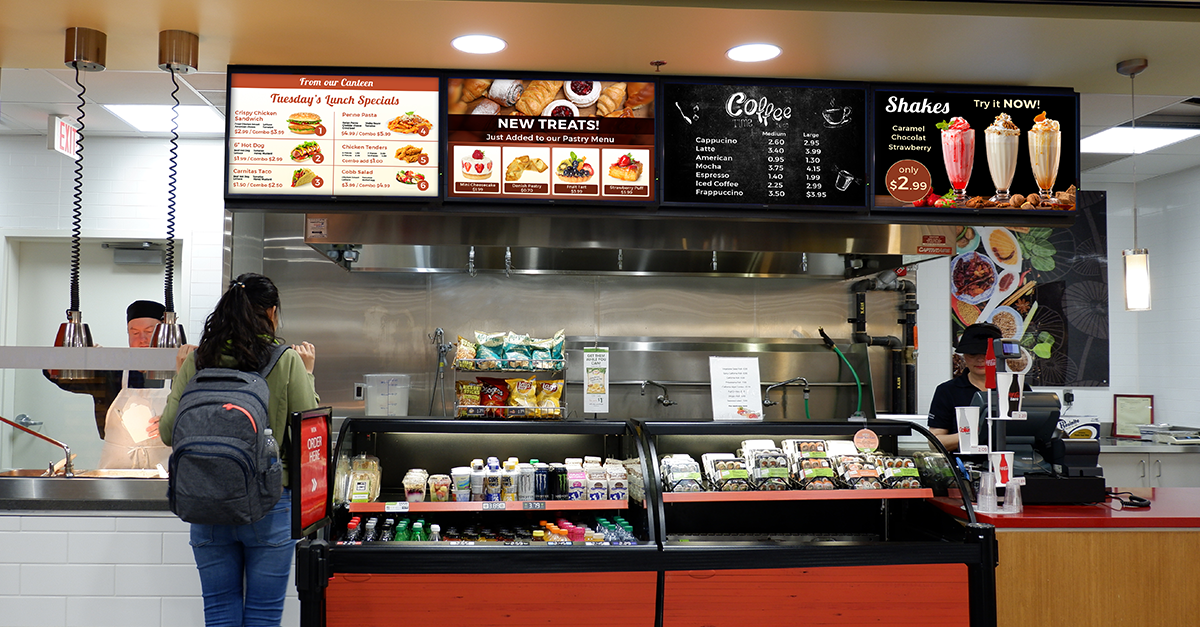 Chances are that your cafe menu's offerings change quite often.
Digital signage tools give you the time to update and replace listed menu items, prices, or the entire menu. With dynamic digital screens, your entire menu will be adjustable at the flip of a button. Fewer hungry cafe goers will order an item only to find out it's no longer available. They'll spend less time in line, and the overall process will run smoother.
In a hospital of all places, things running smoothly and in a timely, organized manner is always going to be beneficial. With the new opportunities that digital screens provide for restaurants and cafes, efficiency is now the norm. Don't let outdated processes bog your facility's eating area down.
You can even switch between lunch and dinner menus, for example, automatically without your staff even having to think about it. This method is far more efficient and will save employees from performing obsolete, tedious tasks while patrons are waiting in line. The best content management systems (CMS) for digital signage allows your cafe's staff to efficiently alter digital menu content. CMS will also allow you to change prices, specials, and nutritional information with ease.
Digital menu boards are an ideal place to advertise. Use them to promote menu items or even third-party ads. Generate revenue from your cafe's screens while your video wall, touch screen kiosks, or other digital screens are displaying ads. It's one more way to capitalize on the utility of your digital signage network.
Conclusion
Hospital digital signage that covers all the bases mentioned above will boost nearly every operational task in your building. It will also improve patient experience and care.
Look for a company offering free digital signage consultations so that your hospital will receive the best coverage possible.