Let's face it, by nature, hospitals are logistically very complicated. Using inventory management to keep the supply chain running for the best patient experience is difficult. Streamlining, organizing, and enhancing the various areas of your hospital is essential. And leveraging your existing or newly acquired hospital digital signage is a key component of that.
Efficiency should be the norm in every section, ward, and hallway of your facility. With a network of targeted digital signs, they ensure that your hospital will improve efficiency or remain the same.
Digital displays in hospitals are an incredibly powerful and dynamic tool to synchronize your communication while strengthening each area's purpose. With the right content strategy, it'll allow you to maximize your hospital's potential and keep it in order.
Here are the top ways to enhance each area of your hospital, clinic, or healthcare facility with your digital signage.
Entrance Way
When patients, visitors, and staff enter your hospital, greet them with digital signs promoting your hospital's values. Worrisome patients will feel reassured that they've entered a place of healing and care. Highlight your intentions by showing that your hospital is committed to treat them and improve their health.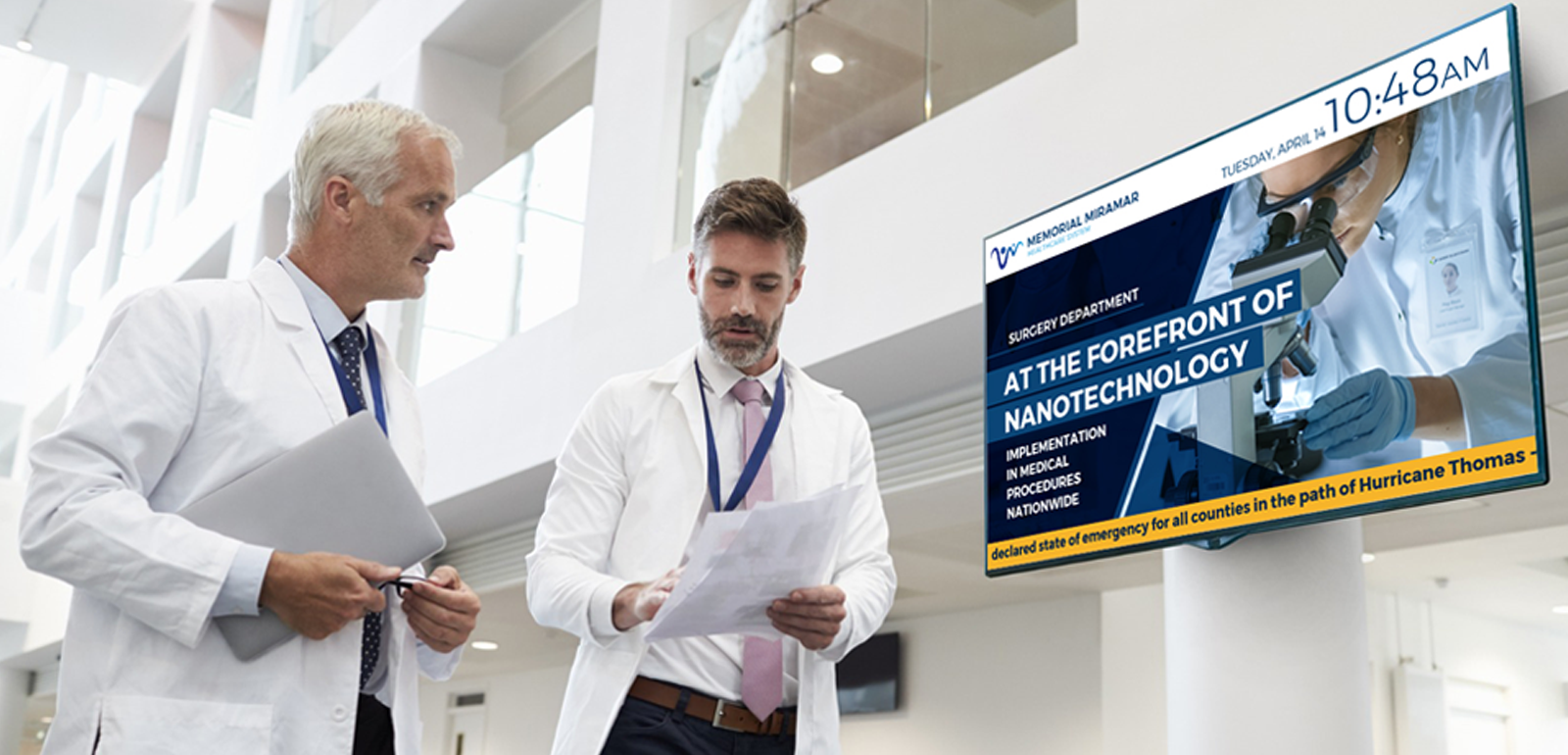 Display videos of doctors and nurses performing their duties and checking on patients. This gives guests and patients the idea that they or their loved ones are going to be taken care of.
Lobby
When patients and visitors enter your lobby, they need to know where to go. This is where digital wayfinding with your digital signage comes into play. Digital maps include detailed directions on how to get from the lobby to their destination. Patients won't get lost in the maze of hallways and doors throughout your healthcare facility.
Your hallways will be less congested, patients will consistently make doctor appointments, and have a happier overall experience without getting lost. That means improved HCAHPS scores from patients under your care who find everything they need in your facility without a headache.
You should also push promotional content across your lobby's digital screens. Think newly added services, off-campus services, and third party marketing. Visitors should be notified about places like cafes, snack bars, and gift shops where they can buy flowers or stuffed animals.
Promotions and third party ads help boost revenue that you can put to good use for your facility in other ways. And digital donor walls will improve fundraising and donor acquisition efforts.
Hallways
Place your digital signage solutions above eye-level throughout the hallways of your building. This is ideal for wayfinding, displaying information, third-party advertising, and notifying anyone in real-time about notifications within the facility.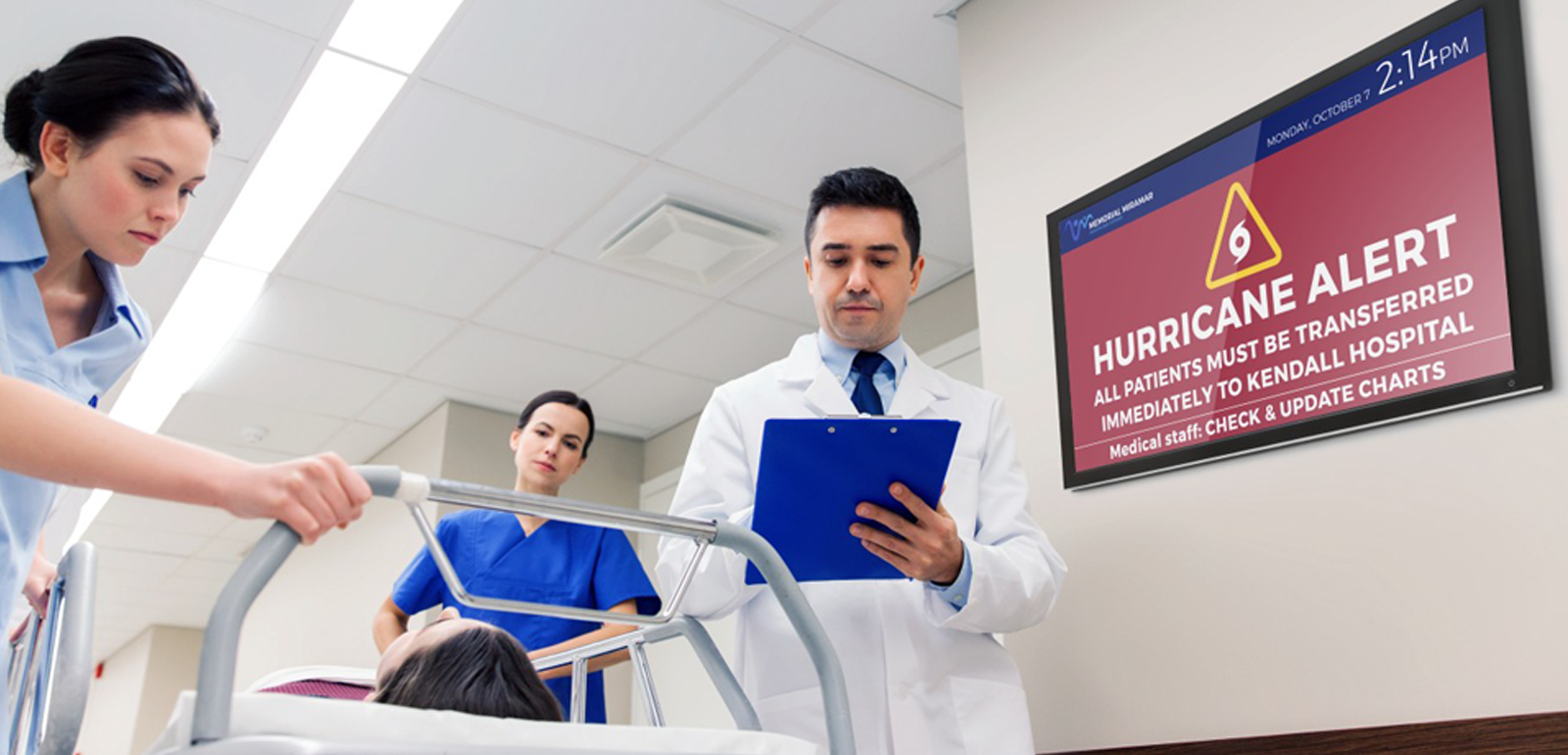 Timely and organized action for everyone on the premises is critical for a natural disaster, active shooter, or building-wide emergency. Instructions on what to do and where to go should be ready to send out across your network of digital screens.
General Waiting Areas
Waiting for a long time to be seen is tantamount to torture when you're already not feeling well. Put patients at ease with clearly displayed estimated wait times that let them know how long they can expect to wait.
Show educational images and videos for digital waiting room displays. Weather, news, sports, social media, fundraising campaigns, and other marketing purposes can help with reducing perceived wait times. Patients will be less irritable, receptionists and health unit coordinators less hindered, and things will run more smoothly. This is the result of your waiting room digital signage.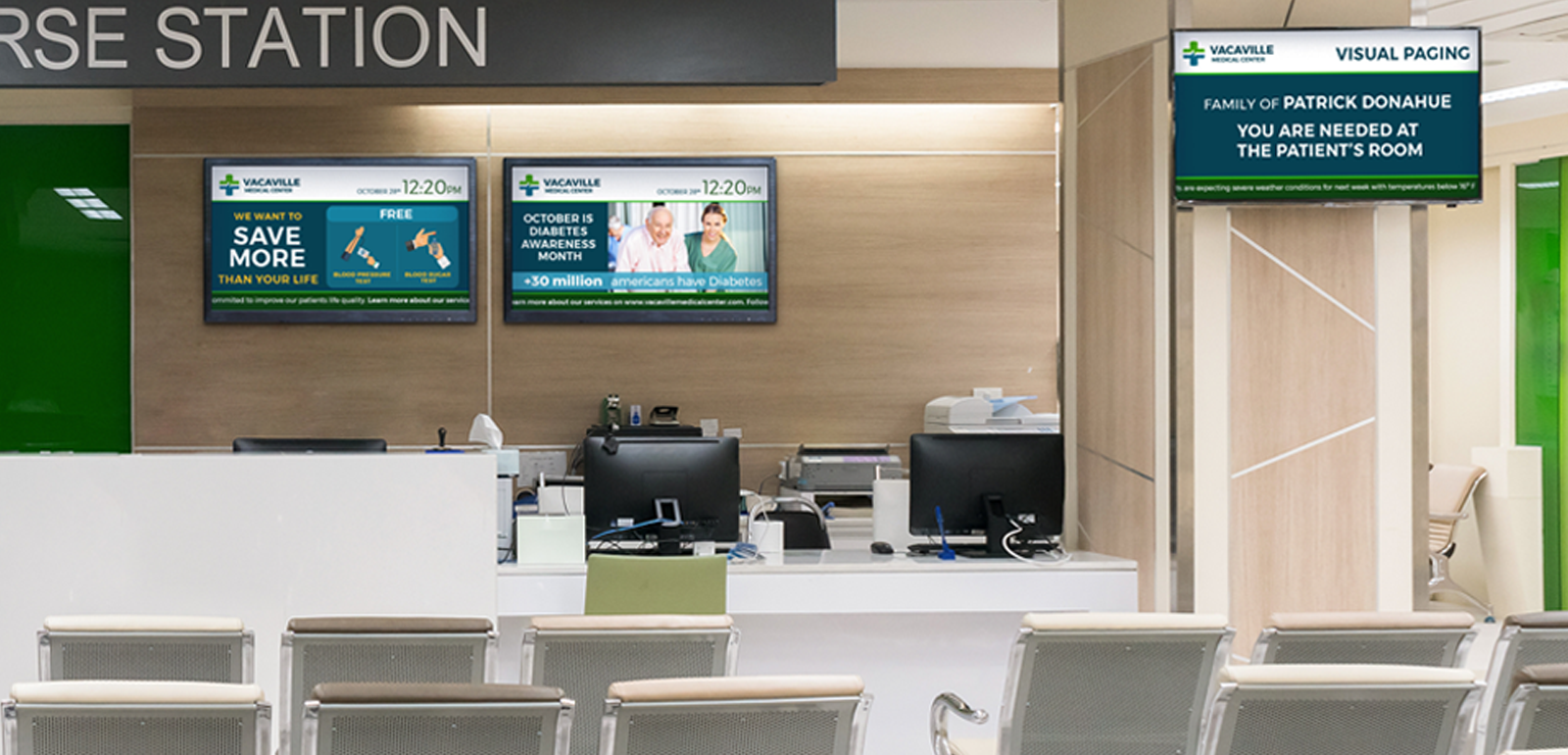 Keeping patients entertained while waiting also has a direct impact on their overall satisfaction. Push informational and educational content to prep patients for their specific condition or common health concerns. Social media feeds, RSS feeds, staff profiles, and general health information can also be added into your digital signage content. This makes full use of digital signage capabilities.
Expediting patient check-ins with digital signage software will save time for receptionists by giving them easy access to digital forms. Problems associated with bad handwriting in paper forms will be a thing of the past. And the entire process will be streamlined. Digital signs have the ability to change the language of check-in forms with the click of a button.
ER Waiting Rooms
Efficiency and timeliness are crucial in the ER. Digital signs should be implemented in any way to make the process run faster. With digital signage, internal communications will be enhanced by providing doctors, nurses, and staff with relevant information when and where needed. Having easy access to important information could be the difference between life and death.
Make sure your digital signs are placed in easy to see areas where their potential will be maximized. Staff should be able to get updates, facts, and critical data at a glance. This will allow them to perform their job at a higher level of efficiency, thus optimizing your ER.
Outpatient Imaging, Physical Therapy, and Speech Therapy
Display general health advice and other educational content on screens in outpatient imaging, outpatient physical therapy, and outpatient speech therapy. This shows content that drives brand advocacy. Incorporate the branding of your hospital into content to foster brand loyalty and promote your hospital's services.
Take current events, holidays, and other relevant material into account. You want your hospital to feel all-inclusive and community oriented. Promote hospital values and create the sense that outpatients are just as important as those who are admitted.
Doctor, Nurse or General Staff Lounges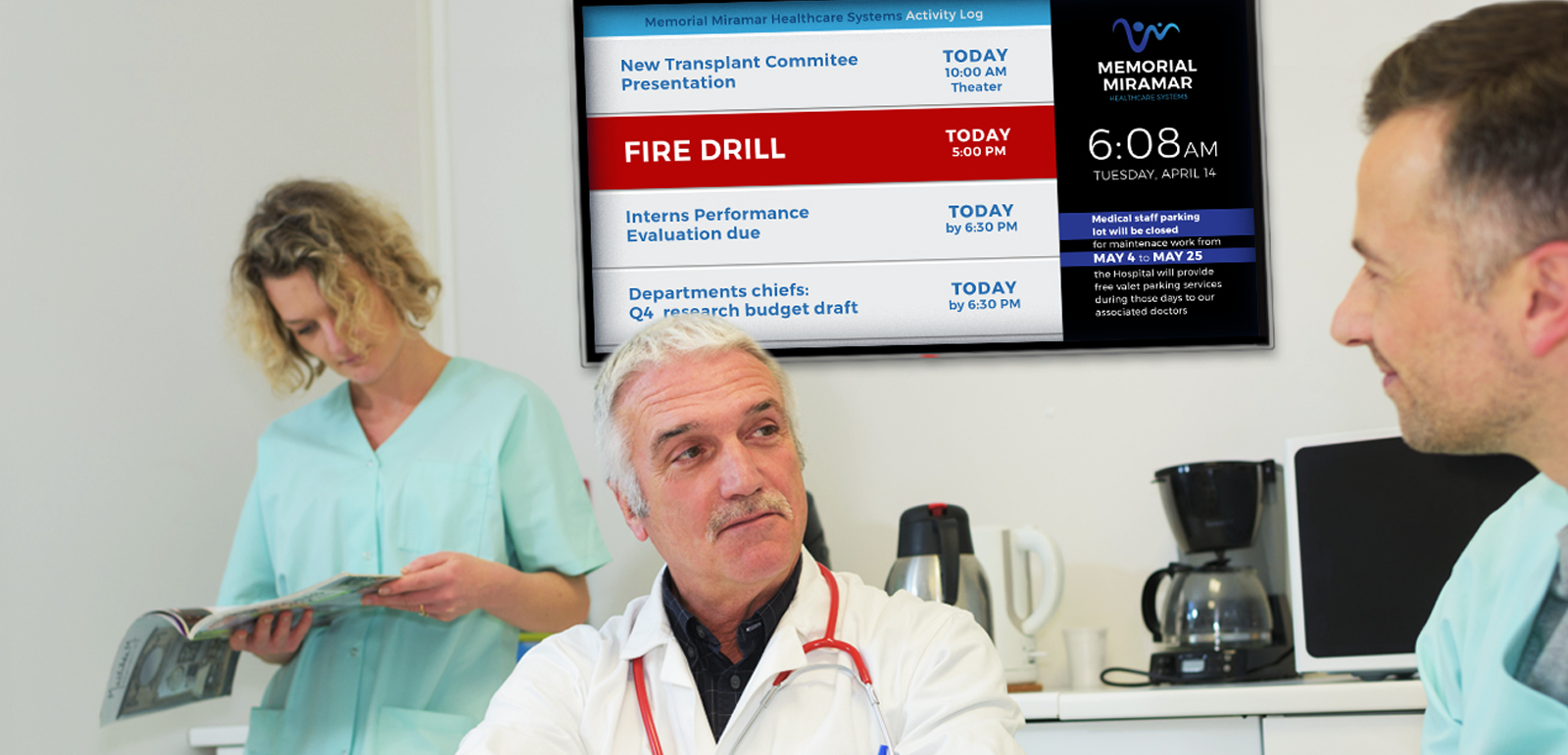 Improve employee communication strategies by sending information and updates in real-time. Hospital staff are guaranteed to pay attention. Your hospital will boost its operating efficiency, provide better care, and eliminate costly employee errors due to misheard communication.
Meeting announcements, department alerts, patient load updates, upcoming events and more will leverage your healthcare digital signage to improve internal communications.
Donor Walls
Finding new, exciting and unique donor recognition and fundraising solutions are almost impossible to find - but with digital signage software paired to your Tablets, LCDs or LCD video walls the options open up in a big way. Digital donor stories and highlights can be a huge selling point during a site visit, while a digital and motion-based list of donors becomes far more eye catching - all of which is aimed towards increasing donor dollars, and improving donor retention.
Cafeteria & Snack Bar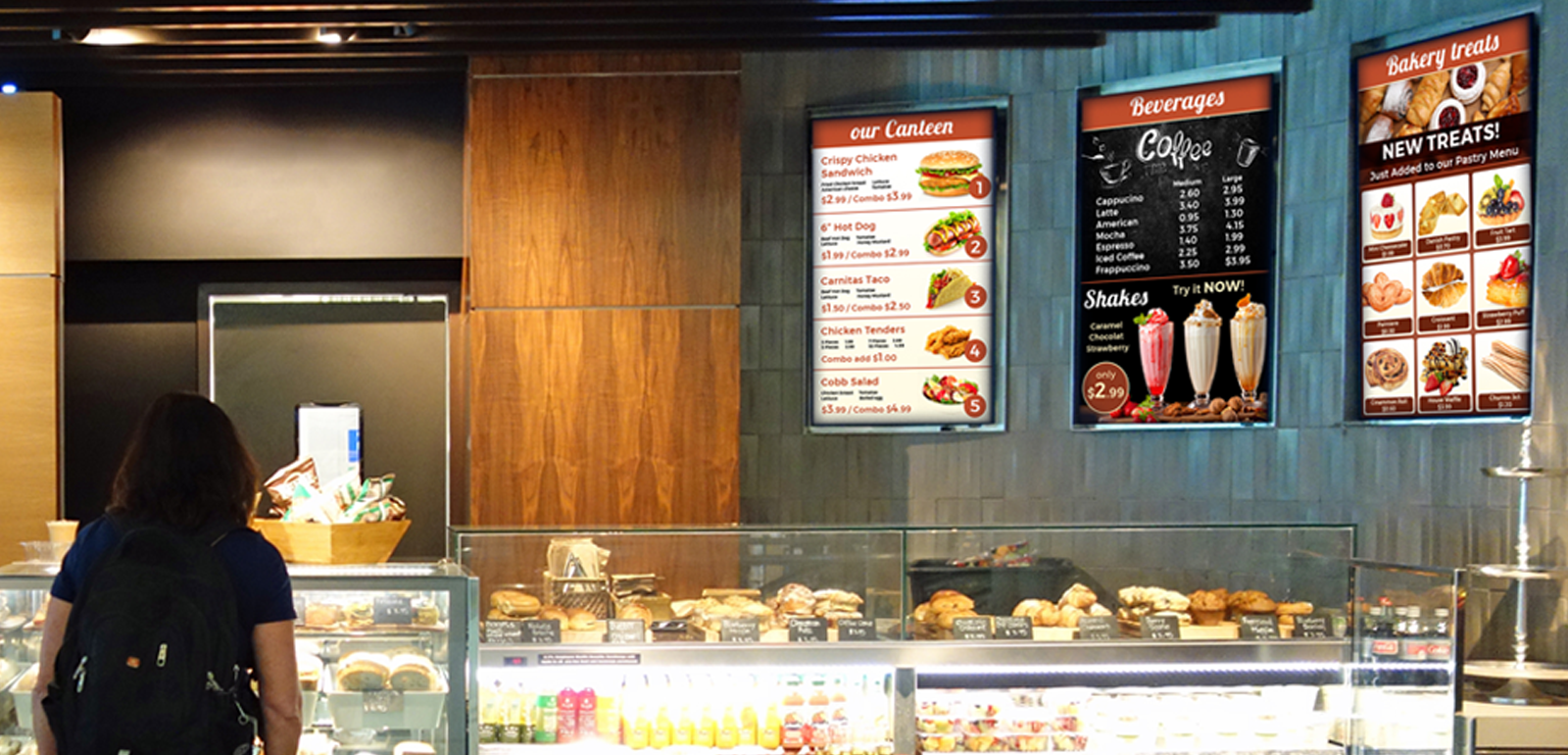 Use your digital signage as menu boards in your hospital's snack bar to meet customer's needs. Items can be updated in seconds flat, including price changes, out of stock notices, and combo specials. New items can be highlighted with pictures and videos to tempt hungry patrons. Patients will be able to squeeze a meal in with approximate wait times displayed on your waiting area's digital signage.
HICS Utility
Digital signage for hospital incident command systems (HICS) allows total efficiency of communication in the event of a patient surge. Content can be prepared ahead of time or controlled in real-time by the incident commander from a mobile device. Instruct your staff through digital signage to keep each section of your hospital as organized as possible during a crisis.
How to Craft Highly Effective Area-Specific Content for Your Hospital
When creating specific content for each area in the hospital, keep it concise and to-the-point. One advantage of digital signage is that viewers get information at a glance. Large blocks of text will go largely unread.
Next, make sure all information is up to date. A good content management system (CMS) uses media players to take care of that for you.
Engaging content is how viewers will continue to watch the screen. Viewers will lose interest if shown dull blocks of text on the screen.
Use calls-to-action (CTA) to tell patients and guests to interact with your social media channels. You can even add a stream of content from your social media on your digital signage in each area. The waiting room and lobby are good examples.
Make sure your content is targeted for the health sector. Meaning that it fits in with the environment where it's being shown. Don't lose valuable viewing time with unfocused, irrelevant information that doesn't engage.
Leverage your digital signage to suit the needs of any hospital area. You'll see more satisfied patients, higher HCAHPS scores, and in turn, more revenue for your hospital or healthcare facility.
Check out some of the related articles below to keep learning more.