Hospitals are always on the lookout for ways to improve patient safety and quality with a patient safety plan. It's maybe the most important aspect of running a highly reliable organization. In most cases, having a top-notch safety plan in case of adverse events isn't just something to strive for. It's a regulatory requirement to earn hospital credentials from the Joint Commission on Accreditation of Healthcare Organizations (JCAHO).
To provide better patient safety in healthcare, your hospital needs to use their patient safety plan as a template. Then, place that digital template over communications and collaborations among your doctors, nurses, and the rest of your hospital staff. These are things that healthcare digital signage excels in accomplishing.
That's why it's no surprise that digital signage has become such a mainstay in the American health system. It has the potential to remedy a variety of issues for patient safety, kind of like a digital donor.
Below are four proactive examples your hospital can take to boost its patient safety and quality improvement.
1. Encourage Patient and Family Engagement
Effective digital signage content leads to improving patient safety and quality of care. Design content should guide your patients and their families or caretakers to interact with your hospital's doctors and nurses.
Encourage patients and their families to engage with doctors and nurses, allowing them to recognize and voice any discrepancies in care. It will permit them to speak out if they notice a change in their loved one's condition.
Both of these proactive steps can result in your medical personnel providing quicker and more effective patient care. Those steps help them intervene or call a rapid response team if the patient suddenly worsens. They'll also help prevent errors by allowing families to speak up if something is wrong. And can even play a role in suicide prevention with mental health services.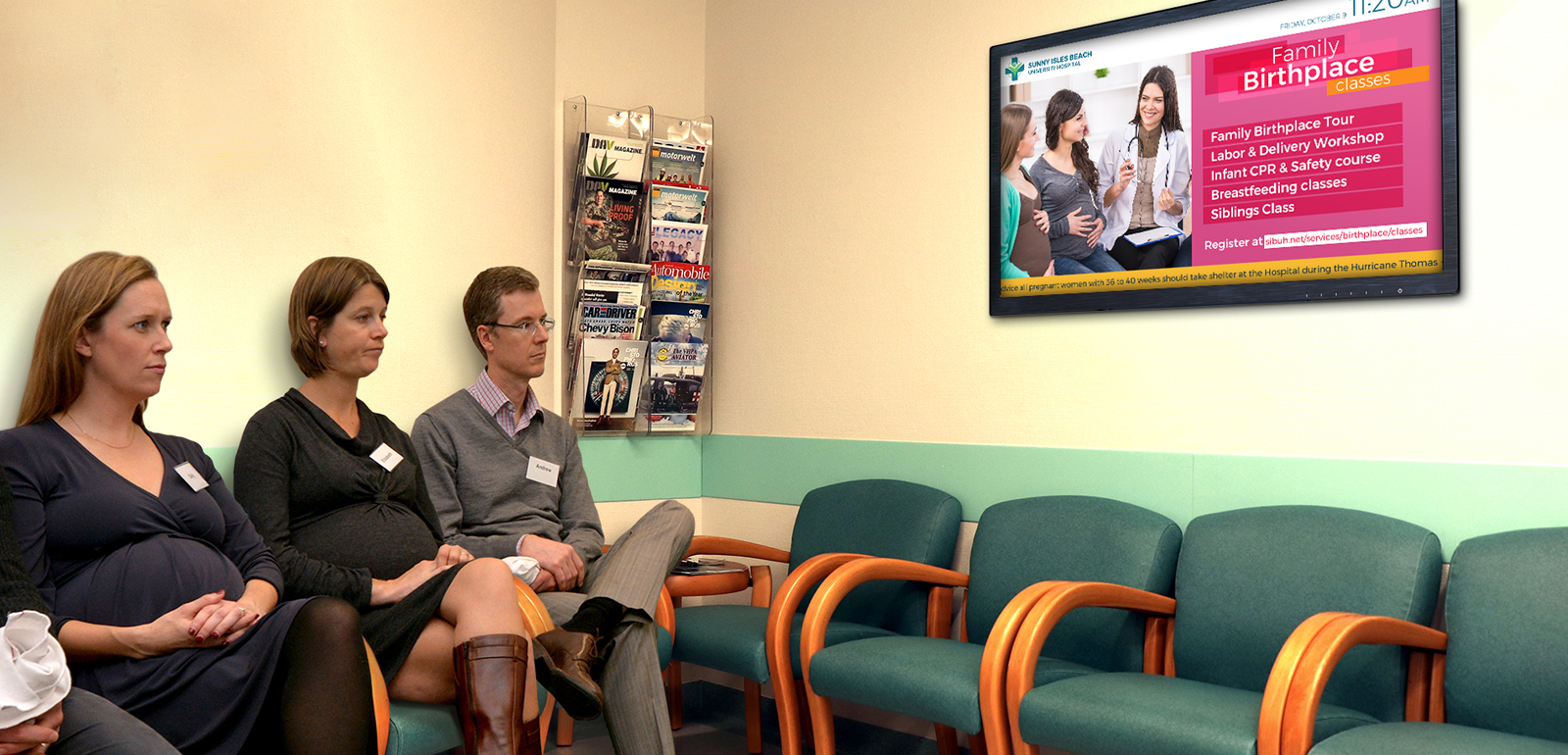 General area screens, such as those in lobbies, waiting rooms, and hallways, are the best for this kind of content. Messages raise awareness with families in the care of their loved ones. This allows the families to speak up if they have questions.
2. Clear Communication
Most medical professionals know the tragic story of Josie King and the harm that medical errors can have. According to a recent study by Johns Hopkins, medical error is the third leading cause of patient death in the US.
Mistakes, or inadequate communication, are a major part of the problem when it comes to error in hospitals. Using digital signage to strengthen visual and interactive communications will help mitigate statistics like the one above. It also creates a safer and more organized healthcare facility for your patients.
Communications to family should also be encouraged on your screens. Your signage could remind nurses and doctors to let patients and family members speak first. Asking them "How are things going?" or other probing questions opens lines of communication.
Whether it's for children's hospitals, general hospitals, or any treatment facility, there is evidence based research that suggests the benefits. For example, the Agency for Healthcare Research and Quality collects on the effectiveness of these techniques.
Your employee-facing screens should constantly provide nurses with suggested communication enhancement methods that encourage engagement among patients and families. Nurses will have a line of communication with patients and their families. This allows them to notice and remedy any mishaps in care.
3. Promote a Culture of Safety
Hospitals always look for ways to promote a clean, healthy, and safe hospital environment. One way is to broadcast visual content that fosters a culture of safety among your staff, patients, and visitors.
Your vibrant signs could display statistics on the importance of hygiene and cleanliness in patient safety. Traditional safety reminders such as "wash your hands" are easily ignored. Ask staff to think about their role of safety in the care of patients. They should consider the importance of patients being clean and sanitary in their daily life.
Display interesting content that makes staff consider hospital safety in a deeper way. They'll be more likely to talk about it among their co-workers and in team huddles. Thoughts about patient safety on a larger scale will help them take basic safety precautions. It also inspires them to take more outside the box approaches to improving patient safety in your hospital.
4. Invite Staff Reporting and Feedback
In any industry, constructive criticism is the key to growth. Invite staff members to provide anonymous feedback and reporting. This will avoid stagnation in your hospital's leadership, policies, procedures, and overall effectiveness.
While hotlines and online reporting systems already exist in most hospitals, accessible healthcare digital signage can bring it to the forefront.
Traditional methods of reporting and feedback lack the necessary awareness and convenience to be a reliable mode of improving patient safety. Installing interactive screens in safe areas allow nurses, doctors, and staff members to lodge complaints or make suggestions. It's more likely that leadership will notice where your hospital can improve. And that improves patient outcomes.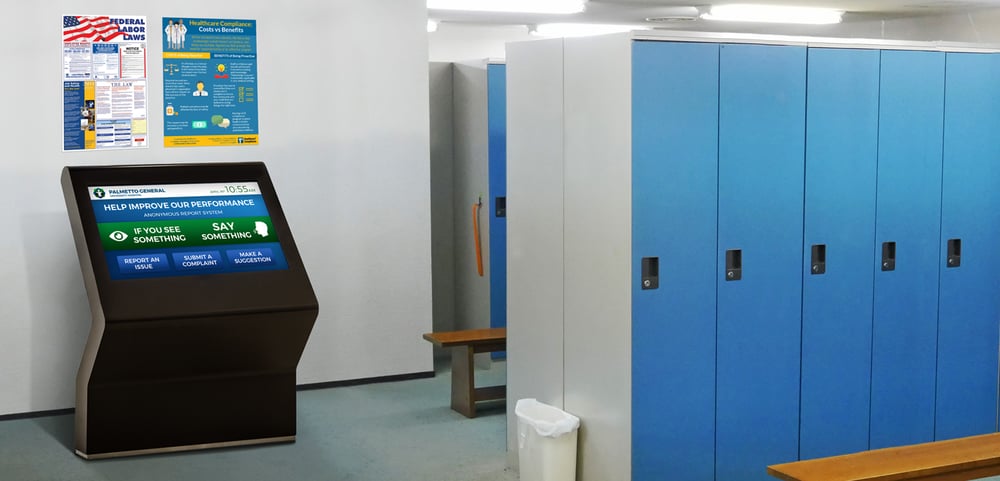 Interactive wayfinding isn't just for finding the restroom. It can be used like menu boards to quickly choose answers to short surveys. By integrating digital signs in areas such as nurse locker rooms though, your hospital gives staff members much more freedom to raise concerns.
If considerate, patient-centered care is standard at your hospital, digital signage will only reinforce those values for staff, patients, and visitors. A network of digital signs is a powerful tool for eye-catching, hard to ignore visual messages. They also serve as a dynamic interactive communication tool.
Digital signage plays a role in transforming patients and their families into active participants in the entire healthcare process. It improves communication, workplace values, and the habits of your nurses, doctors, and other staff members. Digital wayfinding also ensures positive patient experience, even for pediatric patient safety.
Hospitals must utilize their existing digital signage installations to boost their standards for safety events and general safety. For those reasons and more, digital signage is so useful for hospitals and healthcare facilities.