Hospitals always need to be prepared for worst case scenario situations. The kind that could end with a massive influx of patients being admitted to your healthcare facility. That's why your hospital absolutely needs a top-notch Hospital Incident Command System or HICS.
It handles the stresses and rigors of a huge patient surge (known as a medical surge). It also helps with staffing reassignments, mass discharges, and other numerous moving parts that go along with it.
During an HICS situation, your hospital's incident command center needs all the available tools at its disposal. They will then communicate information to those in need of it in a clear, concise, and timely manner. This means emergency management of all aspects of the response to the emergency from start to finish.
When an emergency goes sideways and your hospital sees a huge medical surge, you'll be playing catch up. All hospitals should implement digital signage or use their existing visual communications network as an enhancement to their HICS.
Digital Signage is a Powerful Tool to Improve Efficiency in HICS
Healthcare digital signage solutions can go a long way toward increasing efficiency in HICS. Digital signage software, used correctly in hospitals during a patient surge, keeps your staff, patients, and visitors on the same page. And that's precisely what your hospital looks for when trying to manage the fallout from an emergency event. Digital signage is powered by media players and can be seen on LCDs, touch screens, menu boards, and video walls.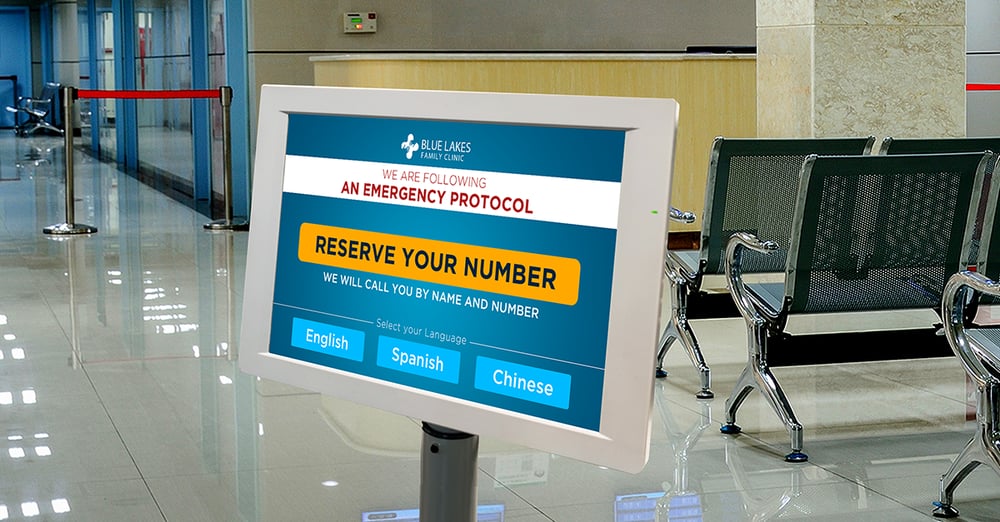 Dealing with a gigantic list of tasks while managing a medical surge means constant communication among everyone. Keep everyone in the loop and up-to-date on the specifics of the situation with a network of screens.
By using digital signs, your hospital will be compliant with the Joint Commission on Accreditation of Healthcare Organizations (JCAHO) regulations and guidelines. JCAHO sets the policies and procedures which accredited healthcare facilities must abide by. JCAHO requires that hospitals have a clear "Emergency Operations Plan, [and that] the organization prepares for how it will communicate during emergencies".
Not only will using digital signage further enhance your HICS efficiency, but you will be compliant with healthcare guidelines and regulations.
Your digital signage network should only ever be an enhancement to your existing HICS system. In some extreme disasters, your power grid could take a hit leaving you to rely on generator power. In that case your screens will most likely be offline, which is a waste of time.
Below are three ways digital signs boost your hospital's handling of emergency situations to a patient surge.
Geo-targeted Messages
The number of moving parts and chaos on hospital campuses during normal operations can be head-spinning. Let alone during medical surges. That's why it's important that your hospital has a network of digital displays that it can broadcast communications on. Specifically emergency content, in order to make operations flow smoother for everyone involved.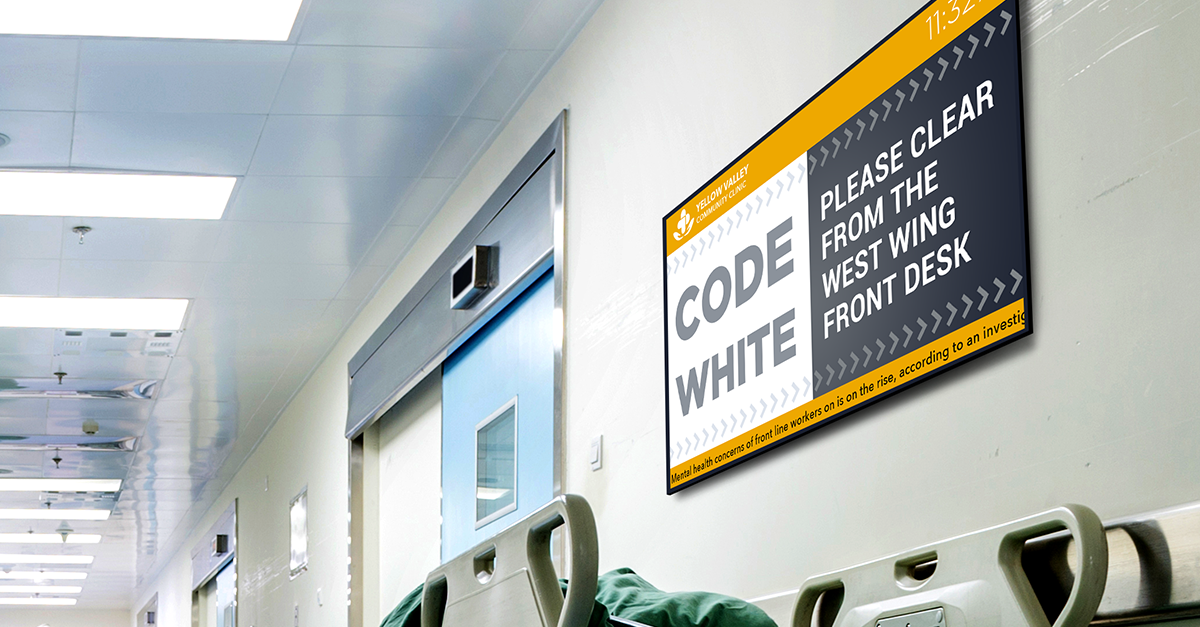 Content can be created anywhere, even working from home. It's controlled by a content management system (CMS) which improves employee productivity in any office space. This creates more flexible productivity even away from the hospital.
Blindly broadcasting messages across your screens haphazardly won't cut it during an HICS activation. For those situations, your hospital needs to be able to tailor messages to target specific wings and departments of your facility. Messages can be designed and targeted to inform specific audiences, which results in smarter, more curated messages finding those who need them.
Targeted alerts should be sent to ER nurses and doctors about changes in procedures or updates on a situation. That should be communicated on your ER employee-facing screens and other affected department screens. Harnessing a digital signage system with location and screen-specific messaging is an absolute must for improving HICS efficiency.
Staff Response Plans
Your staff should immediately prepare for how to handle an abnormal influx of patients when your hospital is notified of an emergency. With healthcare digital signage, this becomes far more achievable.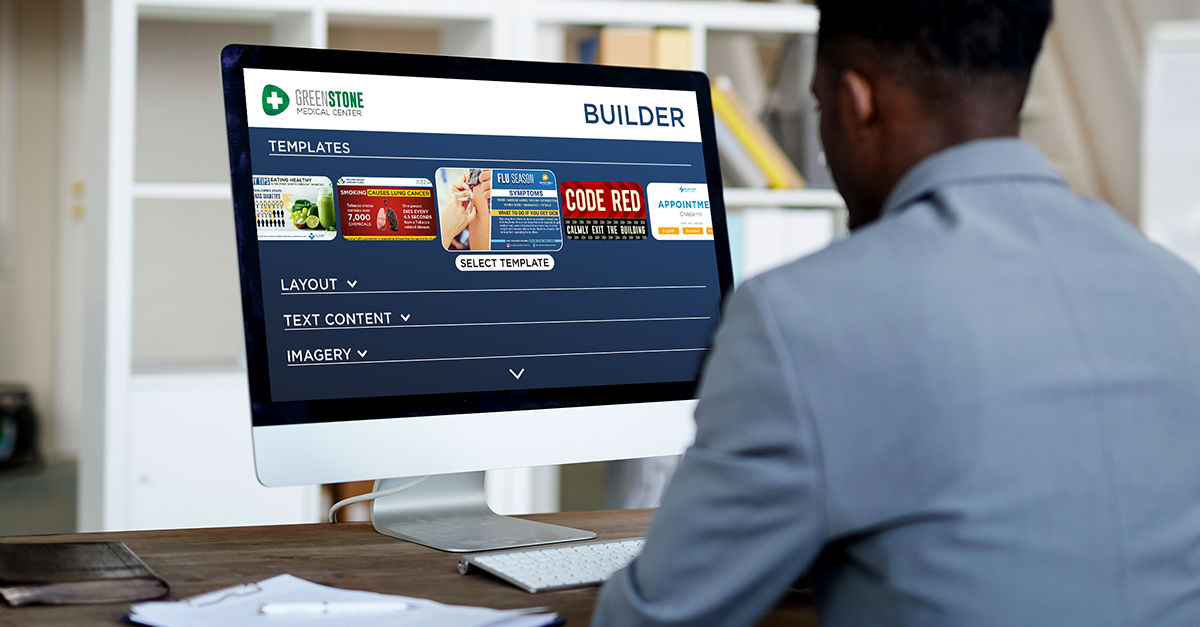 An internal visual communications system will display response plans to your staff to handle the impending situation before the chaos breaks out. This will lessen the need for the chain of command to disperse the information. Which uses up valuable time and leaves staff members in the dark.
When the chaos does eventually ensue, you will be able to send notifications directly to your staff members as they work. They'll know the number of patients to expect to admit, important workplace reminders, and where their care is most needed.
Detailed and real-time communications sent to your nurses and doctors during an emergency improves patient care and smooths the process.
Patient and Visitor Communications
When your hospital is over its normal patient capacity, the huge number of people seeking information will be downright staggering. For that reason, it's vital that your hospital inform both patients and visitors in a timely manner. This means answering both questions big and small for them.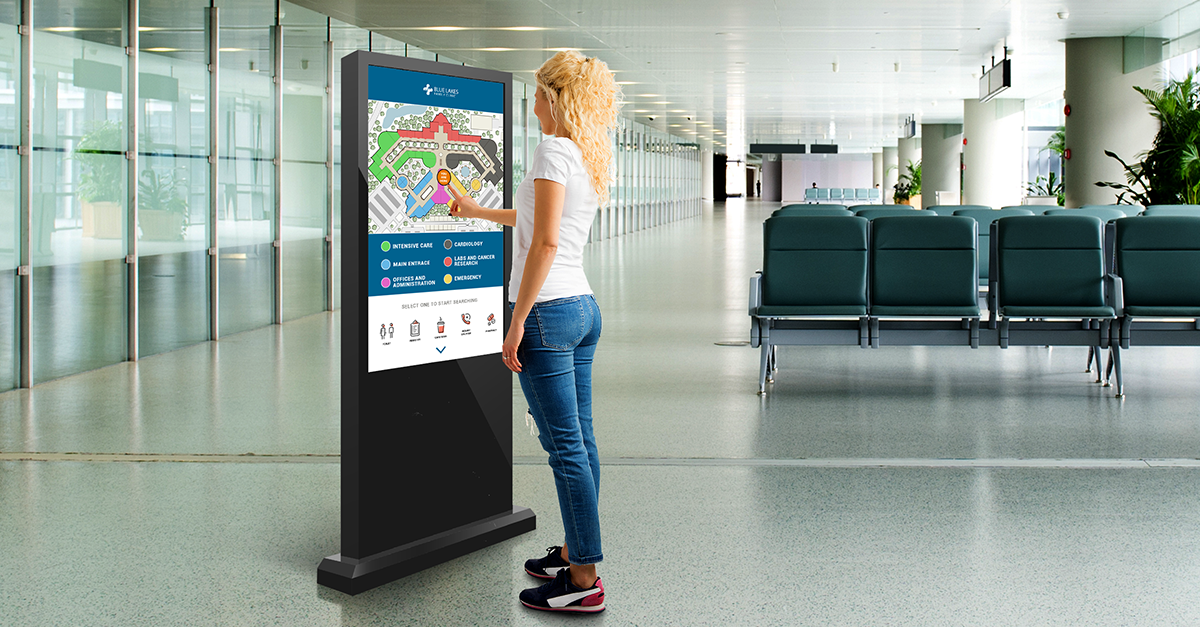 One way digital signage can do this in an HICS situation is through wayfinding. Wayfinding screens can point them to a specific location.
You can display important notifications and updates on your visitor facing screens that keep them in the know should anything change. Display to a patient's family members that their loved one has been transferred to a different section of your hospital. Remember that specific patient identifiers cannot be used due to HIPAA restrictions.
You want your hospital's digital signage to serve as a game-changing complement to your existing and robust HICS system. Your screens will fill in any and all communication gaps that exist in your current incident command system. Digital signs will deliver vital information that your staff needs during an emergency situation that leads to a patient surge. That's more information than they currently get.
Like the idea, but can't rationalize a digital signage purchase without having more uses for it? Check out the 7 Ways Digital Signage for Healthcare Makes Everything Better article for more information.