Digital signage is an incredibly versatile and powerful tool for a number of things—namely delivering information in an eye-catching, easily digestible way. So it's no wonder that it's one of the most effective tools for spreading awareness for causes and campaigns of all shapes and sizes.
Hospitals in particular have a lot to gain by implementing digital signs. The fact that digital signage can serve multiple purposes simultaneously makes it perfectly suited for the fast-paced maze of hallways and rooms which are a hospital.
There's much more to their use than just practicality. Garnering trust, building a sense of authenticity, and establishing your hospital as an authority on certain issues is an absolute must.
Below, we'll go over why promoting various health campaigns is important, how they can benefit your hospital, and the most effective ways of using digital signage to promote awareness.
Why You Should Promote Health Observances with Digital Signage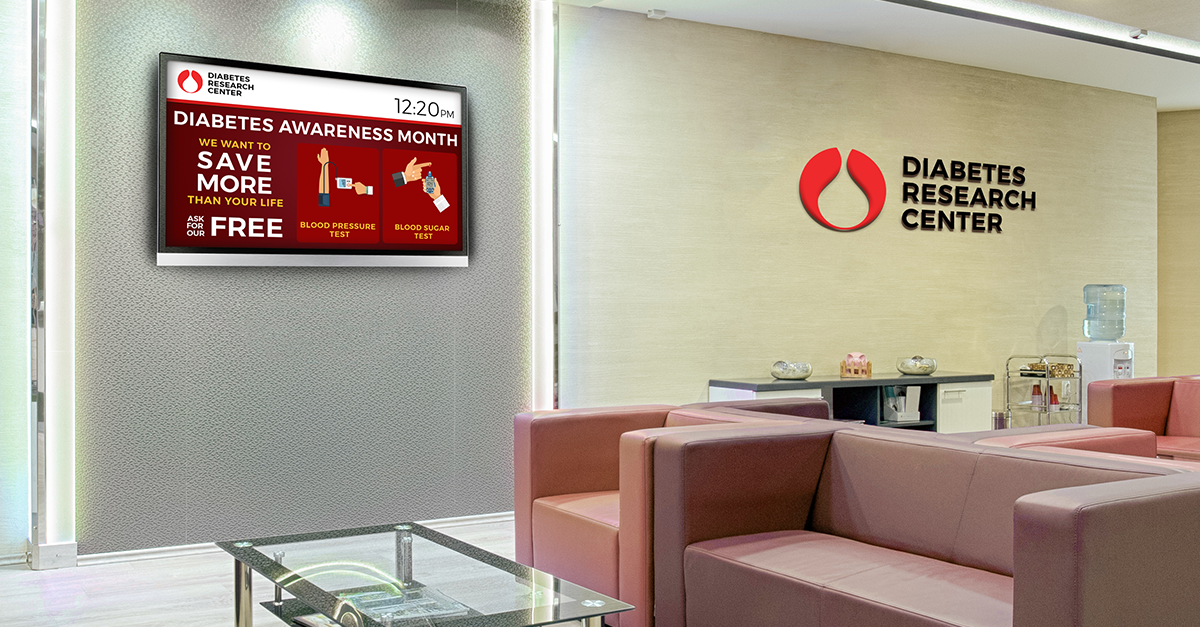 Promoting health observances with your digital signage will also promote your hospital's capabilities and strongpoints. A concerted effort to tackle things like breast cancer or prostate cancer makes a statement to visitors and patients about the quality of your facility and its aspirations.
Not only that, it can also lead to attracting new patients who may not have previously considered your hospital as their primary option for treatment. Engaging current or potential patients with thoughtful health awareness campaigns is one of many powerful and effective ways of reaching them. It'll demonstrate that your staff cares about improving the health of their patients, as well as garnering support for preventative measures.
Lastly, promoting awareness of various causes using your hospital's network of digital signs brings much needed attention to timely and important health issues that affect people all over the world. It can make a major, tangible impact that can help improve the lives of those in need.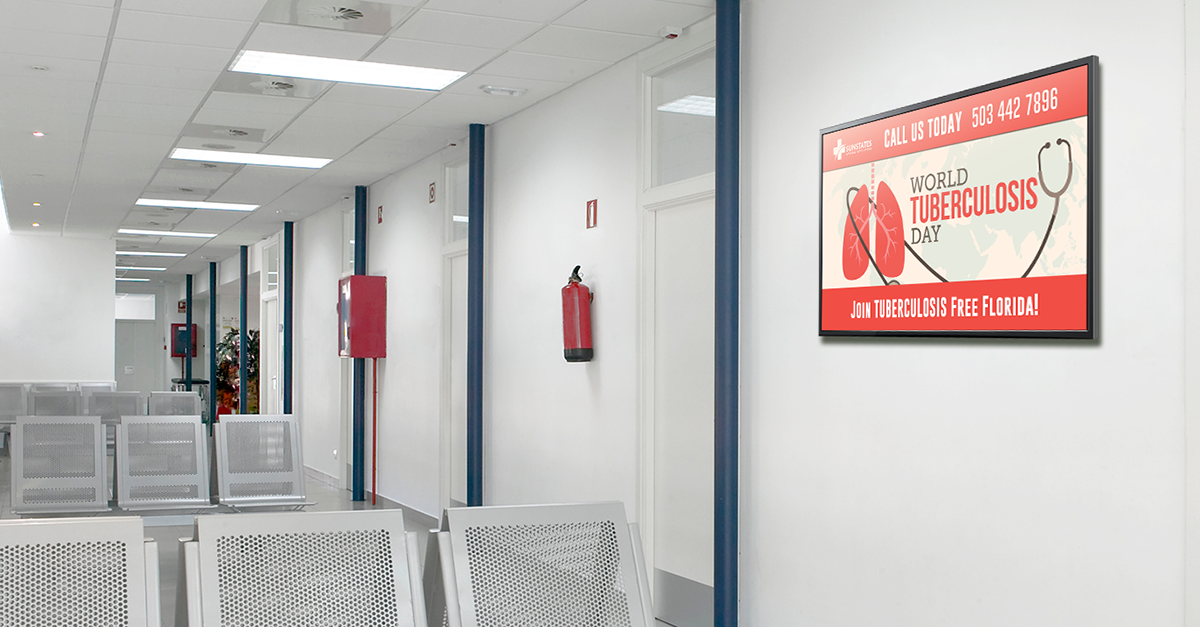 There's an incredible amount of these sorts of awareness campaigns to choose from. From National Breast Cancer Awareness Month to World Tuberculosis Day, you can pick and choose which ones apply to your hospital or community and incorporate them into your existing digital signage content streams. There are way too many campaigns to support them all, but having at least a few extensive campaigns per year is a great idea for any hospital. Choose a public awareness day, week, or month carefully.
How Can Awareness Campaigns on Digital Signage Benefit your Hospital?
With campaigns being broadcast across your network of screens, patients and visitors will view your hospital in a new light—especially if the cause being supported is something that affects them or one of their loved ones. This will improve the overall perception of your facility, which will then be reflected in key metrics, such as the HCAHPS. You understand how important survey scores from that are.
Showing support for noble causes will also increase morale among staff. Doctors, nurses, and other hospital employees work in hospitals for a reason—they care about healing people who are sick, injured, or otherwise in pain. Raising awareness and support from the hundreds of people who pass through your hospital's doors each day is an excellent way to help fight disease and other conditions that affect their patients.
If you're running multiple campaigns, use your digital signage software on media players to schedule each campaign during an overall health week. Those images & videos will display information on any campaign, such as mental health conditions and HIV & AIDS.
Most Effective Ways to Promote Awareness Using Digital Signage
Your digital signage content strategy should already be a well-oiled machine. Adding in some content about whichever campaign you're garnering support for at a given time should use a similar approach in terms of how the content itself is made and presented. You'll increase awareness for your campaign message with your target audience.
Take a strategic, well-balanced approach that leverages your screens' attention-grabbing nature. Multi-media is a good idea as long as you keep in mind that the content must be well-portioned. At any given moment, it should only offer the right amount to be taken in with a brief glance.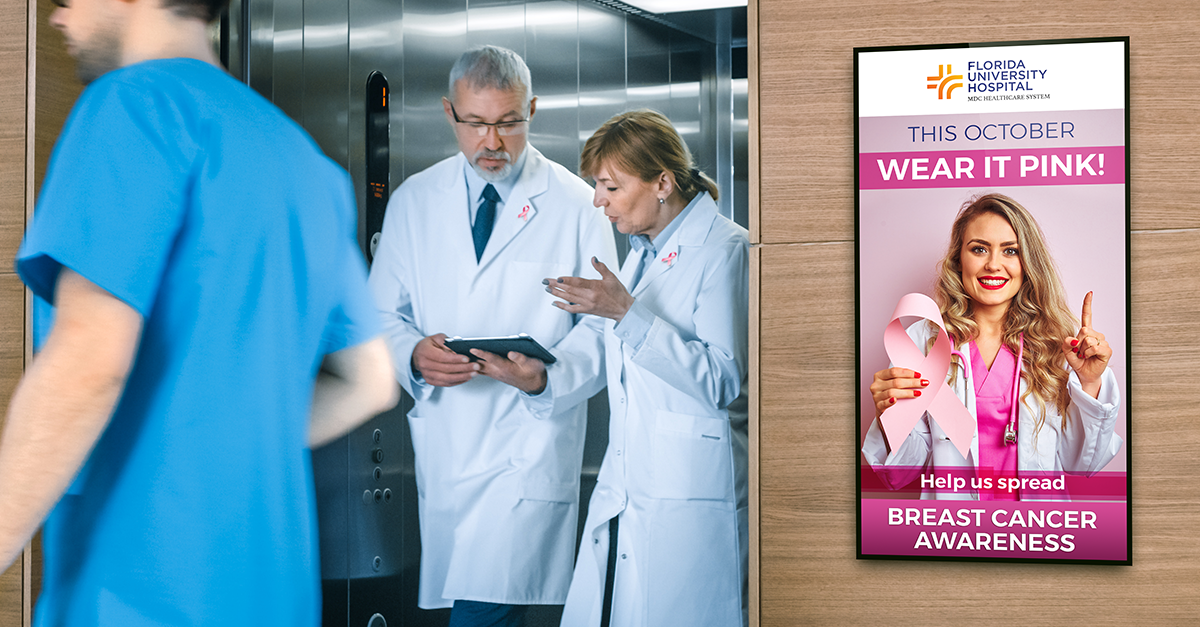 Legibility is essential too. For that reason, high contrast text is a must. Always stick to the 60-30-10 rule for your color schemes and be sure that your text pops.
60% of the content should have a dominant color; 30% should be the secondary color or texture; and 10% should be an accent.
Using compelling (CTAs) calls-to-action should also be an essential element in your approach. People need to be told what to do in order to help. Whether it's to wear a pink ribbon on their shirt, make a pledge, or share a post on social media, tell them directly what to do and how to do it. Use powerful language that incites action and provokes viewers to get involved.
Lastly, be sure to incorporate images of your staff embracing the awareness campaign, such as nurses and doctors wearing shirts for the cause. It's important not only to have your staff embrace the causes, but to display their support for others to see.
At the end of the day, your network of screens is also a representation of your hospital's values. You want patients and visitors to see that your administrators and staff care about solving these health issues in any way possible.
Gathering support from the community will not only demonstrate that, but put you in your potential patients' minds first and foremost as a main opponent of whatever the illness or cause may be. And since they'll be given the opportunity to reflect their sentiments with surveys like the HCAHPS, thoughtful awareness campaigns can only help your hospital's case.