Any patient can attest to being bored to tears from prolonged waits to see doctors, dentists, or any other healthcare specialist. A recent survey identified patient waiting room experience as one of the most important determining factors in patient satisfaction.
Since reducing wait times with consistency might not be easy, reduce perceived wait times to improve patient satisfaction. A patient feels time slowing if they're not engaged with someone or something. Magazines & newspapers can go only so far, but digital signage is a simple solution to that problem.
A good patient experience is achievable with waiting room digital signage. A patient waiting for their appointment could choose between a magazine and a video. The choice is obvious.
Here's how you can leverage the power of digital waiting room displays to keep your patients entertained, instructed, and informed in the process.
1. Display Wait Times
One stress for a patient waiting to see a doctor is waiting for their name to be called. Whether it's for an injury in urgent care or for a simple checkup, the uncertainty makes it all the more unpleasant.
Digital signage content on a waiting room tv reduces estimated wait times with real-time updating. Time information leads to the opportunity to visit cafes and eateries in your hospital while hungry and thirsty patients wait their turn in line, The potential earnings increase revenue as a result, and improve their overall experience in your hospital.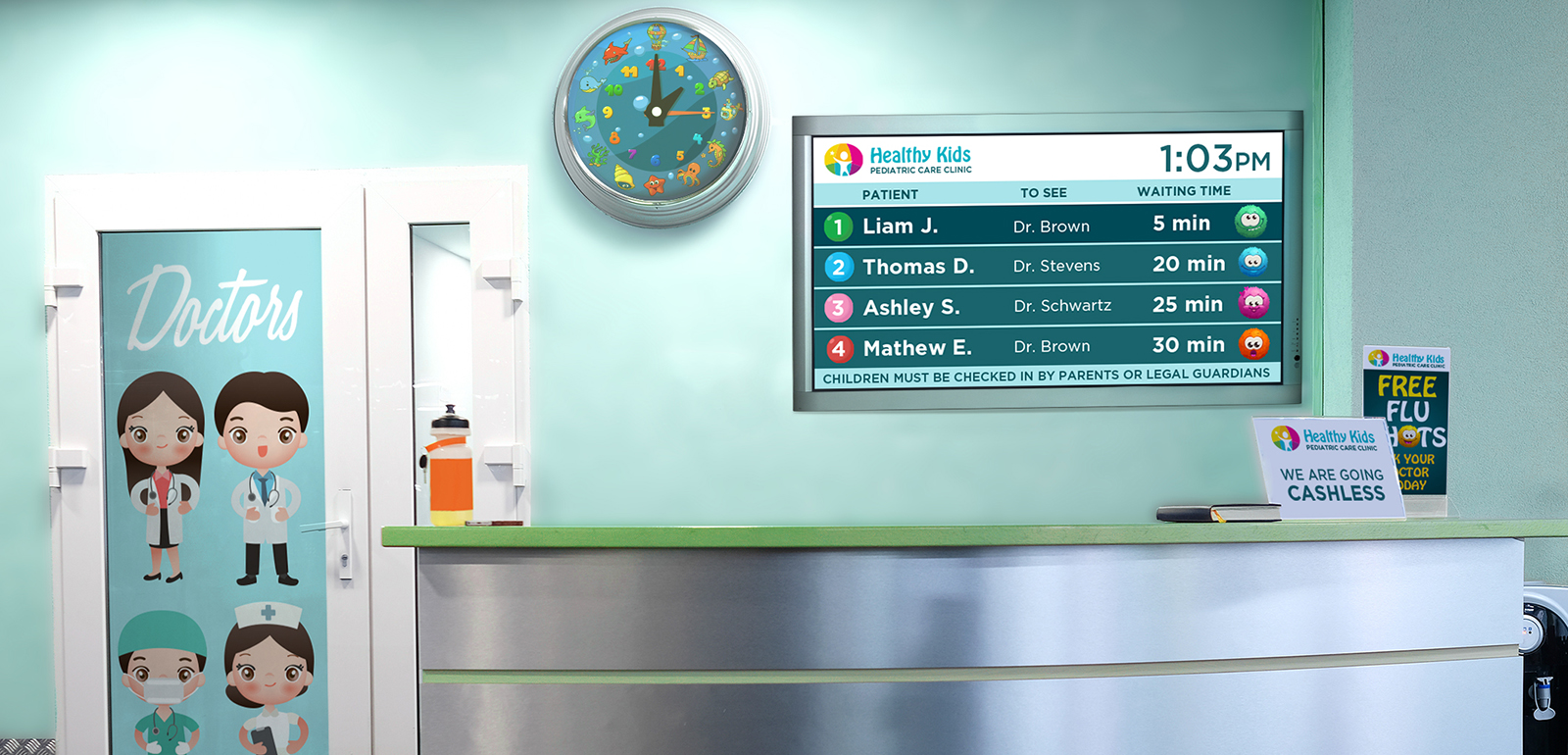 2. Doctor and Staff Bios
Patients feel uncomfortable if they don't know who their doctor or nurse is. Pushing their bios across your wait area's digital waiting room displays establishes confidence and trust in who they're waiting for.
Doctor and staff bios can include photos, descriptions of their background, their credentials, and even video interviews. Also, doctor and nurse profiles help patients who may be nervous or apprehensive about their treatment to feel at ease. This also reassures them about the professionalism and credibility of your services.
3. Check-In Instructions
When patients arrive, they want information on how to check-in. Door signs have limited information. Whether it's filling out forms or taking a number, they need to know what to do first and what's expected of them. Patients shouldn't lose their place in line because they registered or checked in improperly.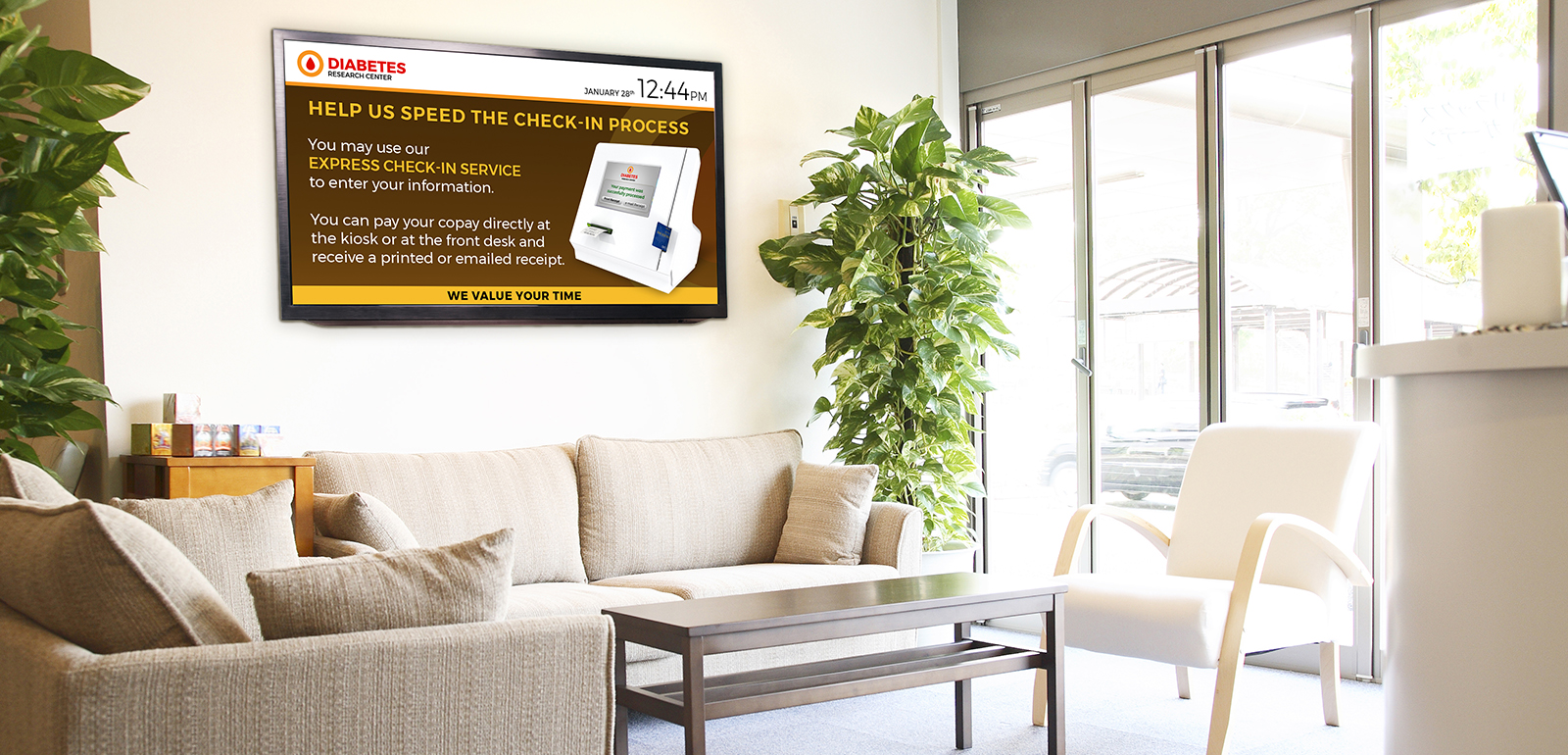 For the check-in process, digital screens streamline registration forms, automatically categorizing, organizing, and saving patient information. Digital forms eliminate mistakes caused by unclear handwriting and are much easier for staff to pull up and view at a glance.
Digital signs are also ideal for letting patients know what documents they need to have ready in order to speed up check ins. Clear, concise instructions displayed on your waiting room's digital signage will prevent any misunderstanding or mishap related to check-in. They also shorten the entire process.
For clinics or hospitals located in diverse communities, multiple languages should be displayed on your digital screens. This makes check-in easier for foreign visitors and speakers of other languages.
4. Entertainment
Throw away all magazines to keep patients calm in a waiting room. With a digital signage network, you're no longer confined to displaying news and live TV on your digital screens.
To engage more, use your waiting room information screens to display things like RSS feeds and your social media accounts, YouTube videos, and weather reports. Waiting room media will be more beneficial for both you and your patients. The more entertained your visitors and patients are, the more bearable their wait will be. And that's vital when it comes to patient satisfaction.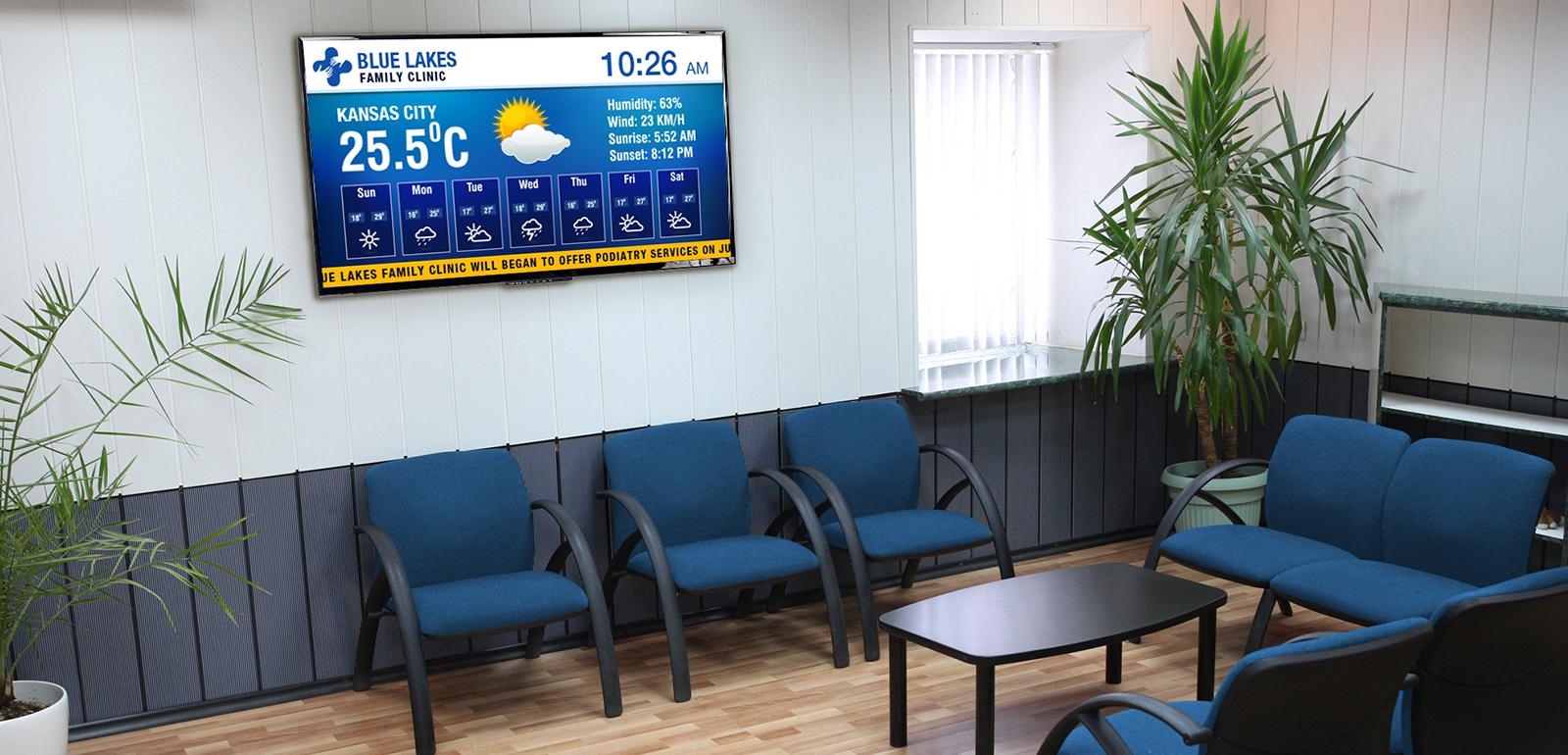 5. Educational Content
Many of your patients come to your hospital or clinic due to daily habits that affect their health. Digital signage will inform patients about things related to their condition.
Also, it can cover issues that may be relevant to their appointment and be better prepared to see their doctor. It's also a resource to add to their knowledge base concerning the nature of their condition, common causes, and possible treatment options. Visits will be shorter because the doctor won't have to explain the basics of their condition.
During flu season, or in the event of a virus outbreak, you can eliminate the outdated digital medical office sign informing on symptoms. Digital signage signs display preventative measures. such as washing hands frequently, and preventative treatments such as vaccinations. They can all be displayed in much more engaging digital waiting room signs.
On your digital signage boards, you can play various content. Videos, graphics, text, or even combined media, such as RSS feeds running along the top of customized videos will educate patients. Even text running against images and promo content will make an impression.

6. Promotional Content
For cosmetic surgery clinics, dermatology offices, or dentist's offices, show before and after photos, and testimonials. Promote and upsell your services to customers and patients. For hospitals, you can inform patients about your restaurant or café and provide its location and any current promotions. Highlight outside services to let patients know that you offer care that extends beyond your building.
For programs like blood drives and charitable events, give patients and visitors info on where and how they can contribute. Digital signage can also be utilized as an advertising platform for third-party marketing materials. This is ideal in generating even more revenue for your clinic or healthcare facility.
7. Specific Waiting Area Media
For hospitals and larger healthcare facilities, hone in on each specific waiting area or lobby's target audience. Content for waiting room signs or lobby signs should be displayed independently. Not every area serves the same purpose.
Since it will be controlled from the same content management system (CMS), each display will be targeted for a specific patient demographic. That way, your digital signage will be specialized for optimal utility.

8. Content Strategy for Implementing a Digital Signage System
Digital signage is incredibly dynamic. How can you make the most of it if you already have digital signs in place instead of office signs or door signs? That comes down to refining your approach.
You need a laser-focused content strategy with clearly defined goals. That means relevant, up-to-date information that engages the viewer. Think about wait times and requirements first and foremost.
Updates in real time on current events also enhance your content. But since your digital screens have the power to combine media and don't default to live TV.
Utilize your screens' maximum potential. Incorporate text message-like RSS feeds or live data into existing content. Use educational content, ads, and more to enhance their experience and your revenue.
Combine media to make the most of your waiting room's digital signage. Your patients will appreciate it and your HCAHPS scores will improve as a result.
Conclusion
Waiting room management is crucial to achieve patient satisfaction in any healthcare facility. A patient's waiting room experience affects how they view the staff and facility. Magazines and newspapers aren't enough to calm nervous patients.
Digital signage can ease nerves with patient wait time displays. Using waiting room display software will lower the tension throughout the facility. Along with waiting area media, you'll never feel the need for an old-fashioned hospital waiting room sign again
Like the idea, but can't rationalize a digital signage purchase without having more uses for it? Check out the 7 Ways Digital Signage for Healthcare Makes Everything Better article for more information.