Chaos and confusion can cause more harm than the actual emergency at hand.

Empowering students, faculty and guests to quickly make a safe and orderly exit isn't easy. This is why it's important to use digital signage solutions to get emergency notifications out quickly and clearly.
Because of the Campus Security Act, campuses will be safer when measures are in place.
Below are campus safety ideas.
1. Personal Preparedness Campaigns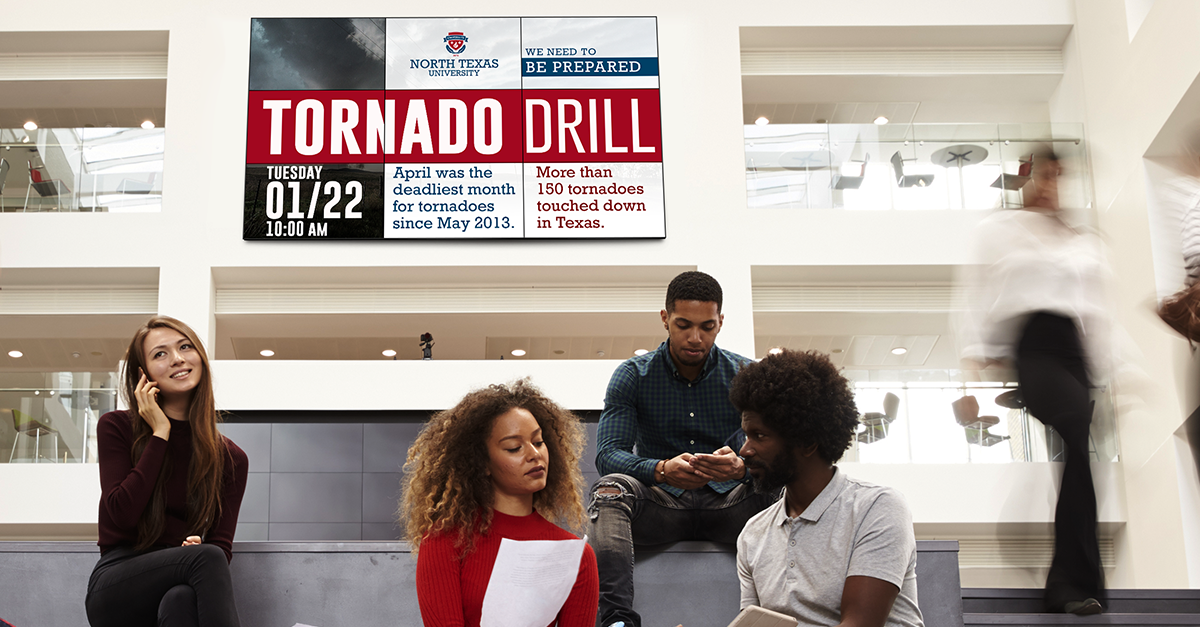 Help the campus prepare for and successfully deal with issues during any kind of incident. Build digital campaigns for First Aid Information, Disaster Prep Plans, and "What To Do If..." scenarios. Recall past issues and how digital campaigns would've meant a safer outcome. This will instill a sense of personal control and empowerment in even the most extreme circumstances.
2. Heightened Awareness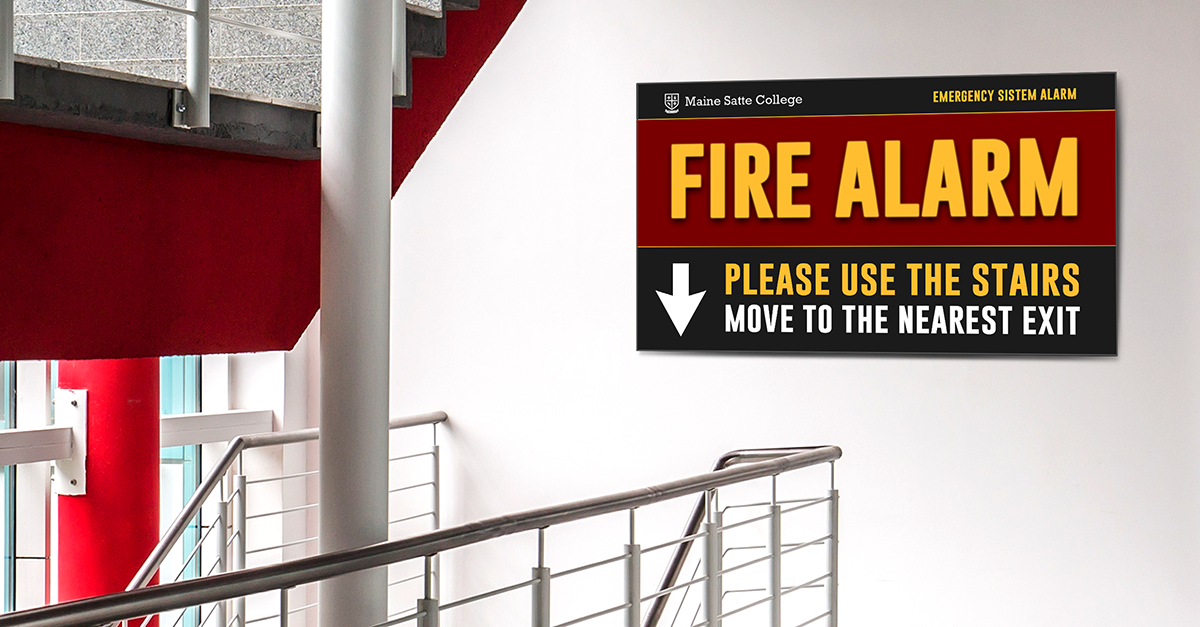 Reduce confusion and inaccurate information in an instant. Getting accurate information about what's happening and what to do is critical in emergency situations.
Digital signage will guide a crowd safely to the nearest emergency exit or gathering point. Emergency personnel now have a clear path to aid the injured and/or disabled. Digital signage reassures everyone that their safety is the only priority.
3. Inclusive Coverage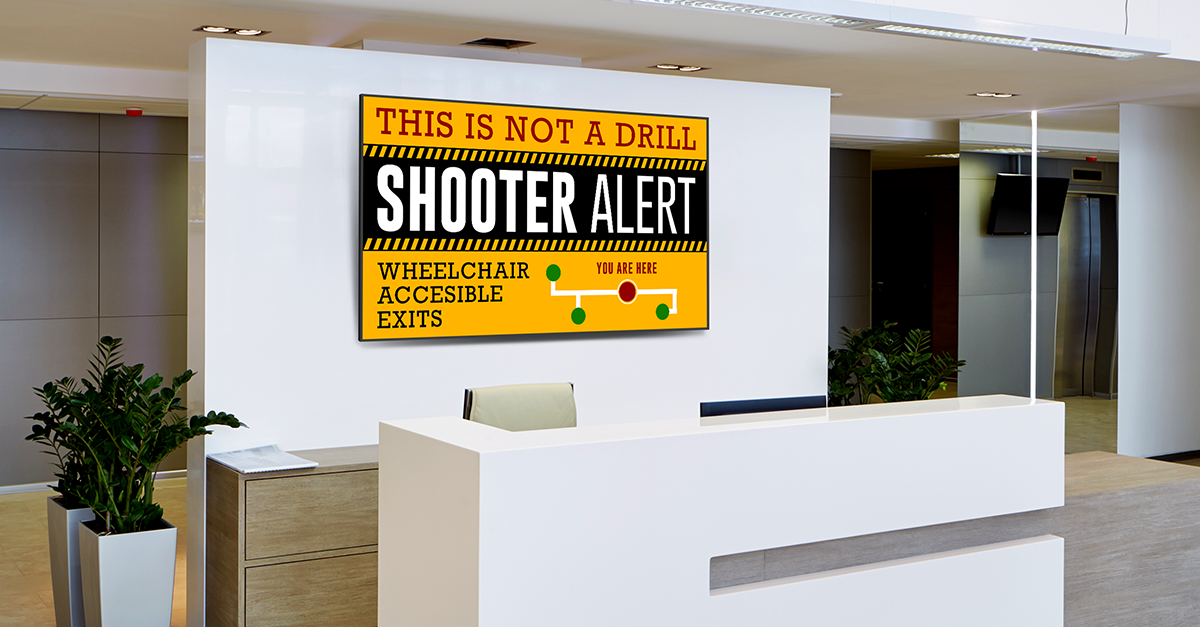 During an emergency it can be even more scary for those who have special needs. When a fire alarm goes off and you're in a wheelchair, the elevators shutting off heighten stress. Being hearing impaired while alarm lights activate causes confusion. The message is unclear as to whether the alarm is because of a fire, an active shooter, or an emergency drill.
Use digital signage to clearly convey in text where the nearest wheelchair accessible exit is, and what the emergency is about. The hearing impaired will understand immediately what the message is and what action to take. This empowers those with disabilities to take action in a meaningful and safe way.
4. Multilingual Messaging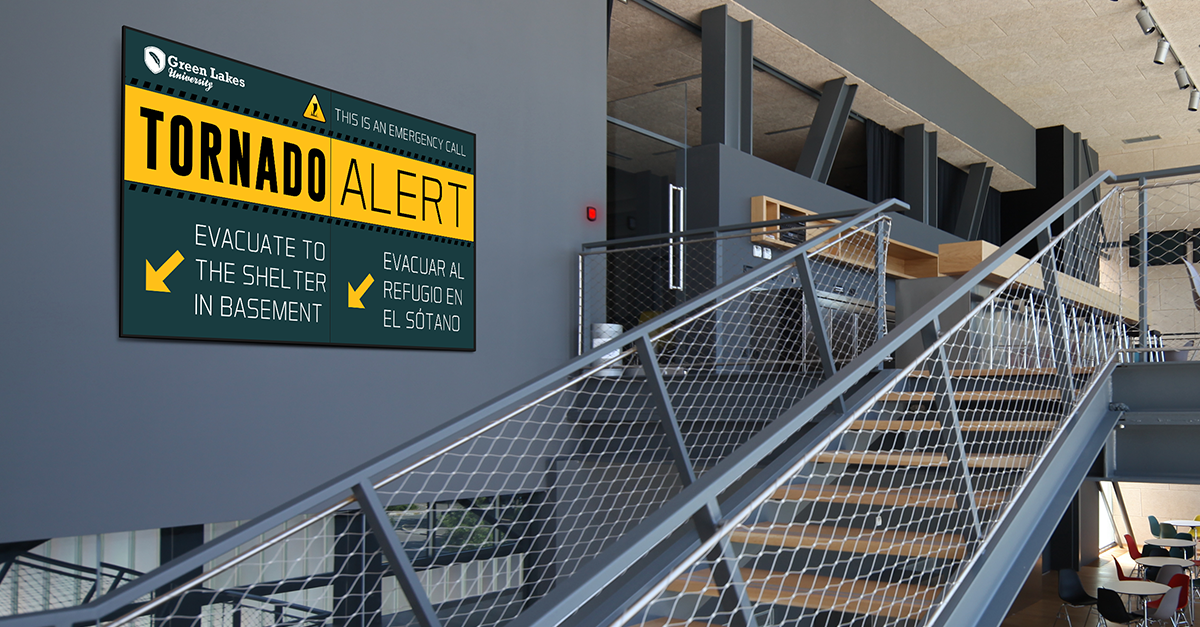 Imagine being a foreign exchange student who understands elementary English. All of a sudden alarms start to go off, and overhead announcements come from a garbled speaker. In a foreign language none-the-less.
Reach a greater number of people when it counts. Maximize the effectiveness of emergency information. Reduce barriers for the hearing impaired with digital signage. Augment inclusive excellence into dynamic digital signage with eye-catching, multilingual messages across campus.
5: Enhance Emergency Management Systems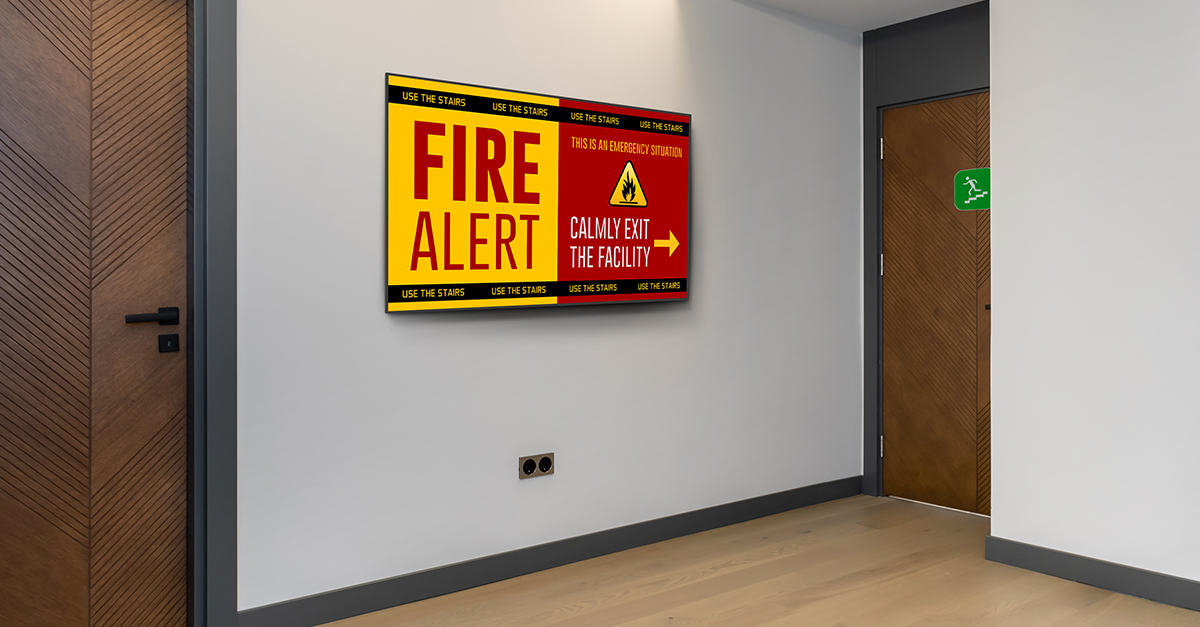 Enhance your existing emergency alert system. When the alert system triggers, general content switches directly to location specific alerts. This supports EOP, Incident Management Team and designated Emergency Warden directives with wayfinding and real-time messaging.
Crime prevention for campus safety can lead to lower crime & less security reporting. Even anonymous reporting, especially sexual assault, will be in the campus crime statistics. Campus safety officers on staff 24 hours a day will provide annual security. Local law enforcement will appreciate handling fewer crime reporting calls.
6. Digital Signs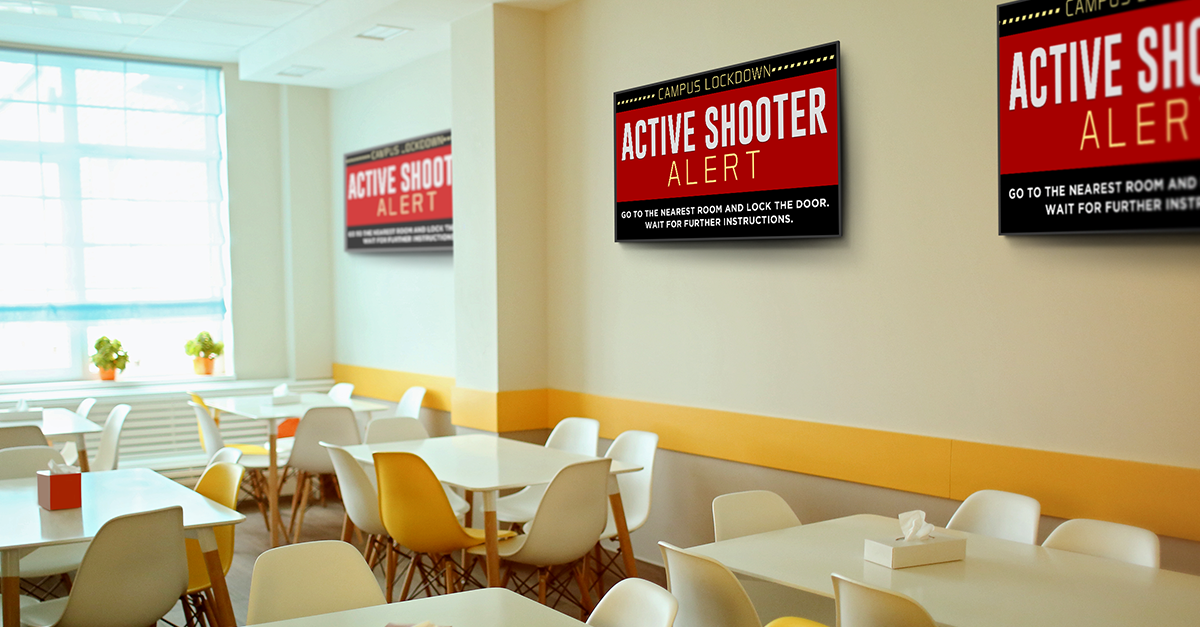 Digital signs are a highly effective, eye-catching means of communication on campus. Whether they're used as menu boards, touch screens, or video walls, the emergency message will appear instantly and clearly. They can also be used for social media, with images and videos which can display emergency alerts.
Content management systems with digital signage software on media players give the staff vital access to the digital signs. Digital signage players are vital to ensure the safety of everyone.
After an appropriate space is chosen, the student and staff will notice the placement of the digital signage. The size and brand can easily be chosen, since the goal is to make sure a message is clearly seen. It's not enough to have a clear, concise message; it should be viewed with minimal effort.
Conclusion
Because of the Clery Act, campuses need digital signage as part of their campus safety solutions. Personal preparedness, inclusive coverage, and multilingual messaging should also be part of any enhanced emergency management system.
In digital signage, the new customer experience can seem overwhelming. But the choices are simple if the needs of emergency messaging are a guide. Digital signs are the best option for campus safety and peace of mind in any situation.