Living in a place that has each of the four seasons in full swing year by year means facing a new set of challenges every few months. That obviously involves much more than just a change in temperature, so it's important that your healthcare facility addresses those challenges.
Your waiting room digital signage content is a great place to incorporate content that offers useful health advice to patients.
Waiting Room Digital Signage is Ideal for Educational Content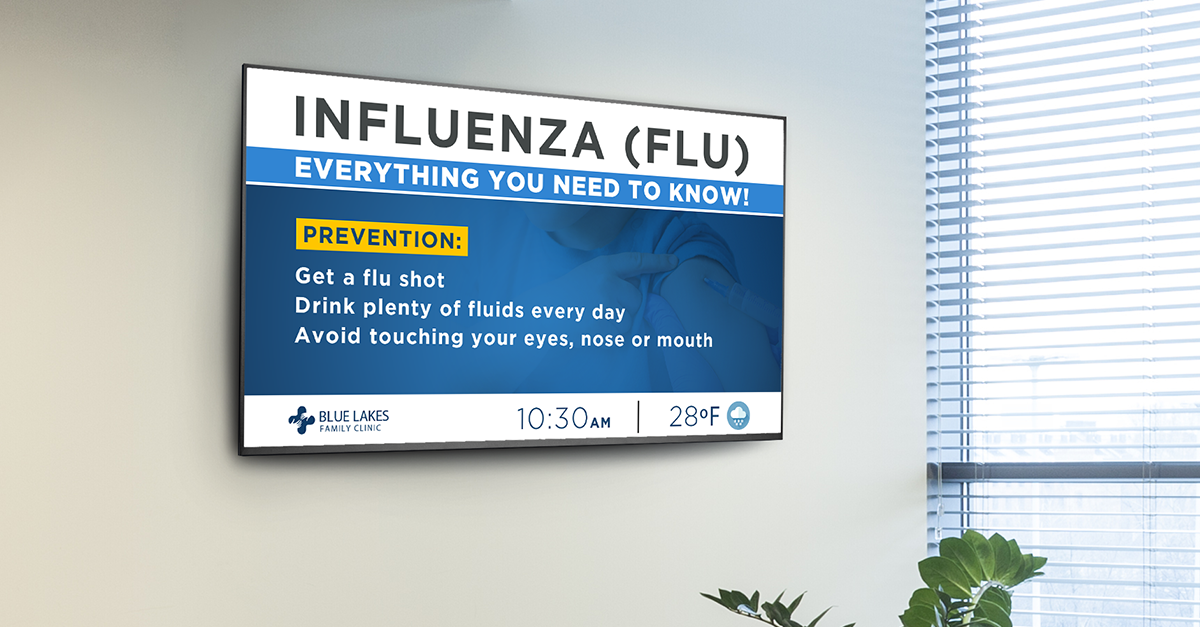 With the downtime patients will inevitably spend waiting for their name to be called, they will have plenty of time to view your healthcare digital signage content. It's an ideal opportunity to educate, inform, and instruct patients—namely, about how to prepare for seasonal conditions.
Whether your facility is a small clinic or fully equipped hospital, the changing of the seasons is something that affects all patients. Adding content that acknowledges this and addresses the complications involved will help patients to cope.
Here are some healthcare digital signage ideas that you can add to your waiting room's digital screens.
Winter
Winter is certainly the hardest season to deal with in terms of patients' health, and not just because of the freezing climate. Seasonal Affective Disorder (SAD), commonly referred to as seasonal depression, is something that approximately five percent of Americans suffer from. Especially in areas that have particularly long and difficult winters, it's important that your patients are aware of its effects and how to combat them.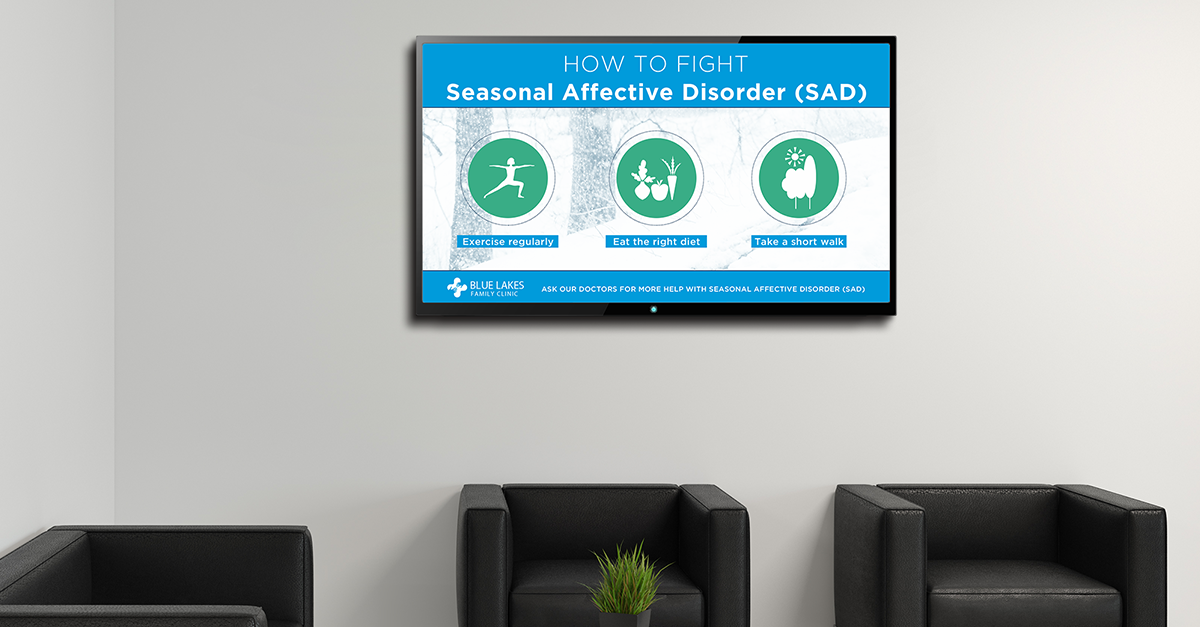 This time of the year, the holiday season, means that medical centers need to be extra alert to patients receiving medical care. Their needs might go beyond a wound. Some patients might be on the lookout for a job alert leading to a full time season position, and that means stress. Taking stress into account, a word with a patient on their mental stresses could lead to mental health care, along with those stitches.
Additionally, special care should be taken to maintain a healthy lifestyle, because let's face it, winter is by far the laziest season. Instead of giving in to hibernation mode, patients should be encouraged to exercise daily and eat healthy. Since SAD is primarily due to a lack of sunlight, special care ought to be taken to get outside in the daytime periodically as well.
Patients with heart conditions should be particularly careful when shoveling snow or ice. Lastly, salting patches of ice on staircases, driveways, and walkways is an essential way to reduce the risk of falls.
Spring
At the start of spring, it's important for patients who suffer from SAD to take some time to go outside and enjoy the warmer weather. It'll help them to finally get over their seasonal funk and back into a healthy routine.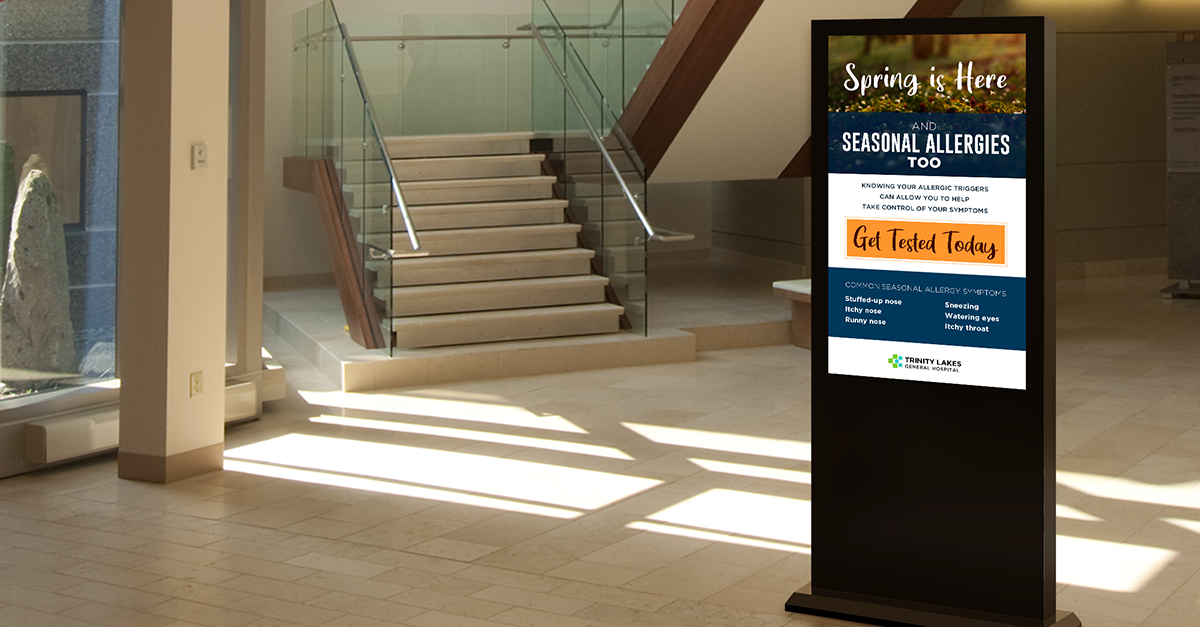 Also, since allergies are at their worst during spring, encourage patients to protect themselves the best they can. That could mean taking allergy medication or avoiding certain things that trigger allergic episodes. This should only be taken if it agrees with all other medications currently being taken, however.
Finally, patients should be aware of any poisonous plants that may grow in their area. Children and pets could be at risk.
Summer
In summer, one of the most important ways to stay healthy is drinking enough water. It's easy to get dehydrated and not realize it, so your waiting room digital signs should remind patients to hydrate frequently. In this season, medical issues are the furthest thing on their minds.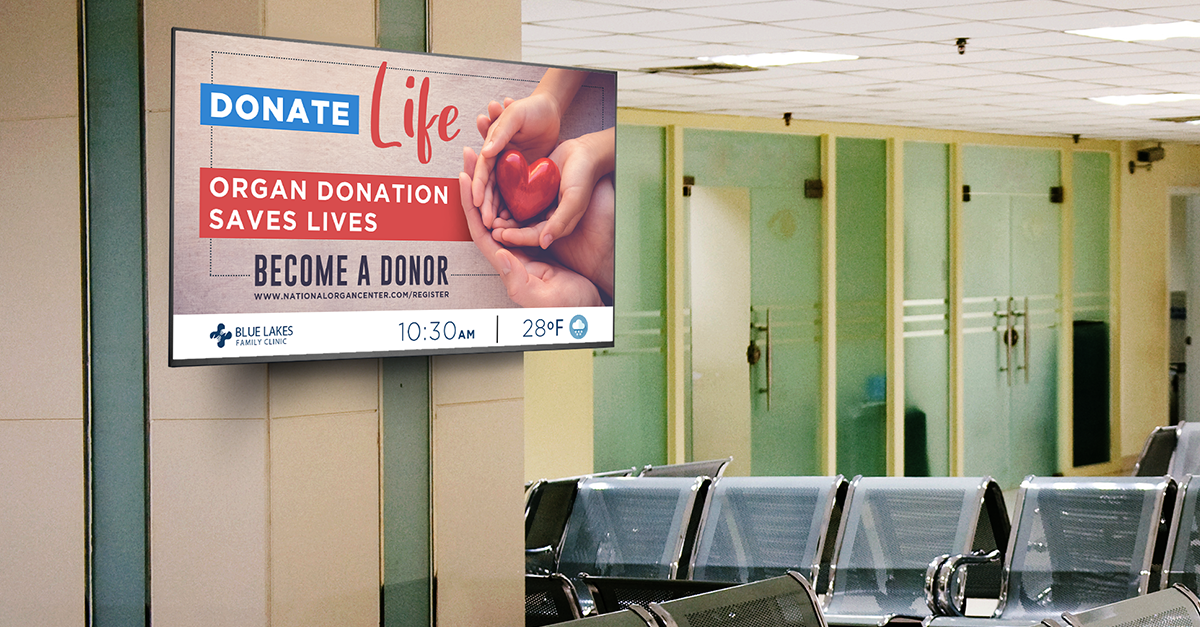 Whether your patients will be relaxing under the sun or working outdoors, sun exposure is something they should be reminded to be careful about. Sunblock should be applied every two hours to adequately protect the skin. Additionally, give instructions on how to identify cancerous patches of skin should they occur. That way, they can get it checked immediately if they've already noticed something suspicious.
You can also discuss precautions such as only swimming where a lifeguard is on duty, safety while operating vehicles such as motorcycles, and other high risk activities.
Summer is often a time for organ donation awareness campaigns, so use your hospital digital signage to garner support for organ donations that help save lives.
Autumn
In the fall, it's important for patients to be prepared for flu season. This is a perfect time to let them know if your facility offers flu shots on-site. That way, they'll be able to get their flu shot after their doctor's appointment.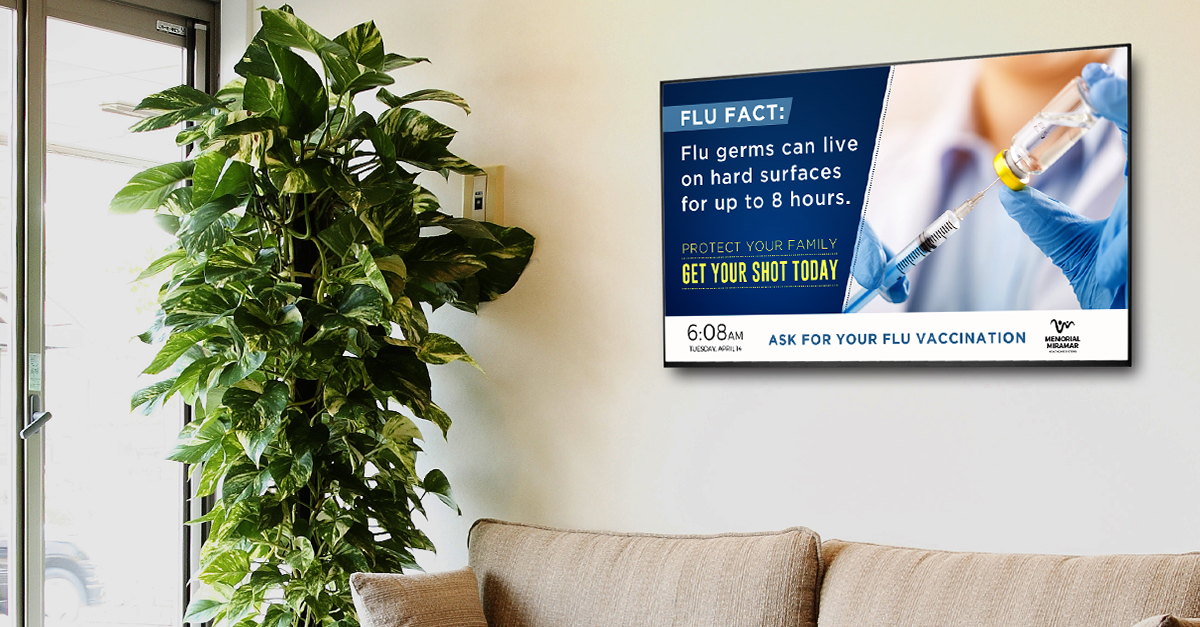 Preventative measures can also be emphasized, such as washing hands frequently and covering their mouth when they cough if they're already sick. Since colds are more common in the fall, it's particularly important to be as sanitary as possible--especially in public places.
Patients with worsening arthritis due to colder temperatures should be encouraged to talk to their doctor about it. If your facility offers physical therapy or any other services that might be beneficial, waiting room digital screens are a great way to spread the word.
Tips for Creating the Best Digital Signage Content for Healthcare
Now that you have some ideas for what to discuss in your content, make sure that you are using digital signage best practices to maximize their effect. Below are suggestions on how you can get the most out of your digital screens for waiting rooms.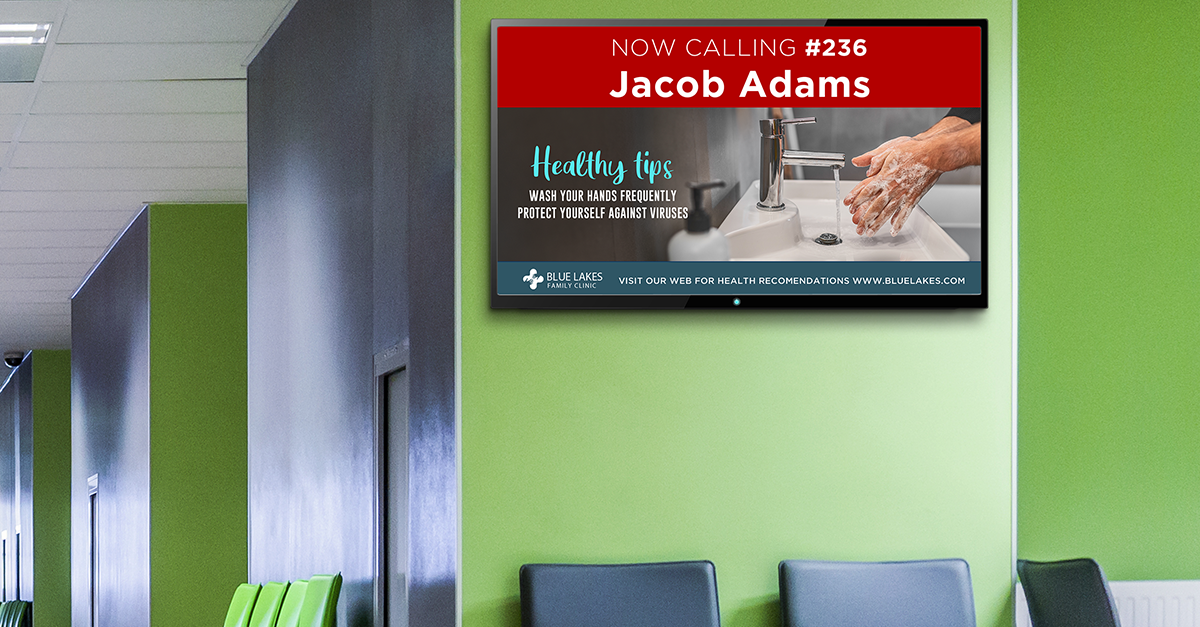 Use calls-to-action – Make sure you use strong, clear language that tells your patients exactly what to do.
Keep text limited – Use the power of multimedia to your advantage. Don't simply use boring blocks of text or else much of it will probably be ignored
Make your signage useful – Using your screens for more than just educational content will kill two birds with one stone while attracting even more attention to your screens. For example, display the name of patients and their place in line.
Garner brand loyalty – From encouraging interaction through social media to simply selecting the color scheme that your facility's brand uses, make support for your brand a priority.
Display Content Correctly for the Best Effect
Now that you have great content, use your digital signage software to show those images & videos on LCDs, touch screens, video walls, menu boards, and on multiple screens. Digital signage players are able to handle any content you want shown. Let the media players be the muscle of your content.
Conclusion
Simply put, your digital signage healthcare content is an integral part of the treatment you provide. From the moment patients walk through your facility's doors, their service begins—something they're well aware of. Digital signage for hospital waiting rooms and clinics provides you the opportunity to take their care a step further. That way, when it comes time for them to express their opinion about your clinic or hospital, they'll be kinder knowing that your facility goes the extra mile.