What are the five social determinants of health (SDoH)? The Centers For Disease Control and Prevention (CDC) defines social determinants of health as 'Conditions in the place where people live, learn, work, and play affect a wide range of health risks and outcomes.' That social determinants of health definition helps guide those at risk towards a healthier lifestyle. Also, the social determinants of health include awakening the need for those in power to address this issue.
Social determinants create barriers for less fortunate people to receive the best quality care. These are economic restraints, unhealthy living conditions, poor social influences, or any other social determinant. It's a problem that all institutes of medicine should address head-on.
Digital signage offers unique ways to reach people who may be suffering from the effects of social determination in regard to their health. Its eye-catching nature is the ideal way to provide them with quick tips on how to mitigate some of the issues they face.
Below are some ways to help people who are the victims of social determinants. By implementing some of these approaches, your digital signage content will make a big difference.
Where They're Born and Live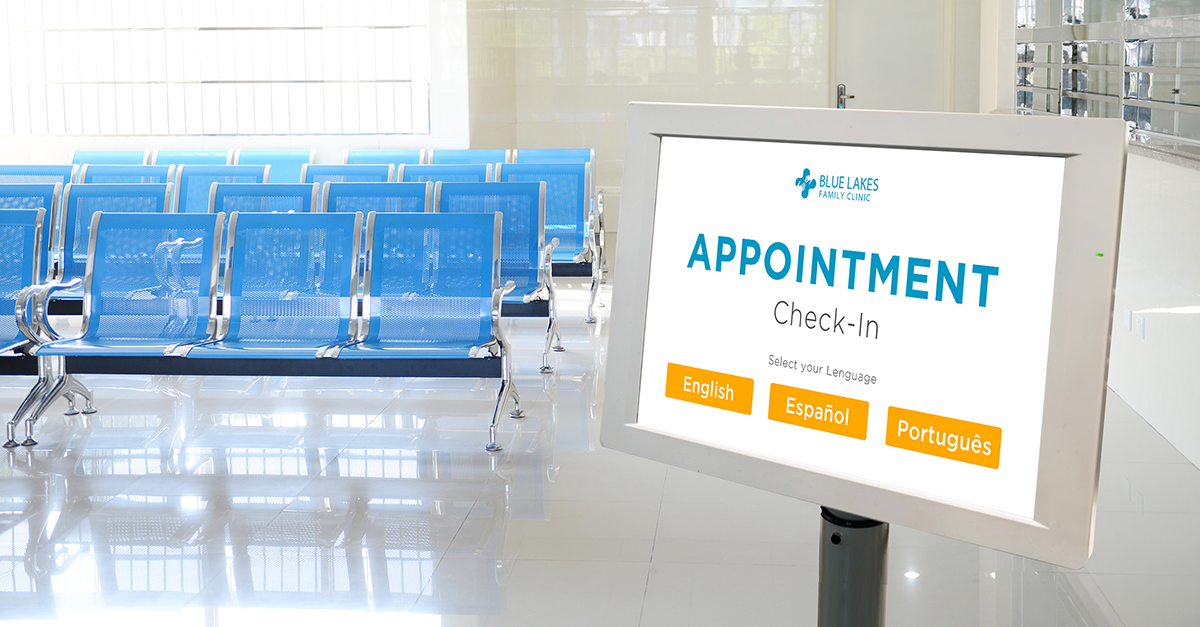 In life, where people are born grows into a major factor for their health. That person's life is affected by the nearness and quality of healthcare and to resources for healthy living and eating. The social influence of where they live can be a barrier to seeking a healthy lifestyle, also. This is where the social determinants of health framework is a factor in their lives.
Whether a person is young, middle age, or elderly, digital signage is a major factor in providing social determinants of health examples affecting them. Once they understand that where they live fits within the social determinants definition, they can learn to control their health.
One factor is communicating as effectively as possible to non-native English speaking patients, and incorporating other languages into digital signage. Spanish, Chinese, or any other foreign language can be provided as subtitles along the bottom of digital signage displays.
Relevant check-in forms on touchscreen kiosks should be available in a variety of languages. That way, not only will check-ins of foreign language speakers be faster, but data can be streamlined and instantly logged.
Display multilingual content to remind patients that interpreters are available on-site to help them translate their paperwork and provide accurate info.
Display that content on digital signage for the offices, departments, and facilities patients will need to visit. The patients will seek out digital signage to meet their needs.
Learning to trust digital signage content will lead to others following obvious benefits. Be mindful of the audience and what they need in trusting what you say.
How They Live
Patients should be reminded to take care of themselves and their environment. Namely, quitting, or at least reducing, harmful vices like smoking tobacco or excessive consumption of alcohol.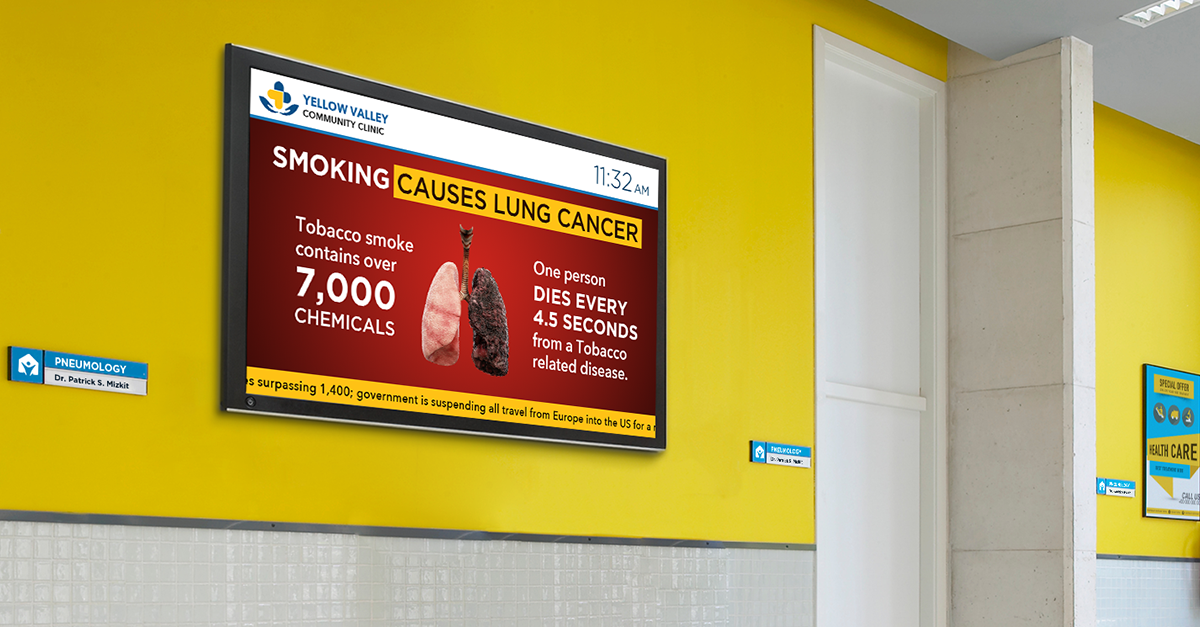 Patients should be made aware that stressors and environmental factors impact their health. Air and water quality, and the environment they live in will negatively affect their health if it is unhealthy or polluted.
The United States has the most expensive healthcare in the world. Those who are economically disadvantaged would greatly appreciate some tips on how to reduce the cost of their care.
For example, for certain treatments, urgent care would be just as effective as the ER. Notifying patients about this could save them a lot of money. It'll also keep space available in the ER for more serious injuries.
Payment plans and even grant opportunities for medical care may also be available. Notifying patients of these options with your digital signs could greatly reduce or even eliminate the amount of medical debt they're about to take on.
Even notifying patients to make sure their healthcare system is accepted by your clinic can be incredibly important. There may also even be another clinic nearby that can offer the treatment they need at a lower rate, which to an economically disadvantaged patient would be need-to-know information.
Community healthcare centers may be the only option for some patients, so letting them know about these facilities through your digital screens could be helpful.
Identifying and sharing ways that patients who are affected by social determinants can reduce their spending is key to helping them.
How They Learn
Digital signage is perfect for displaying all the stages of a person's life. Content aimed at babies, teenagers, mid-lifers, and the elderly, shows everyone how to live their best at their current age and for the next stage.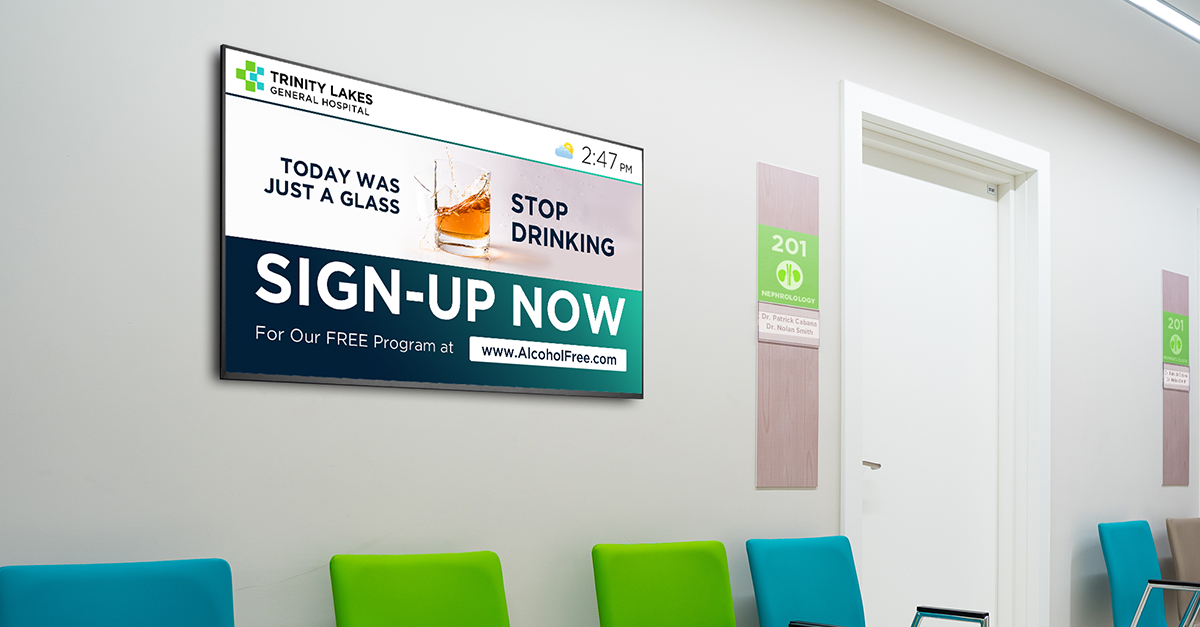 It's important to emphasize that the way this information is presented is just as important as what's said. That's why calls-to-action (CTAs) are essential with digital signage.
Simply reminding them to "eat healthy" isn't an adequate suggestion.
Displaying stats of health issues related to certain dietary habits on the other hand, is more powerful.
Be sure to suggest alternatives to balance their diet, which includes healthy, nutritious foods. This will keep them from just excluding the worst things from an already inadequate diet.
Mental health is an important aspect of healthy living. Being mindful, avoiding substance abuse, eliminating smoking, and getting a good night's sleep are a few ways to improve mental health.
Digital signage is a great way to remind patients and employees to lessen stress through self-help classes. They'll see that lowering stress reduces their blood pressure, along with other benefits.
An audience will listen if suggestions are given clearly and directly. Don't be afraid to use commands and strong language in healthcare digital signage content to grab their attention.
Tell them to follow a hospital's social media channels or sign up for mailing lists. This will provide more frequent reminders to pay attention to their health.
Digital signage is more impactful towards remembering images and words at any age. Use it correctly and everyone will benefit.
Where They Work
The workplace is where most people spend the largest amount of time away from home. Hospitals can remind people how to work healthily, even if they have to take concerns to the company.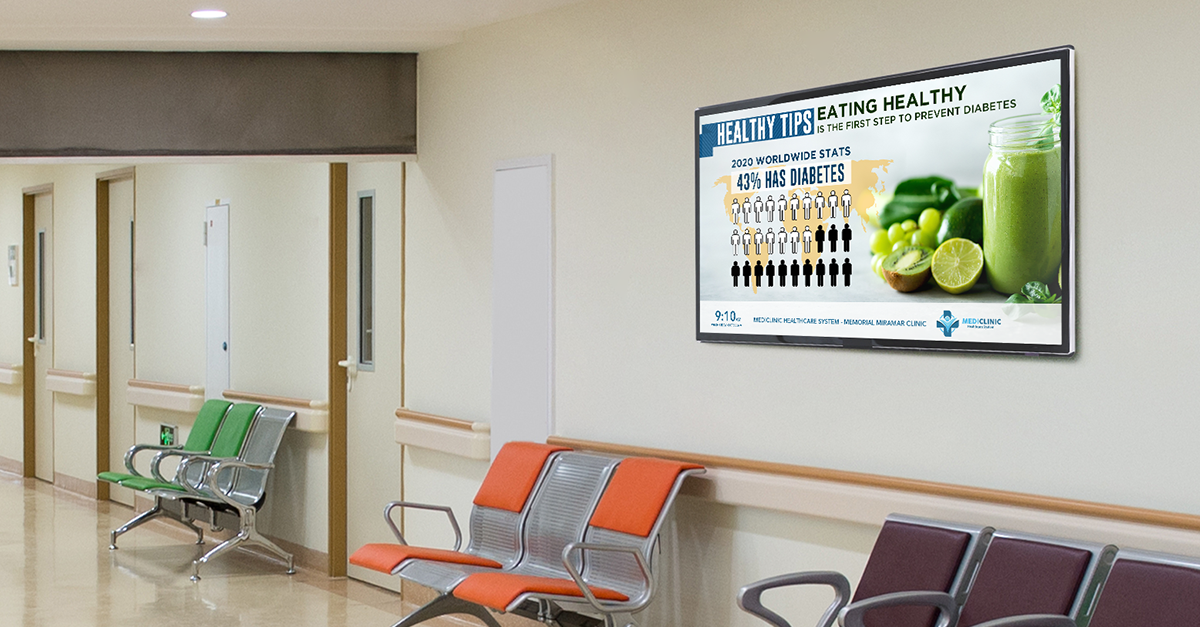 Digital signage can display ways to create a healthier workplace. Create content to enforce a healthy environment. Opening windows, making the workplace smoke free, and wearing masks to protect workers are some suggestion which will help employees become healthy.
For those who sit at a desk, digital signage content can teach simple exercises to prevent carpal tunnel syndrome and keep backs limber while also taking breaks to stretch legs. Even something simple as how to correctly list a heavy box will be a valuable help in keeping everyone healthy.
Display content to show how anyone can look to their local, state, and federal governments for guidance and advice in healthy workplace living. Governments are there to help everyone.
The workplace is vital for everyone's health, and digital signage is a major influencer in creating healthy habits.
How They Play
Play is essential for a healthy lifestyle. But where you play, how you play, and how you treat your health while playing can affect short-term and long-term health.
Display digital signage reminders about choosing healthier locations to play. They'll then understand the unhealthy effects of taking rapid and deep breaths in polluted air while exercising, biking, and playing sports.
Digital signage helps educate people to keep hydrated, understand how the sun affects them, and how to listen to their bodies for signs of excessive play.
Learning how to deal with injuries is another way digital signage works well. Teaching the correct way to treat a wound will have less impact on play. For serious injuries, a reminder of using 911 is still a good idea.
The goal is to have healthy fun, and digital signage is the best way to achieve that.
Conclusion
The CDC social determinants of health definition at the beginning of this article was created in addressing social determinants to improve health within social and economic disparities. Health care by social interactions creates health equity from a national prevention strategy. That's important for a public health care organization in creating health care systems.
For disease control and prevention of poor health, allow people to seek answers from a social determinant of health model with the hospital's help.
A hospital's digital signage system will teach them to follow the advice of the centers for disease control. They should be reminded of all the above suggestions in digital signage content. That way, a hospital will be able to help reduce social determination in regard to healthcare in that area.
The CDC control and prevention guidelines are a valuable guide to healthy living, and digital signage is a crucial tool in lessening the 5 social determinants of health.