Healthcare digital signage content should be considered a three-pronged approach. First, your content should be leveraged to educate, inform, and entertain patients and visitors. Two, it should be utilized to boost workplace efficiency and effectiveness. Lastly, it should be created with intent to include driving increased revenues, higher HCAHPS scores, operating improvements, fundraising efforts, marketing, internal culture reinforcement, or a myriad of other objectives.
Crafting highly compelling digital signage content for your hospital or clinic isn't an easy task, though. It requires thoughtful design and strategy, which means before you ever start to create content to broadcast across your healthcare digital displays, you must know your audience inside and out.
In a healthcare environment, these can oftentimes be pretty obvious. For example, visitors to your hospital will definitely need vital information about how to get where they are going. The solution is interactive wayfinding solutions and digital directories. As for patients in waiting rooms, they will need interesting, educational, or entertaining content to pass the time. At the same time, your doctors and nurses will desire employee-facing information that helps them collaborate and communicate at a higher level.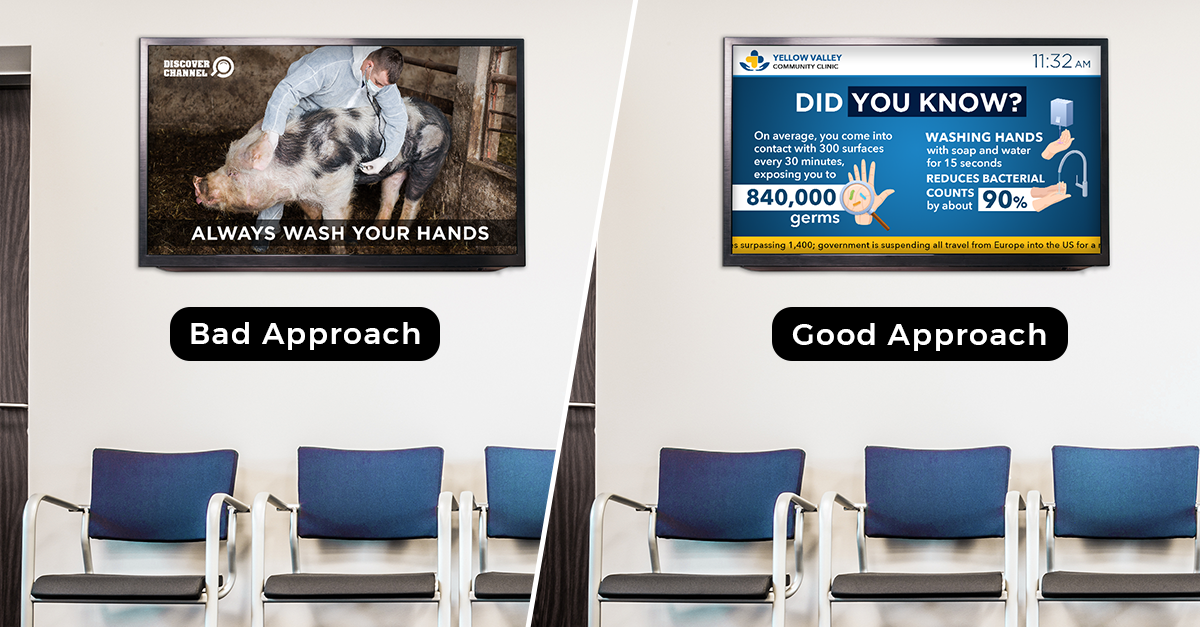 By displaying engaging content across your network of digital signs, your patients will be less stressed and better informed. And your workers will be much more capable and competent, with revenue streams becoming stronger.
With that said, here are six tips to help you get the most out of your healthcare digital signage by creating thoughtful content that not only attracts attention but also communicates vital information to everyone on your healthcare campus that needs it.
Keep Content Relevant
Relevant content will keep viewers interested. This is especially a problem in hospitals due to the high number of repeat visitors. If returning visitors keep seeing the same content, they're going to be much more likely to ignore it. They also have health care on their minds, along with how to deal with health insurance.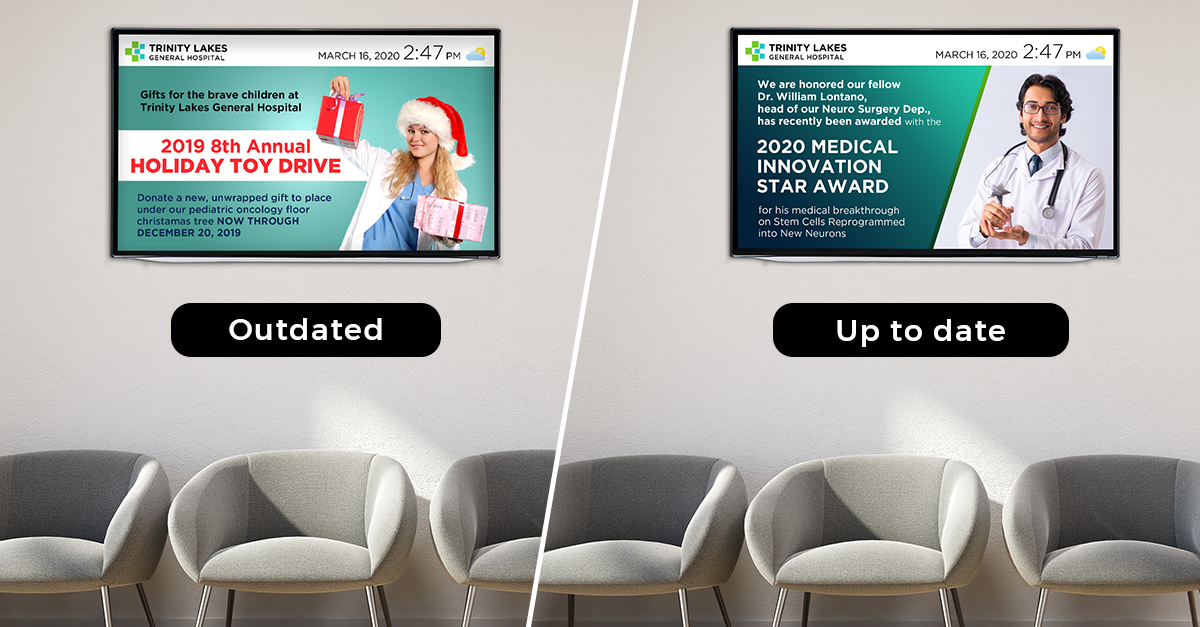 That's why it's important to keep your content dynamic, ever-changing, and up-to-date. A great way to do this is to highlight events such as charity or donor drives as well as seasonal updates. Display breakthroughs in technology/medical advancements that your hospital has recently adopted, or showcase ongoing or upcoming projects on your campus.
Adhere to Effective Design Principles
Crafting content for healthcare visual communications networks is similar to any other effective screen-based content. This is because of tried-and-true design principles.
Keep your digital messaging from getting lost in the noise. Great content on your screens is clean and concise. Your content should have the appropriate number of images, text, or graphics. Too many creates a visual mess which will be easy for passersby to ignore.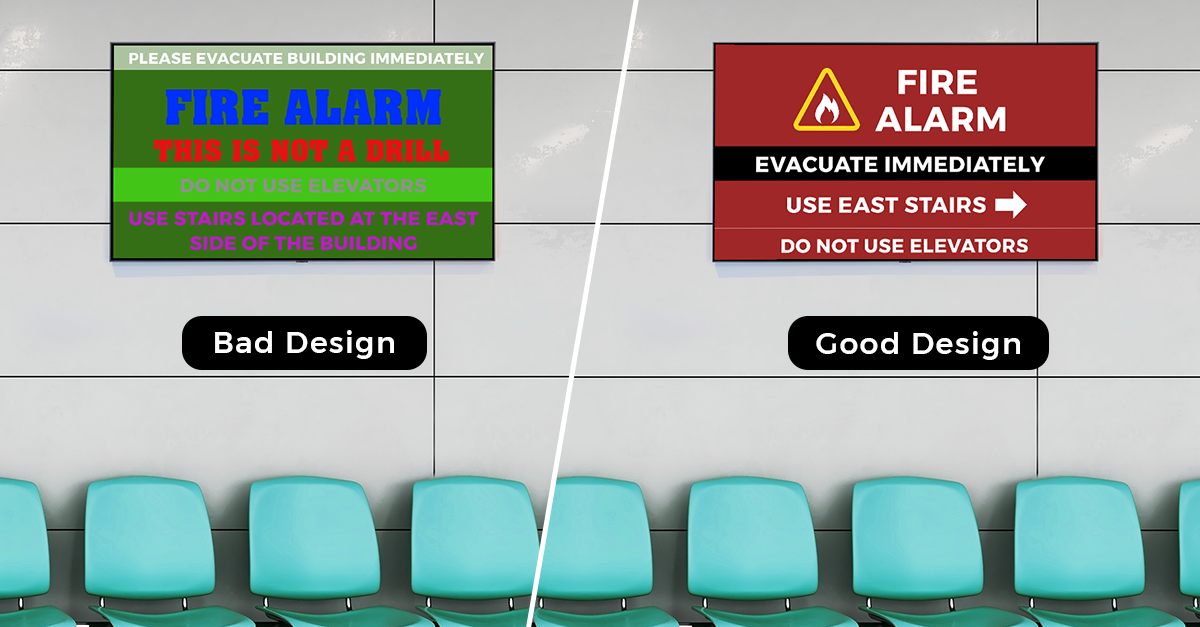 Remember, people walking past your signs usually only have a few seconds to take it in. So keep it simple.
Make your content bright, high contrast, and readable. Use motion sparingly and thoughtfully. Choose colors that complement each other, and always use easy-to-read texts.
Lean Heavily on Video and Interactive Content
According to marketing studies, consumers are influenced by highly engaging content. They crave video, animated, and interactive content that begs for their attention. That content will be especially appealing among millennial and Gen Z consumers. Healthcare facilities should take note of this when designing content for their digital displays.
The best content takes time and resources to produce, which means it's more eye-catching than static content. For example, social media posts change frequently, which allows the consumer to keep up-to-date.
For those on a tight budget, Youtube and Vimeo are platforms that offer a wide selection of free content including medical explainer videos, educational videos on preventative health practices, and children's entertainment videos. Make sure the content falls under public domain to avoid any potential legal complications. When in doubt about your content, consult a lawyer.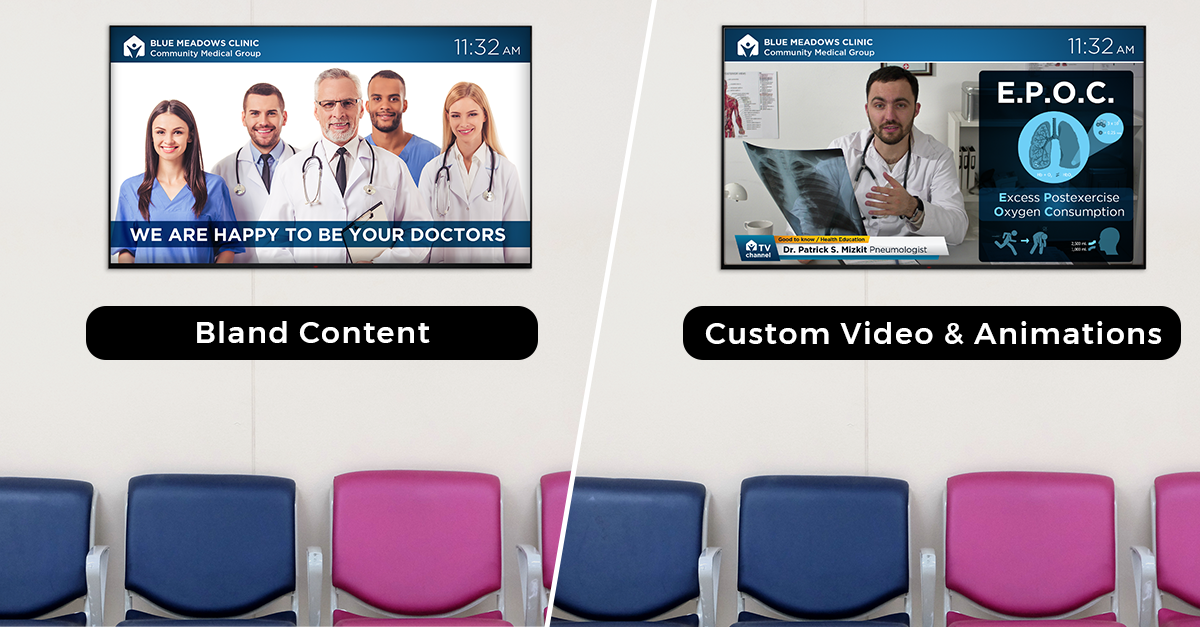 Always Create Content with a Purpose in Mind
Knowing your audience is the key to great signage content. More than that, when sitting down to craft content for your network of screens, consider your hospital's ultimate purpose and ancillary goals, which should be heavily informed by your audience. Your audience and your content will immediately connect.
Let's just say you want to create content for your emergency room team members. Crafted to serve the needs and desires of the workers, patients, and visitors in that one area of your hospital. It should be substantially different from the content displayed in your lobby or intensive care unit.
That way, each hospital department in your building has its own content specifically tailored to its own unique audience, which will undoubtedly make all your content more useful and targeted to those who see it, and in turn, will have a greater chance of satisfying their unique needs.
Utilize Calls-to-Action
Visually stunning digital signage content with informative messaging is a great step in the right direction, but it will only get you so far. To close the deal, your content should include calls-to-action (CTAs) that move those who see it to take the first step.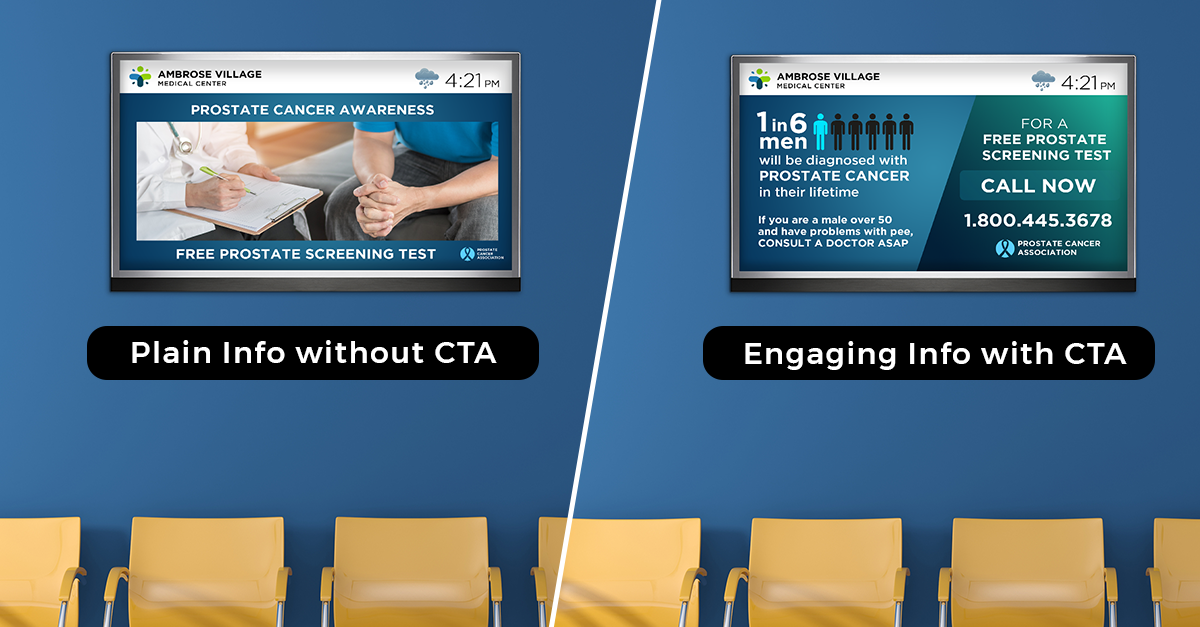 For example, if you want patients to schedule an appointment for preventative care, tell them to do it, and exactly how, in a clear and concise message, like a CTA. Just remember when writing your CTAs that you use CTA best practices, such as strong command verbs, emotive words, scarcity, and urgency. That way, they'll be willing to take the desired action you want.
Show Off Your Hospital or Clinic's Human Side
Hospitals can sometimes feel like boring and impersonal spaces with almost no human element whatsoever. That's why it's important that your hospital or clinic show off the human side of the equation whenever possible.
There are many ways to do this. Display staff introductions and bios that let patients and visitors get to know the hardworking and caring employees on your campus. Feature patient success stories—with their permission, of course—across your screens to show the difference your facility is making every day in the lives of others. Lastly, share your hospital's story and the people who help build it, from top donors to leading administrators.
Digital signage solutions seamlessly display any type of content creation. Viewers will enjoy images, videos, social media feeds, and RSS Feeds. Display the content on regular LCDs, menu boards, touch screens, or video walls.
Digital signage software works best on media players. A good content management system allows you to control the content. Even if you want to use Google slides or web pages, you'll have the flexibility to display anything you can imagine.
At the end of the day, your digital signage network will only go as far as the content running on it. It's how you'll create a better healthcare environment that's more productive, more informative, and more financially sound. Use the six tips above to make sure you craft purposeful, highly effective content for your digital signs that engages viewers and supports your healthcare facility in a variety of ways.