During an area-wide or even nation-wide crisis, it's essential to calm patients safely. The last thing you want is a wave of panicking patients who inadvertently spread hysteria around your hospital. Patient care is more than deep breaths for difficult patient.
Widely publicized health crises like the 2020 Coronavirus outbreak give good reason for people to be concerned, or maybe even scared—especially if there have been cases near to where they live. Managing the stress and reactionary decision making of patients and hospital visitors is very important. It'll keep things more civilized and orderly, it'll garner hope that the crisis will end quickly, and your hospital will be able to run a lot more efficiently without any additional situations caused by patient hysteria.
One of the most useful and dynamic tools for hospitals to utilize during a crisis is digital signage. Here are some of the ways it can be used to keep things orderly and efficient when it matters most.
Wayfinding For Patient Safety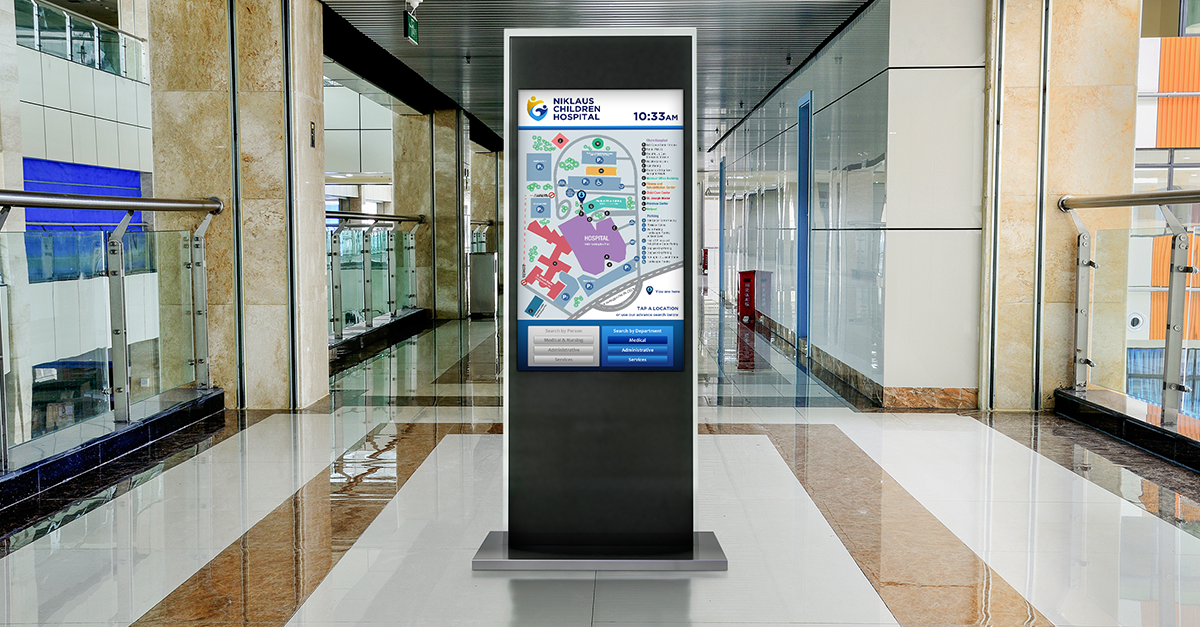 The first thing patients expect to be able to do—especially during a crisis—is get to where they need to go ASAP.
That's why digital directories on touch screens placed in your lobbies, and screens in your waiting rooms with emergency messaging capabilities on their media player are so important. They'll allow patients and visitors to get where they want to go faster by providing them with the location of the area that they need to reach, and the route to get there highlighted on a digital map of your facility.
External Communications in Healthcare
In the event of local, national, or global health related crisis, keeping patients informed is vital. Providing them with answers they desperately want will help manage the chaos and keep people from distracting already overly busy staff with a barrage of questions. Your signage can serve to educate and prepare patients in ways that will help them to calm down.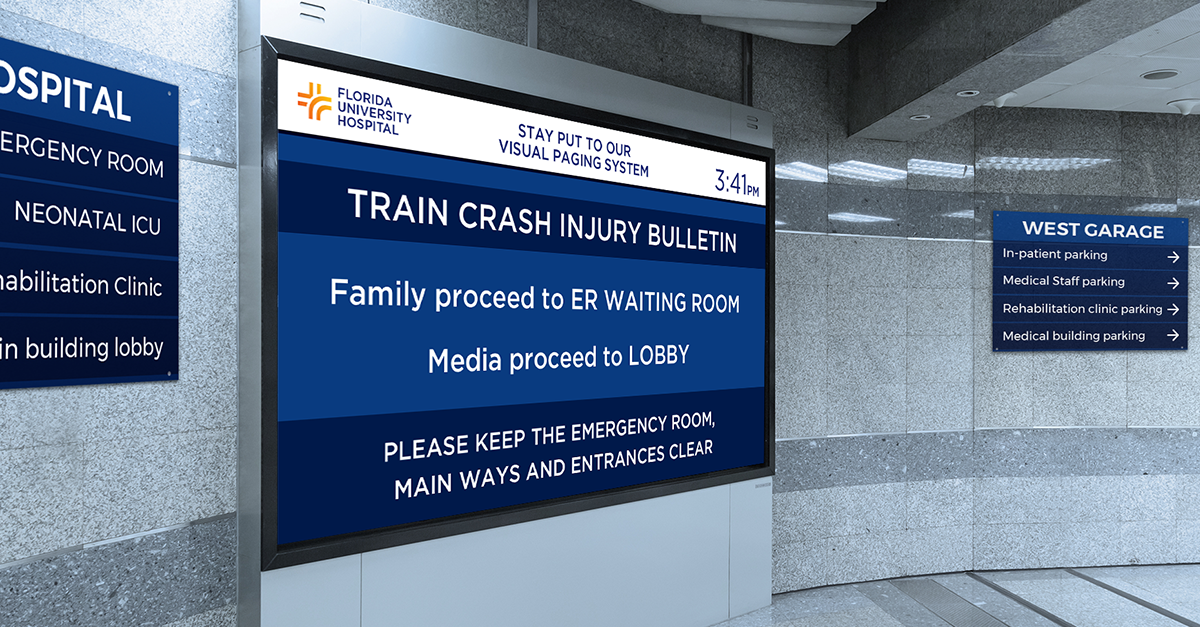 It will also keep things running as efficiently as possible when patients are actively participating in crisis management. With the right guidance, they'll be empowered to do so, whether it be calming themselves, their own family members, or ensuring they're taking the right steps to keep themselves as safe as possible.
Internal Communications
Having the right information at the right time can be crucial. That's why internal communications should be optimized through the strategic use of digital signs.
You should already have emergency content ready to deploy that prioritizes precious resources in a time of extreme need, such as operating rooms, available bed spaces, and relevant medications. These can be shown in doctor or nurse lounges, hallways that are otherwise inaccessible to patients, or other areas that patients and visitors don't typically frequent.
Communication is one of the keys to efficiency, and digital signage can only improve on existing communication systems.
How to Create Effective Digital Signage Content for a Crisis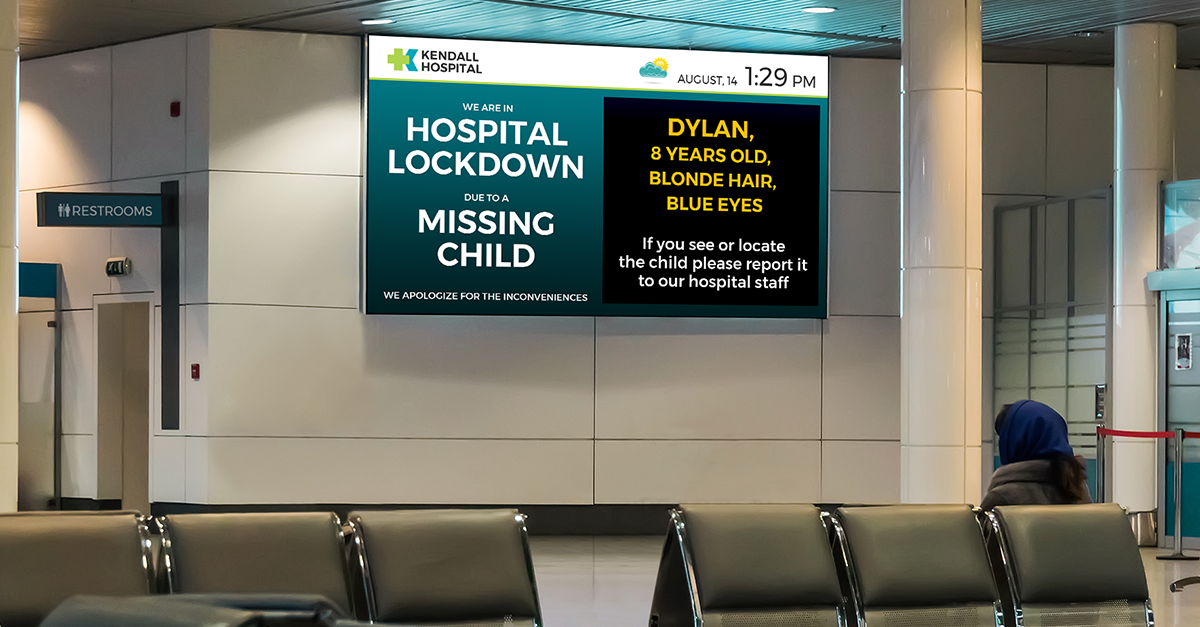 Now that you've considered the different internal and external stakeholders as well as where to reach them, you should focus on developing content that addresses the unique needs of a certain type of crisis using digital signage.
Use Calming colors
Changing the colors of the physical areas of your hospital on the fly isn't exactly easy, but the color scheme used in your digital signage content is—especially since it can be preprogrammed. According to a recent survey, navy blue is the most calming color. Make sure your crisis digital signage content is designed with this in mind.
Clearly Legible Text
You want to have uncluttered, high contrast content that can be digested at a glance. That means avoiding large blocks of text or screens that are crammed with media. Large fonts ensure that the text really pops..
Show that You Care
It's important to demonstrate through your digital signage that the safety of your patients is a top priority. In the case of an outbreak, tell them directly that everything is being done to address the threat of infection. Describe the actual measures being taken to help portray how the crisis is being handled, and the fact that it is being taken very seriously.
Keep Your Signage Up to Date
If the crisis isn't contained, but hasn't reached the particular city that your hospital is located in, it'll be important to emphasize that in order to manage any hysteria. If there are any changes in the circumstances of your area, your content management system will change the content in real-time. All relevant information should be updated at regular intervals.
Give Specific Instructions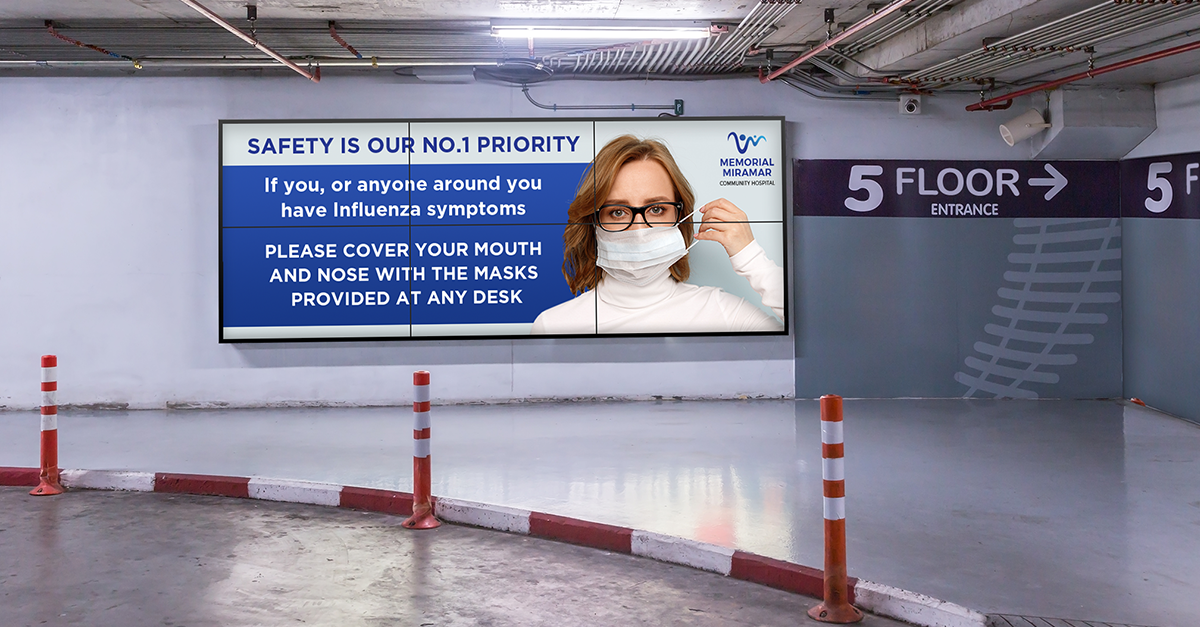 Giving concerned patients a course of action will help them channel some of their anxiety and frustration about the situation they're in. This will help them cope and remain relatively calm. Telling them exactly what to do if they're showing symptoms for example, will help them feel like they have a certain level of control over the situation—or at least that they're doing all they can do to help themselves or their loved one.
Reminding patients, visitors, and even staff to wash their hands frequently and, if required, maintain a safe distance from those who are affected, will also be important. Display those images and videos on LCDs, menu boards, video walls, and on multiple screens.
Use Calls to Action
Letting patients know what the best measures to protect themselves might be isn't always going to be enough. You should make it extremely clear what they should do by using clear, direct calls to action. Clear instructions lead to actions.
Conclusion
Managing any hysteria that may result from a local, national or global crisis is a must for hospitals. Using digital signage players with cloud based content is a turning point in dealing with a crisis. It's one of the most capable tools you'll need during a crisis. Make sure that your hospital is well-equipped to calm patients during a crisis by implementing digital signage and good content strategies.