While much of shopping these days has migrated to online marketplaces, brick-and-mortar stores still remain a huge money-maker for retailers. In fact, more than half of millennials still prefer to shop in physical stores. That's why it's as vital as ever that the in-store retail experience is spot on for your customers.
Even with online retail at its peak, the same big brand brick-and-mortar stores are still relevant. Malls and shopping centers are still packed with consumers perusing products and making purchases.
They certainly must be doing something right, but the question is, exactly what are they doing to stay competitive in the digital age? How are leading brands gaining a huge advantage over their competitors when it comes to in-store shopping?
Although it may be a combination of factors, one factor holds true throughout. More and more, they are adopting retail digital signage. When paired with engaging, informative, and interactive content, it can bring massive short and long-term benefits to the brick-and-mortar retail space—for both your brand and its customers.
In fact, a Nielsen study found that digital displays for retail can boost sales up to 33% while also significantly boosting brand awareness and recall rates. Put simply, digital signage can be a gigantic difference-maker when it comes to brick-and-mortar retail.
Increase Sales
The most obvious and most important way that retail digital signage can benefit your store is by padding your brand's bottom line. Digital displays drive higher sales numbers in many ways.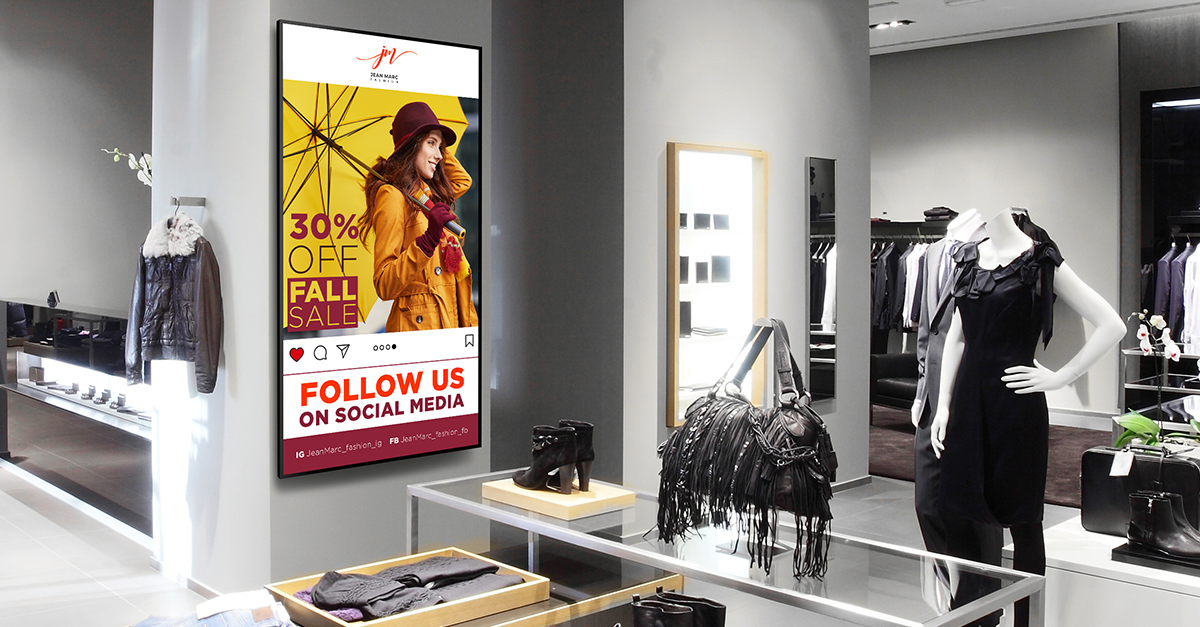 One way is by showcasing promotions and products on eye-catching digital displays at the front of your store to draw in more foot traffic. Unlike traditional signage, it's super easy to update or make additions to your digital signs on the spot with things like which items are currently on sale, or display new arrivals to potential customers as they walk in. With big digital screens at the entrance, you will also drastically increase your chances of wooing window shoppers into your store.
Another way to increase sales using digital signage is by leveraging your store's internal interactive screens. These can be used to fuse your online and in-store presence, which will let shoppers browse all of your products—not just the ones currently in stock at the location they're at. Also, the interactive touchscreens can be used to display future promotions as well as calls-to-action (CTA) that are a proven sales-boosting tactic.
Build Brand Awareness
Brand recognition is of paramount importance for any brand that wants to stay relevant for a sustained amount of time. Also, it's the first step on the road to a potential purchasing decision. A customer will only buy from you if they know that your brand exists.
But when it comes to the in-store shopping experience, your customers already know your brand well enough to be there in the first place. At this point, you need to make more lasting brand connections, which hopefully will gain their trust and drive them to come back repeatedly.
With retail digital signage, this is more achievable than ever. How? Well, you could use your signs to tell your brand's story and what values it stands for.
For example, some stores display high-quality videos across their screens that detail what sets their brand apart, highlighting products along the way. If you have a clothing store, use your displays to broadcast the fact that all of your products and materials are ethically sourced, or that they're made in America. Whatever the case may be, seizing the opportunity to let your potential customers in on something that sets your offerings apart is a win.
The key to building brand awareness using digital signage in your store is to always strive for authenticity and to make sure your signage is never too pushy. Coming off as fake or overbearing will turn consumers away—especially younger shoppers who crave authenticity.
Improve Dwell Time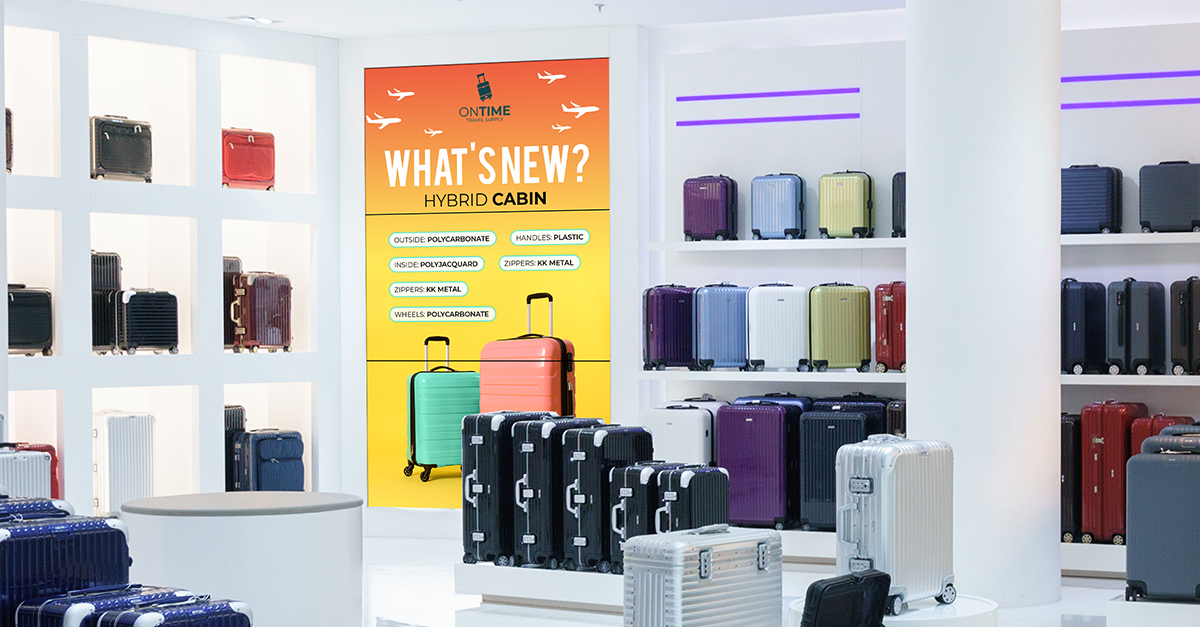 With a network of digital displays throughout your store, you'll be able to drastically improve and increase the amount of time each customer spends in your store. In return, that improved dwell time will lead to more product purchases and an all-around more pleasant shopping experience for your in-store customers.
Informative, entertaining, and interactive content is key to success with digital signs, though. Retail digital signage should be able to give shoppers the information they need, when and where they need it. Also, it should make any wait times a lot more bearable by displaying entertaining content such as visually appealing videos or social media scrolls. Have them focus on interesting content as they wait in the check-out line or stand in the line for the dressing rooms.
Digital signage doesn't only need to improve the dull moments customers spend in your store by helping wait times pass by more comfortably.
Interactive content should also be used to lengthen and improve dwell time storewide. The interactive nature of your screens will entice shoppers to connect with your brand and your store in more meaningful ways. For example, shoppers should be able to explore future promotions or subscribe to your mailing list for access to exclusive deals. Engaging customers through touch screen displays offers you their full attention, something you should take advantage of by making their experience run more smoothly, promoting new products, or even securing user data.
At the end of the day, retail digital signage is a great way for brick-and-mortar stores to get a leg-up on the competition. Whether it's in a department store or mid-sized clothing shop, digital signage can drive your sales higher, keep your brand competitive, increase brand awareness, strengthen brand loyalty, and give your customers an overall more pleasurable and efficient shopping experience.