Each day, more and more expectations are being placed on hospitals to provide maximum transparency. Of course, this primarily means improved transparency for patients, but it also means giving greater transparency to everyone else involved in the healthcare process, from doctors and nurses all the way up to healthcare providers and policymakers.
Why? Well, when everything is put out in the open in clear and plain terms, quality of care will no doubt follow and, in turn, better health outcomes for your patients. Not only that, the increased transparency taking place across hospitals will provide much more accountability for healthcare facilities. After all, you don't want your hospital ranking low on any lists measuring patient experience or care.
Better transparency standards aren't easy for hospitals to achieve though; the main reason being that it is extremely hard to get the right information to those who need it. It's both a strategic and technological problem, which is where digital signage comes in to the equation.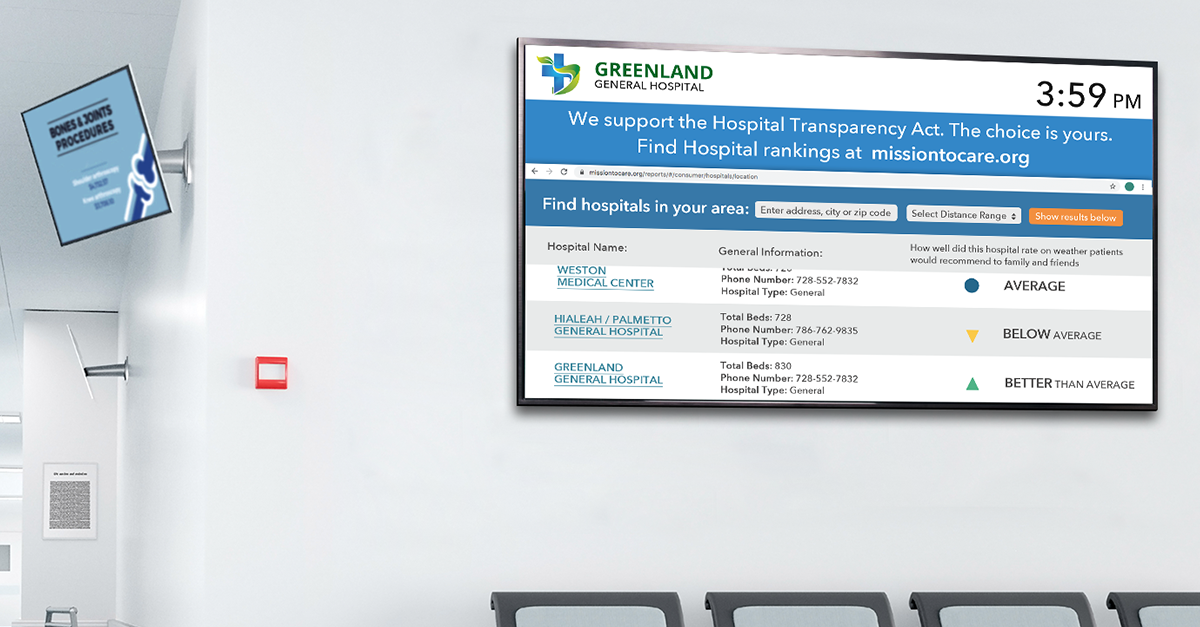 Content that is strategically created and broadcast across a visual communications network can get vital information to a wide range of people involved in healthcare facilities, from the patients and visitors to the healthcare professionals and employers. On top of that, greater transparency in hospitals also fosters increased trust in your healthcare system among patients.
That said, here are four examples of how your hospital can use digital displays to improve transparency.
Price and Quality of Care
In the past, hospital visits were somewhat unpredictable when it came to pricing and quality of care. In fact, patients would rarely ever have an accurate idea of what they could expect to pay by the end of a hospital visit—or the kind of care they could expect from doctors and nurses. Truth be told, publishing bundle pricing to this day—like the Affordable Care Act requires—is still very much of a challenge for hospitals, mostly due to the unpredictable nature of price negotiations with insurance companies for the price of care.
Technological advancements including improved data sharing methods and—in this case—digital signage have helped provide answers to important healthcare questions though, such as out-of-pocket costs for a given treatment, drug prices, payment options, and the quality of care.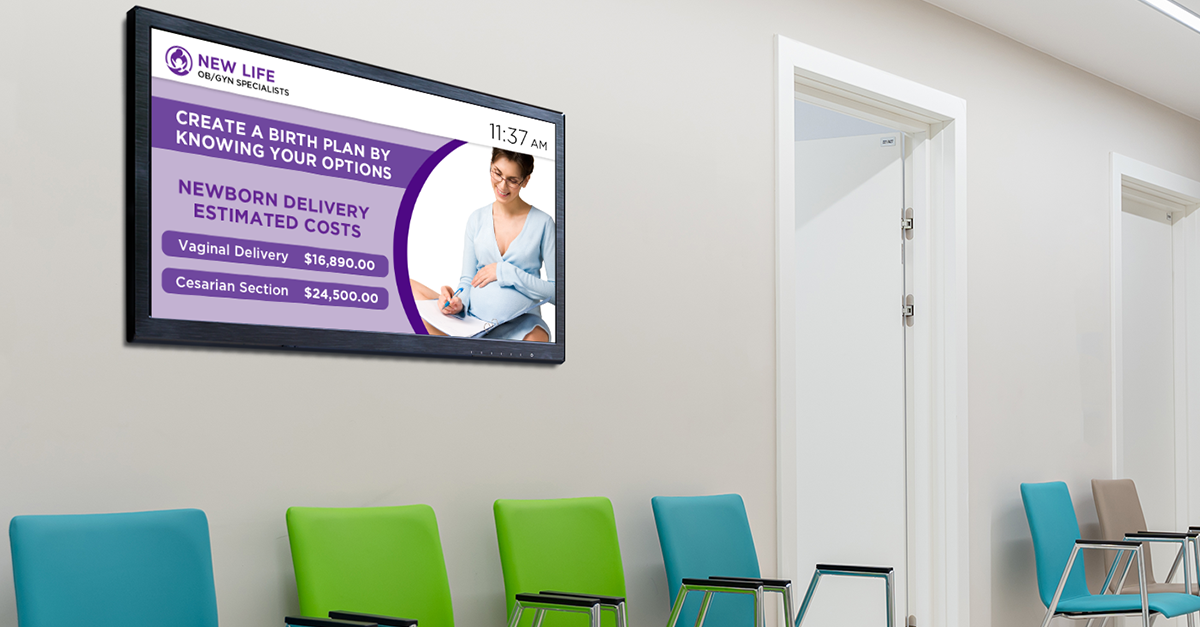 How? Well, of course things like emergency and unplanned charges can't really be factored into the equation before they actually spring up, but hospitals can use their screens to publish estimated costs for certain scheduled medical procedures. Another option is to educate patients on various publicly available resources that provide a wide range of healthcare data. This data can be used by patients to compare physicians or hospitals in a specific area.
All of these things, which give the patient much more access to vital information, foster a strong sense of trust between consumers and their medical caretakers.
Resource Use and Efficiency
Hospitals waste huge amounts of money every year due to a lack of efficient resource management.
The biggest reason being that most staff members are ill-equipped to know what each specific resource costs. It's hopeful at best to expect doctors and nurses to be able to keep costs down if they don't even know the price of each resource in a specific department.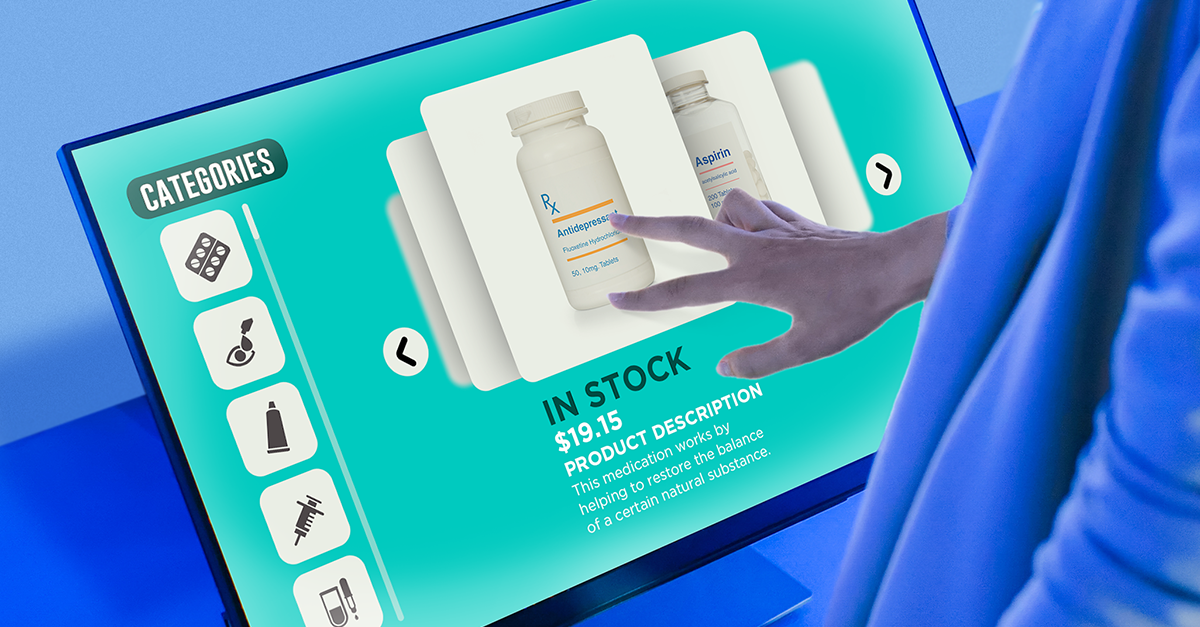 One idea for how to inform staff about how much a specific item costs before they use it is employee-facing touchscreens that contain a database of resource prices. Your hospital is already tracking every resource that enters its doors, so why not log it into an interactive database? That way, your employees can examine the costs of each product and, in turn, show better stewardship of organizational resources.
Additionally, since your nurses don't always have enough time to look for the cost of an item in the database, another good idea is to occasionally display the costs of the most commonly used items in your hospital across your internal screens.
With all your hospital's resources and their costs at the fingertips of your staff members, they'll be able to make smarter, money-saving decisions while caring for your hospital's patients.
Professionalism, Credentials, and Accreditation
Each year, hospitals go through a wide range of trials and inspections to make sure they are operating at a high level in terms of patient safety and care. Preparing to meet these standards and regulations takes significant time and money. For that reason alone, your hospital should take every step it can at advertising the high marks it achieved when it comes to meeting federal, state, and nonprofit guidelines.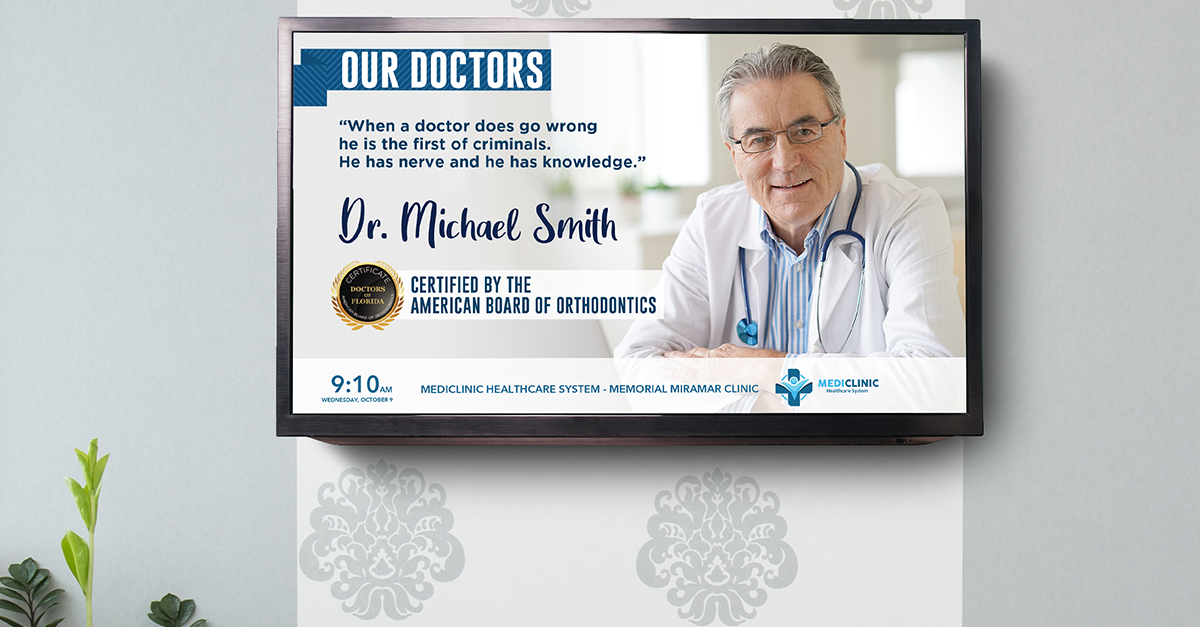 Put simply, marketing your healthcare facility's accreditations and credentials across your network of screens for everyone to see will give you a competitive edge over other healthcare facilities. . If you're facility can boast awards and credentials, it'll send a signal to patients and visitors that your medical institution is well-respected and can be trusted to provide top-notch care.
The same holds true for doctors and nurses on your campus—they also went through tiring and time-consuming hoops in order to obtain valuable certifications. Not only can you show off their expertise and professionalism through signage content such as "Get to Know Your Doctor" videos, but you can also put a human face on the treatment and care that your medical facility gives.
Offering a more personalized approach will reassure patients and help relieve some of the anxiety they may have about their condition. Knowing they're in good hands will make a major difference for them.
Patient Safety and Rights
Just like patients should know the consumer side of the equation, they should also be fully aware of patient safety standards and their rights as a patient.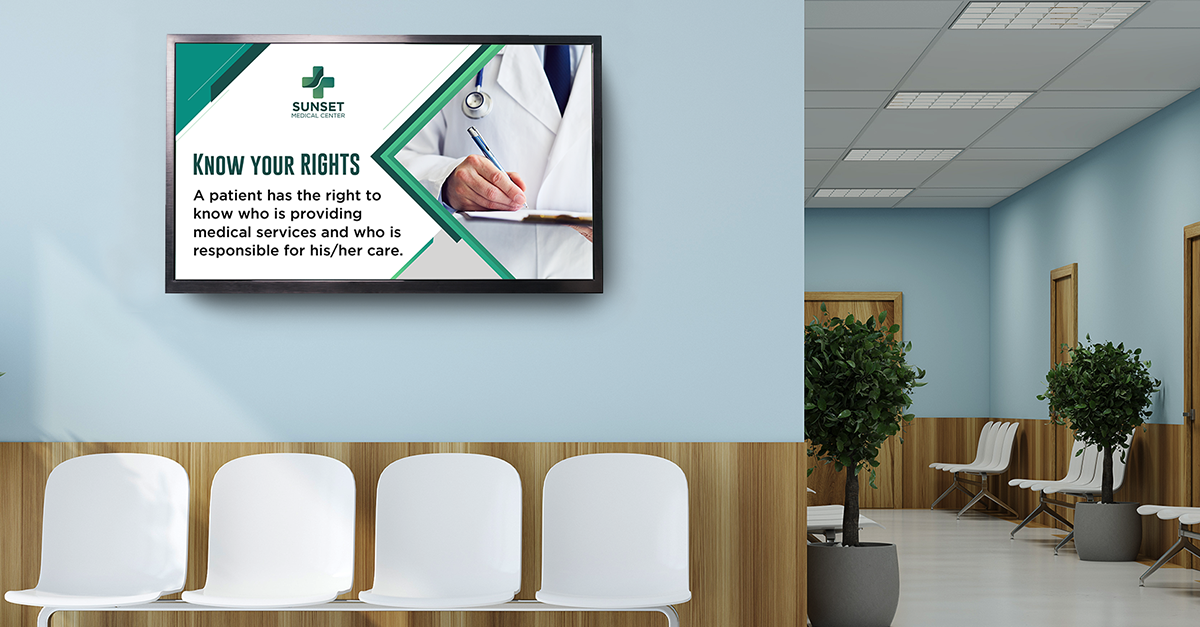 The easiest way to bring transparency to patient safety is by broadcasting content on your healthcare digital signage that encourages patients and their families to engage with staff members should they have any questions. Put simply, when patients and family members are asking probing questions to your nurses and doctors, they'll be privy to more useful information, which in itself makes the entire process much more transparent—and makes sure that high-quality patient care is always taking place.
Your signage content should also educate your patients about their patient rights, most of which are guaranteed by state and federal laws. On top of that, many healthcare facilities also have their own patient bill of rights that can be showcased on your network of screens. This will help patients feel more secure knowing that your facility is looking after their best interests throughout each step of the care process.
The main patient rights that your digital signage should raise awareness of are the right to medical records, HIPAA privacy, and informed consent. Don't stop there, though. Highlight other important resources should patients require outside help, including details and contact information about patient advocates, the ombudsman office, and your state's department of health.
Ultimately, improving transparency in hospitals comes down to a major workplace culture shift across your campus. That's most certainly not an easy task. It's much more achievable, however, when you take the initiative by incorporating digital signage as a means to consistently promote transparency and its benefits throughout the healthcare process.