It goes without saying that healthcare regulations can be super complex and rigorous. Hospitals should leverage every instrument at their disposal in order to comply with federal, state, and local laws and regulations. Digital signage is one such capable solution to meet those mandatory guidelines.
In the United States, the Code of Federal Regulations for hospitals participating in Medicare and Medicaid requires that hospitals undergo projects "to improve both patient safety and quality of care". Specifically, the code recommends that hospitals adopt "information technology systems" designed to tackle these goals.
Your healthcare facility can meet government regulations using a visual communications network to distribute various valuable information. It also helps your hospital satisfy JCAHO and HCAHPS standards—definitely a win-win.
Here are three major areas where digital signs can make a huge difference in helping hospitals meet key regulatory standards.
Patient Rights
Every hospital is required by federal law to inform patients of their patient rights while receiving care.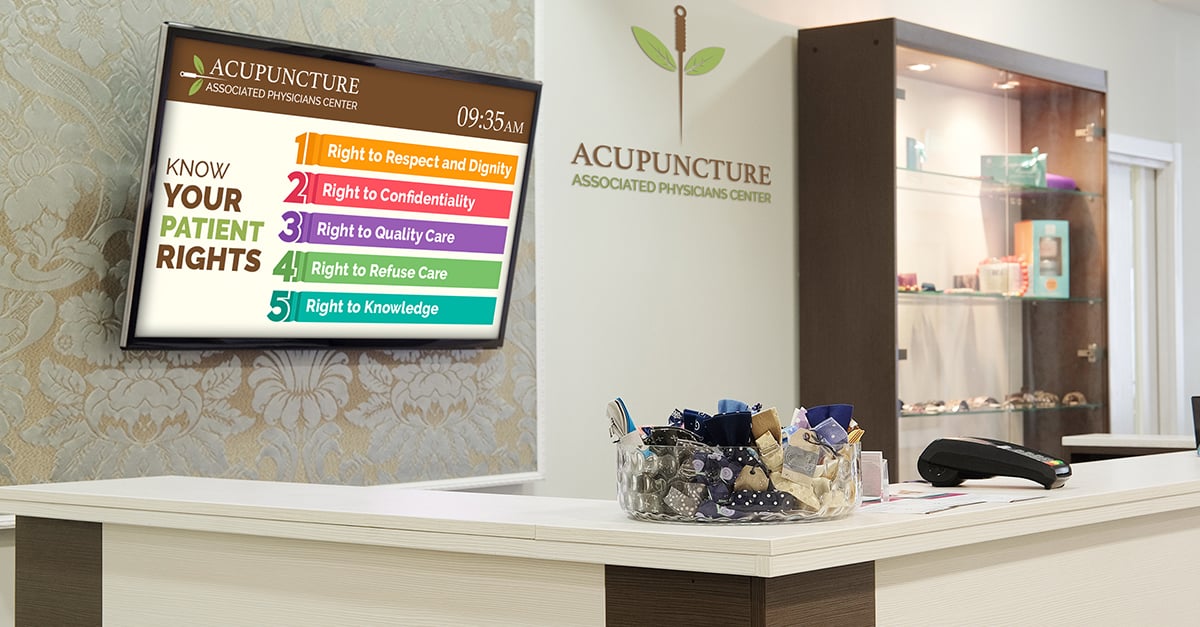 Hospitals are obligated to give to patients the paper form 'patient bill of rights'. Common patient rights should also be displayed across your hospital's network of screens. This includes visitation rights, the right to privacy under HIPAA, the right to confidential and accessible medical records, and the right to protection from unfair treatment.
From the waiting room to checking out, a patient's experience is part of the compliance program. Compliance audits from a compliance officer will see digital signs as a positive toward meeting compliance. But the content must be informative and helpful for the patient and staff.
Letting patients know their rights in a clear and transparent way is just the start.
Healthcare regulations also state that hospitals must have an established grievance process for patients to take advantage of. Digital signs urge patients who have a problem with their patient rights or any other issue to notify their healthcare team. The problem can likely be resolved before an actual grievance is ever filed. This saves your medical facility a huge headache while making your patients feel like they're being heard.
Federal regulations state that patients have "the right to participate in the development and implementation of his or her plan of care". On your screens, urge your patients and family members to take part in their care process. This can be done by asking questions and helping to make decisions regarding treatment.
Patient Safety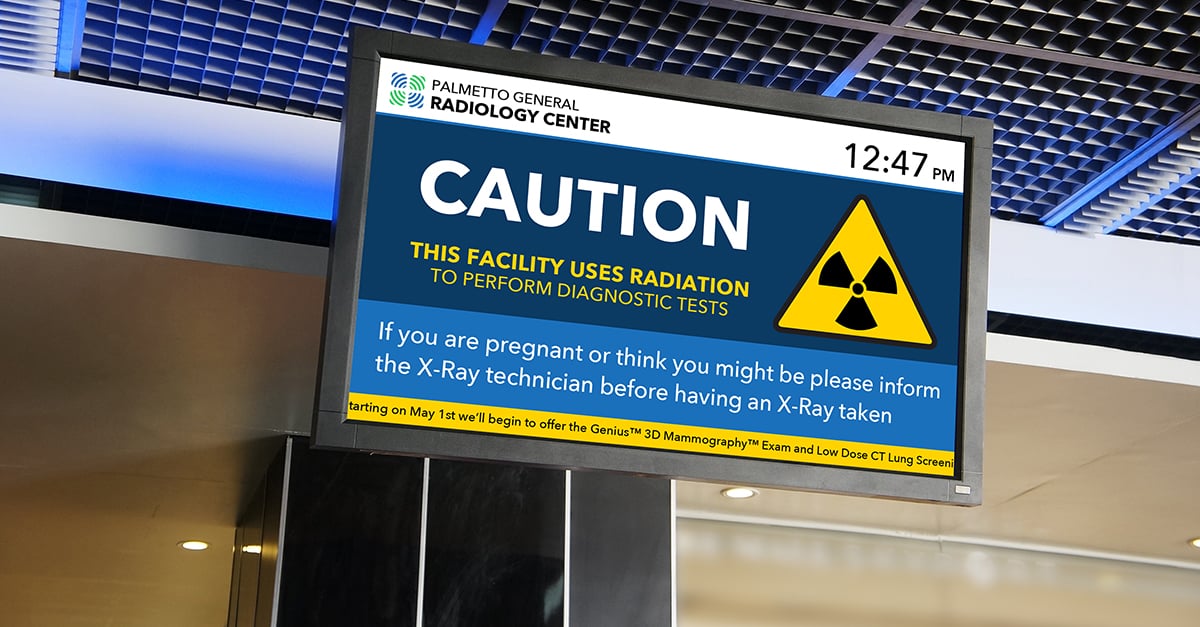 Federal regulations for hospitals also place a big emphasis on patient safety. Strict standards are placed on nearly every type of medical treatment including surgeries, anesthesia, and physical therapy. As well as mandates that make sure your hospital is always a safe and clean environment. This demonstrates that issues like infection control are always taken seriously, which is obviously of highest importance.
With digital signage, you can meet patient safety standards in a wide variety of ways.
Your staff-facing screens can remind nurses and doctors to communicate between themselves and the patients they are caring for. That communication can also be used with the patient's family. If a patient or caretakers notice any shortcomings in treatment, they'll want to let staff know about it. Then it can be taken care of—a big defense against medical errors in hospitals.
Internal digital display content will remind nurses, doctors, and other staff members about the importance of maintaining a safe and clean hospital.
Gentle reminders about safety and cleanliness breed a responsible culture among your workforce. This will help your hospital maintain basic safety standards which are in accordance with federal, state, and local healthcare regulations.
Performance Improvement
In quality of care and patient safety, regulators want to make sure that hospitals are always finding new ways to improve. They require hospitals to "develop, implement, and maintain an effective, ongoing, hospital-wide, data-driven quality assessment and performance improvement program".
As for quality assessment, the use and benefit of digital signs is more limited than it is for performance improvement.
A network of screens can be used in private workplace areas as a means to lodge anonymous complaints or feedback. This can then be used by leadership to remedy problems and improve the facility. They can point out malfunctioning equipment or a malingering staff member in an anonymous report.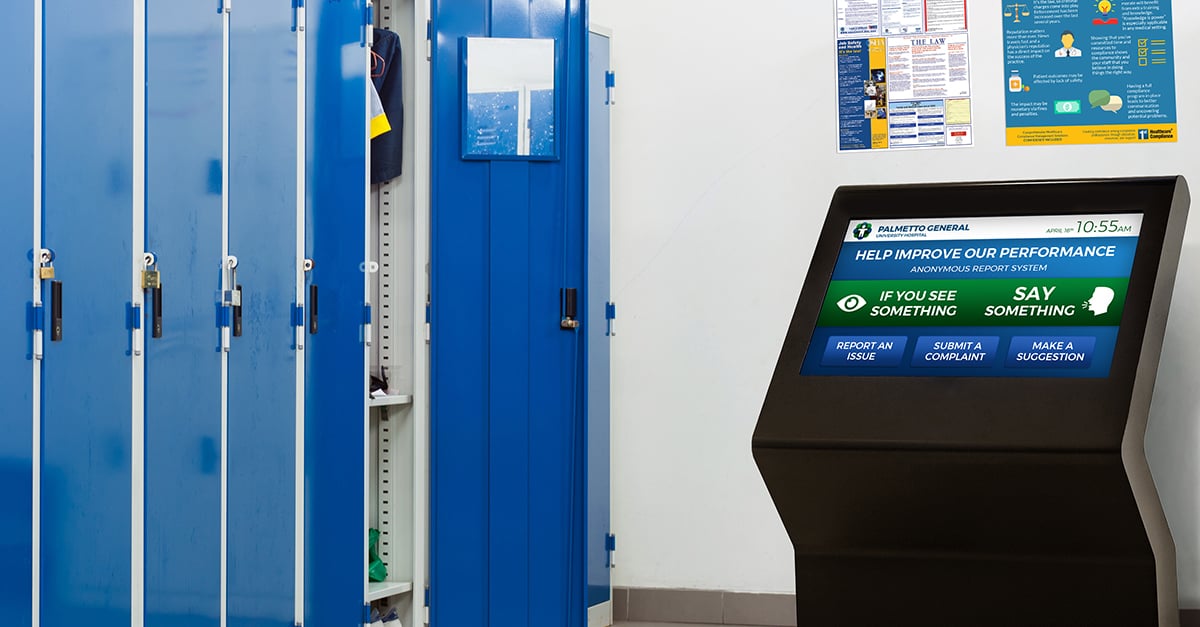 The bigger benefits without a doubt come from using digital signage as a means for performance improvement. The key is to leverage your hospital's gathered data, along with feedback it receives from staff, visitors, and patients. Then you can find key areas where your medical facility needs to improve, and even showcase it on your internal screens.
Be careful with personal data and make sure it doesn't become part of the digital signage content. General data protection regulations should be followed so there won't be a data breach. This will hurt your compliance score, and even hurt the hospital down to their financial services. Employee communication plays a big part in noticing anything that might hurt the compliance score.
You can set hospital goals and then tailor your employee-facing digital signage content to target and promote those goals. That way, all your staff members will know exactly where your hospital needs to improve. Think simple reminders and notifications that urge nurses and doctors to hone in on "high-risk, high-volume, or problem-prone areas".
That kind of content being seen and absorbed by your staff ensures hospital's key problem areas are remedied quickly. It will also ensure that your healthcare facility provides even better care and is more compliant than ever before.
Conclusion
Meeting the ever-changing, stringent, and often-times maze-like federal, state, and local regulations placed on hospitals is hard. With healthcare digital signage's unique advantages, it'll be achievable and less of a headache.