Schools and universities are becoming more and more diverse every day.
Most of today's campuses have different cultures, races, ethnicities, abilities, genders, sexual orientations, national origins, and religions. It makes our schools richer by bringing a wider array of experiences and backgrounds onto campuses. This enables students and faculty to take in a more comprehensive worldview and feel a sense of belonging.
That same increased diversity and inclusion in schools also poses some serious challenges. Schools and universities must find new ways to make their ever-varied student body comfortable. This means adopting new strategies to ensure that all students feel welcome and comfortable on campus. After all, society has become more inclusive in recent years, and so should your school.
In school districts and universities, the threshold for acceptable compliance means adapting to those with federally recognized disabilities. The Americans with Disabilities Act, which was strengthened in 2008, prohibits discrimination of persons with disabilities. It also requires public institutions to make nearly every aspect of their buildings easily accessible for those with special needs.
When it comes to meeting inclusivity and adapting standards on today's campuses, utilize your existing digital signage. It can help your student base feel at home in your school or university. At the same time push content that recognizes their differences and individuality.
School & College Diversity and Awareness Campaigning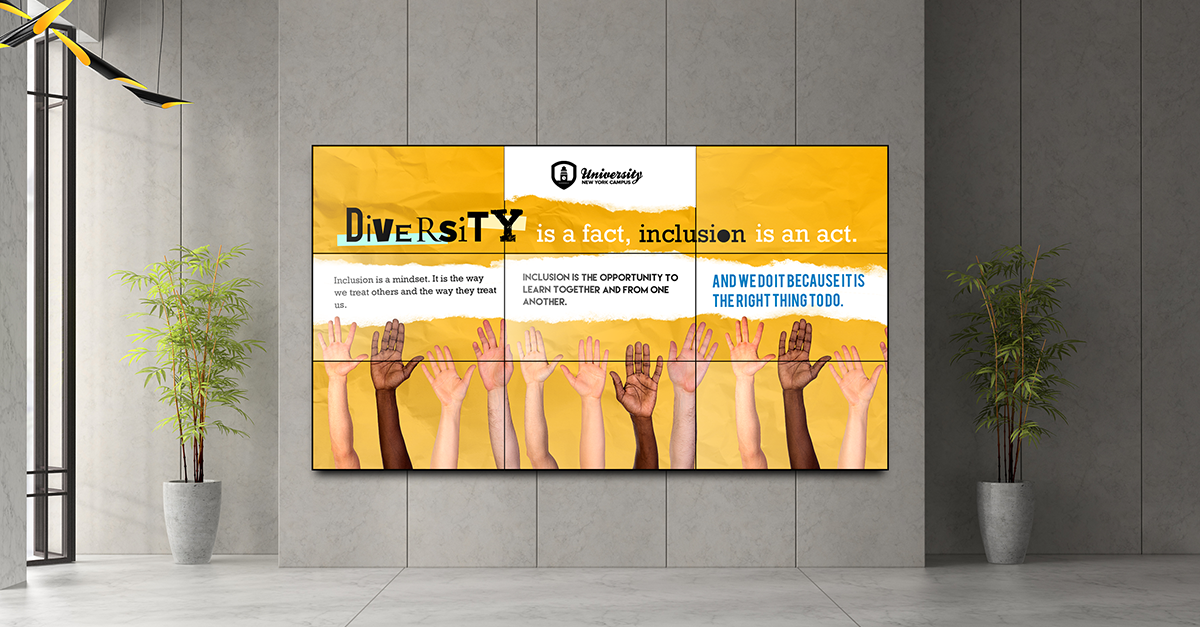 America's demographics changed drastically in the past couple of decades. With that change came a huge shift in the political, social, and cultural landscape. Minority students now outnumber white students in public schools. This means you have a more diverse student population on your hands than you used to. Your digital signage content should reflect that change.
The best way to do this is by designing and launching diversity and awareness campaigns across your campus' network of screens. Display content that builds awareness of the racial, ethnic, gender, and other differences present in your inclusive classrooms and facilities.
This means that your school students will more actively recognize differences among students. In turn, they will be more likely to respect their peers—which will inevitably lead to better academic engagement and campus satisfaction. Use your digital signage as a tool to promote healthy school values.
Display diversity campaigns on your visual communications network. It should be used to educate students and faculty on the unconscious gender, racial, and sexual bias'.
Campuses should make their students and staff aware of internal biases. Or they'll see worse academic results, a decreased student retention rate, and a less fair learning environment for minorities.
Multilingual Communications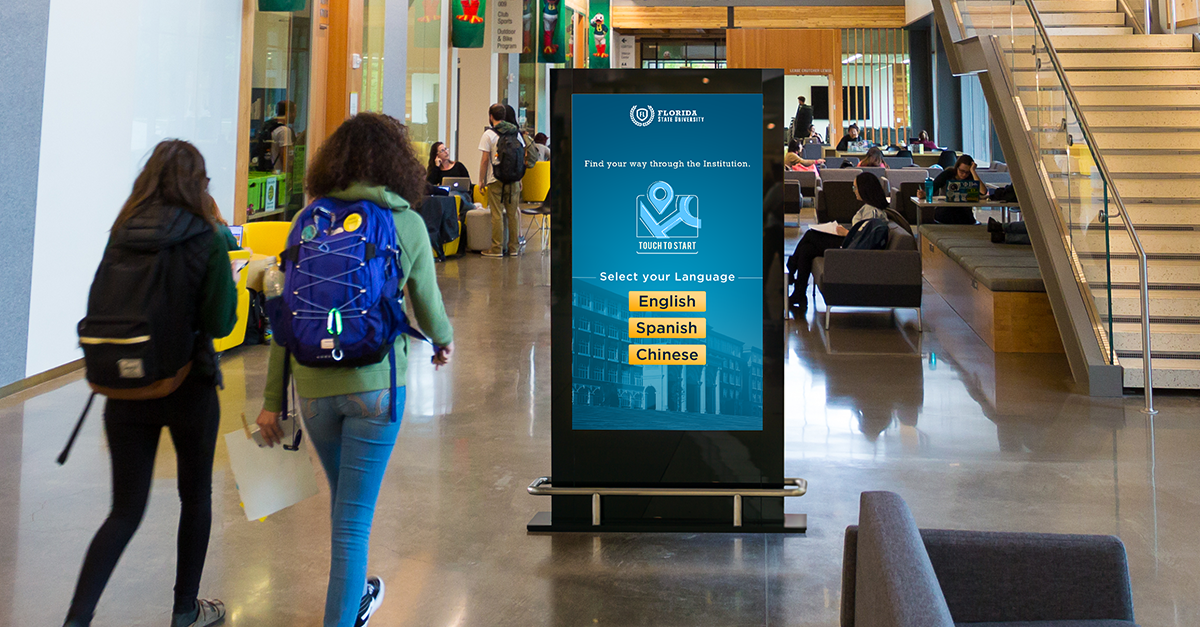 In recent years, the amount of students coming from overseas to study in American universities has skyrocketed. In 2014 alone, almost a million international students were studying at colleges in the US.
Not all of these international students speak perfect English. Especially when they first step foot on your campus, despite their exceptional academic standing. That's why more and more universities are beginning to adopt digital signage that's multilingual in nature.
Not all of your visual messaging on your digital screens needs to be in multiple languages to accommodate foreign exchange students. Some definitely should be, especially if your school has its fair share of students from abroad.
The obvious occasions for implementing multilingual messaging are on your wayfinding and directory kiosks. This allows students who don't yet have a perfect grasp on the English language to locate everything they need. It's a great recruiting tool for your college because foreign students and their parents who visit your campus will feel right at home.
It's vital that your university lean on its digital signage integrations to push emergency messaging. Then all students will understand, no matter their native language. You want your international students to be able to respond to an emergency in spite of a lack of English literacy.
Accessibility Signage for People with Disabilities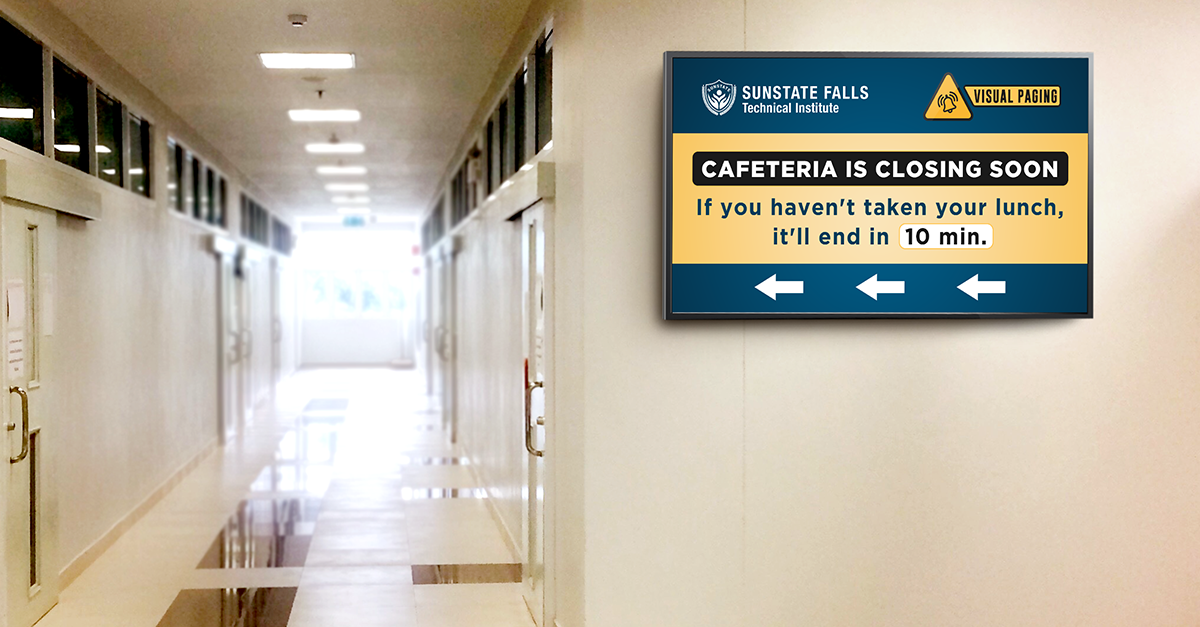 Like we mentioned earlier, the Americans with Disabilities Act mandates that everyone is afforded equal adaptations. All your students and staff need to have the same access to the same information, regardless of any possible disability.
With digital signage, you can display information that boosts your schools ADA compliance as well as general accessibility considerations. Colleges are frequently at the wrong end of multi-million dollar lawsuits from the lack of making reasonable adaptations. Use digital signage as a tool to take your inclusivity to the next level. It's the right thing to do, especially since you already have the tools to make it happen.
Are you looking for specifics on how to utilize your network of screens to boost adaptations for those with disabilities? Use eye-grabbing and readable text announcements in addition to your normal content. This will help those who are deaf or hard of hearing to clearly understand your school's signs. You could also highlight handicapped bathrooms or access points on your school's wayfinding maps.
A few rules of thumb: Make sure your customized content is easily visible and readable, even from moderate to far distances. Always use large text and make sure your fonts and colors contrast strongly from your backgrounds. Utilize clear, concise, and straightforward messaging that's easy to digest in a matter of seconds.
Consider how people who are not well represented or who have a disability will interact with your content and screens. It will steer your digital signage in the right direction when it comes to creating an inclusive and accessible campus for those who need it.
Conclusion
Your existing digital signage can and should be used to increase inclusiveness and accommodate those with special needs on your campus. Digital signage is an incredibly diverse tool. In addition to its current functionality, it can bring your student body closer together. And it provides a more welcoming environment for those who deserve total inclusion.
Create digital signs showing your inclusiveness and diversity and everyone will notice.