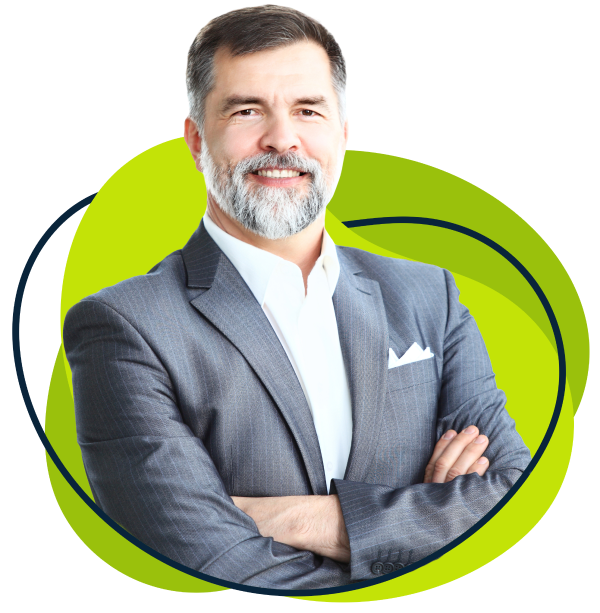 Donors
Honor donors with more significant recognition than a plain listing of names, quickly and easily.
From dynamic donor lists at certain giving tiers, to donor highlights - you now have the ability to show extra love.
Another fan-favorite is to flip the donor highlight on its head, and instead use a Why I Give series that comes from donors, talking about why they give to the mission.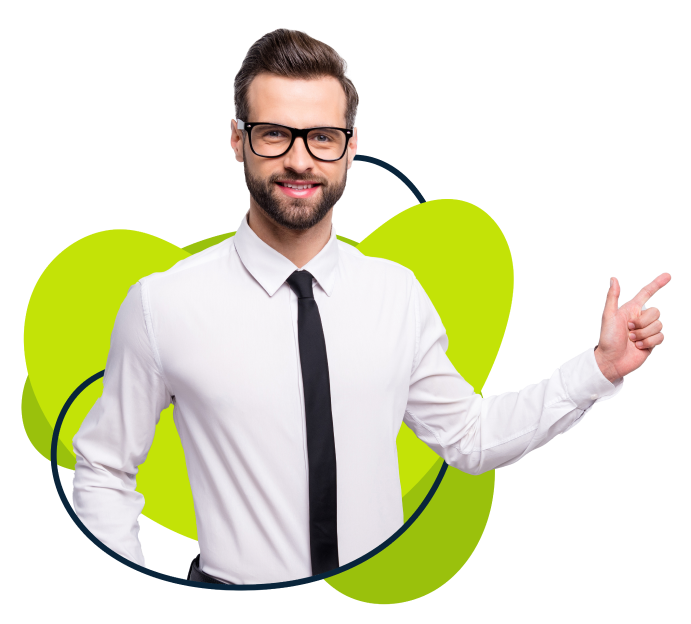 Employees
Employees are key to any organization, but in a non-profit it requires a level of care that takes a truly caring person. Employee recognition helps with retention, motivates others to follow in example, and reinforces a two-sided culture of care.
Use employee highlights to call out great feedback received, acknowledge an above-and-beyond effort, celebrate work anniversaries, birthdays, or big-wins.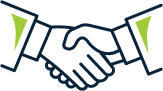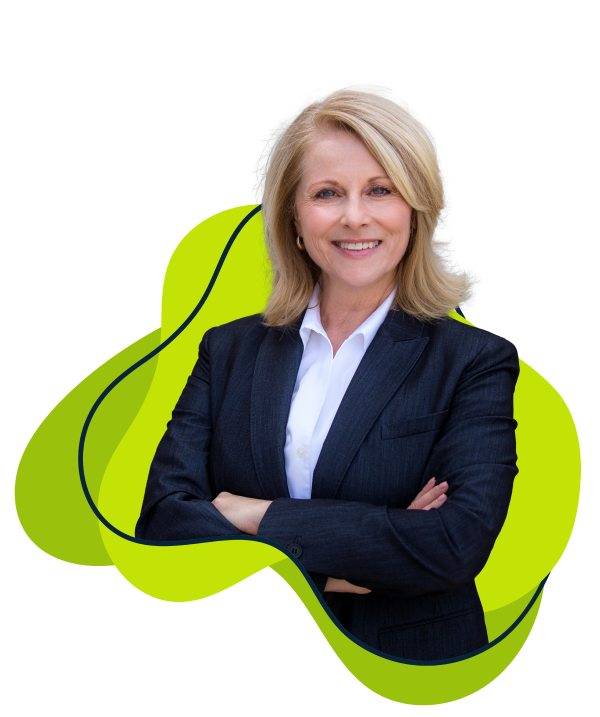 Sponsors
Sponsors keep many organizations at the forefront of their mission in a mutually beneficial way that creates synergies for everyone involved.
Use sponsor lists at certain giving tiers, logo placements, logo photo lists all the ways to sponsor highlights depending on the nature of the partnership.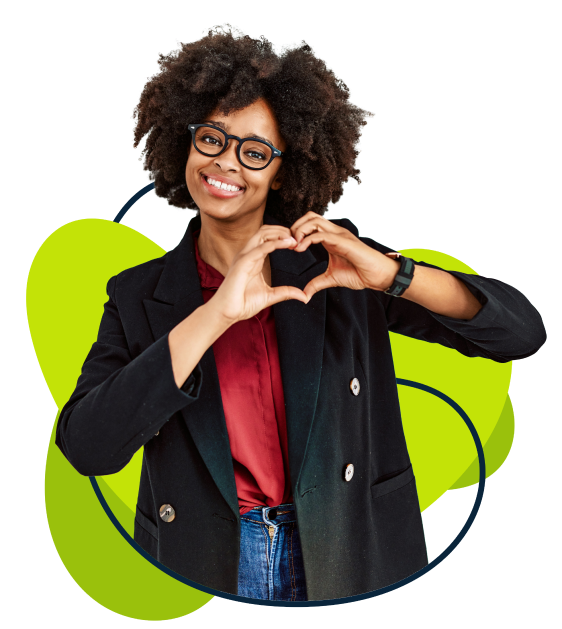 Volunteers
Volunteers are the life blood of many nonprofits - encourage continued engagement to further impact the mission, driving a culture of giving the most precious personal resource of all - time.
Use volunteer highlights and volunteer appreciation lists to call out long-standing volunteers, those who are new, someone who went above and beyond - or simply start a brand new Volunteer of the Month program.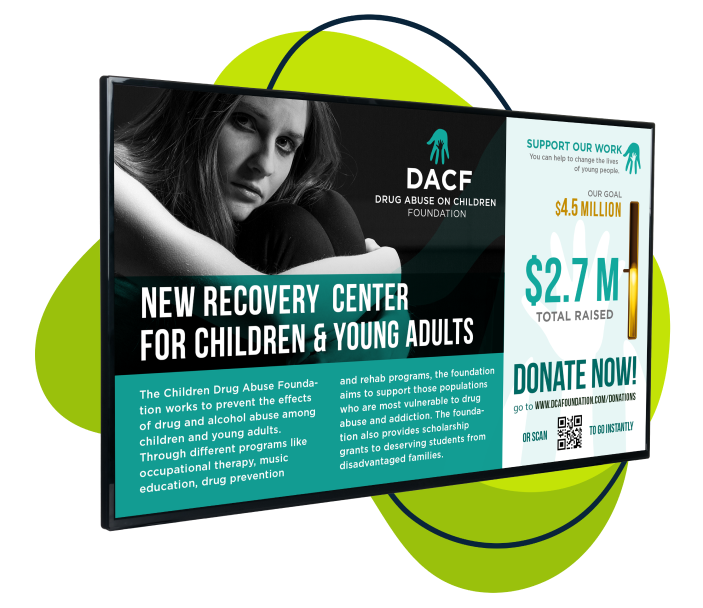 Guiding Principles
Use your organization's guiding principles to let donors know who you intend to help, and how.
Share your mission, values, and vision statements to align donors and prospective donors alike with affinity towards your organization to your cause.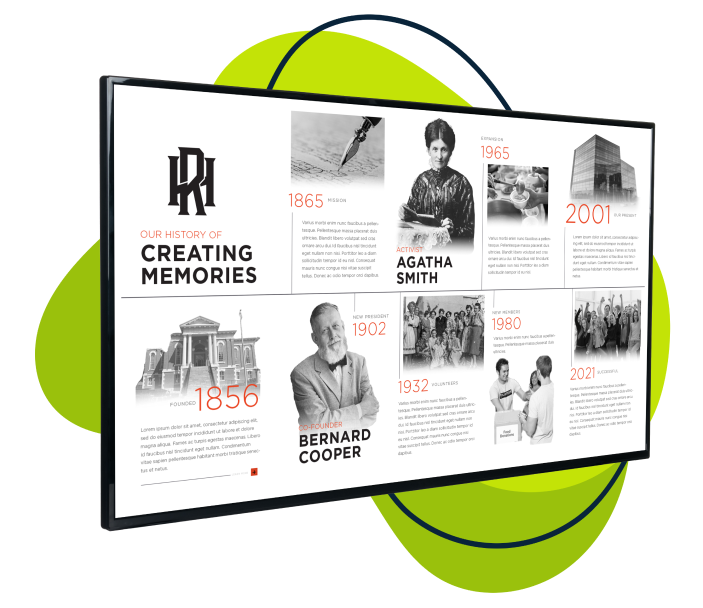 History & Timeline
Use the rich history of your organization from its founding through today to show how philanthropy combined with the hard work of the organization drives impact towards your mission.
Use timelines to show how long benefits from past campaigns have been felt, or show milestones along the way from your organization's founding to reinforce a long history of innovation.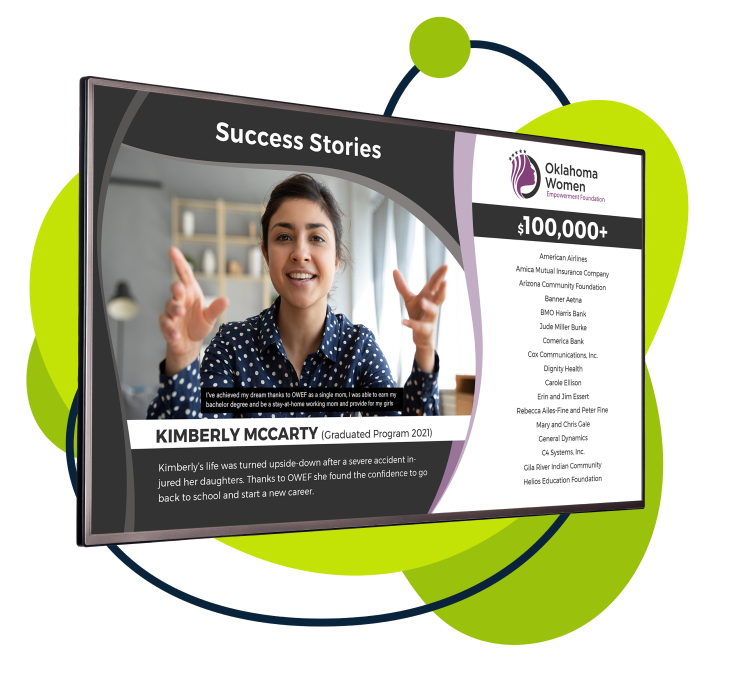 Impact Stories
Nothing affirms the impact of generous donations like personal stories from beneficiaries whose lives were made better by the efforts of your mission.
Share individual impact stories for a one-on-one feel that drives emotion, or share community impact stories to show the numbers behind how your mission has made an impact in the physical or social community you represent.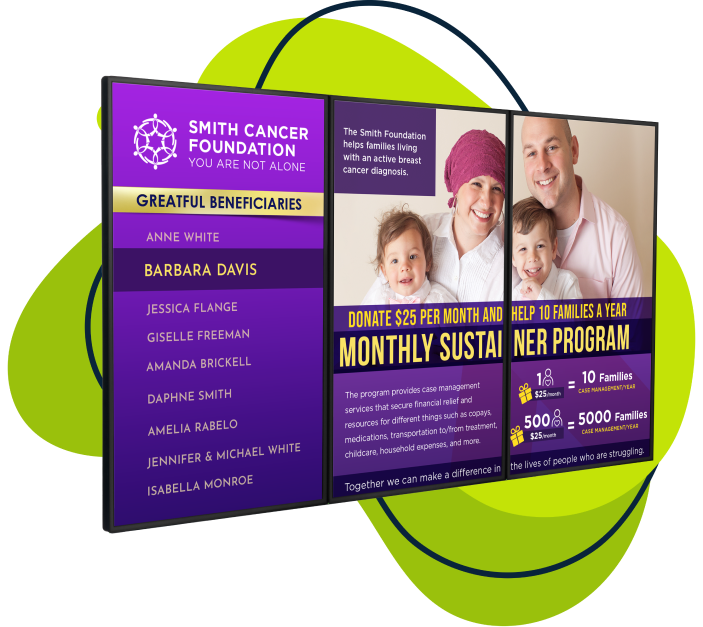 Wall of Beneficiaries
Similar to a donor list, list the names of the beneficiaries of your mission - or take it up a level and show a list of pictures of the beneficiaries to really drive a personal experience.
Beneficiary lists help to show the impact your organization makes on an annual basis, and when paired with beneficiary photo lists becomes a personal experience.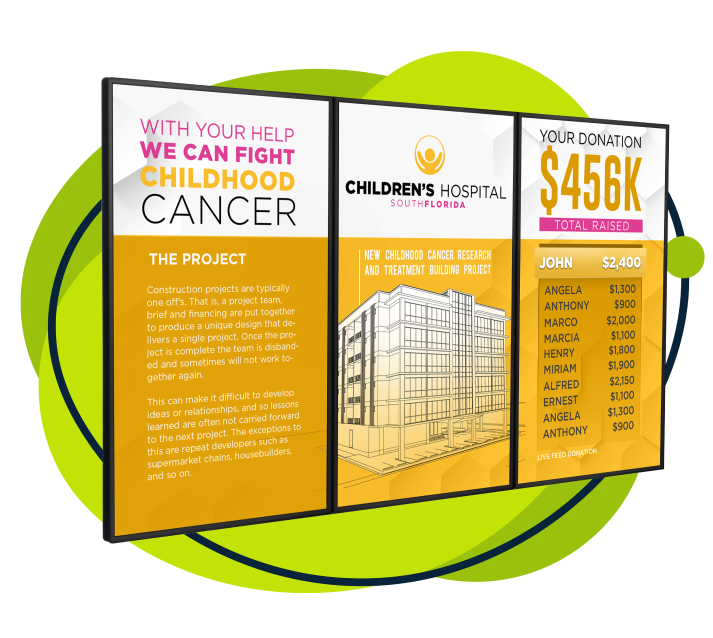 Campaign Information
Whether you're just launching a new capital campaign, nearing your annual campaign's goal and need that last little bit, or want to announce the successful funding of a campaign - let it be celebrated.
Use campaign announcements, campaign updates, and campaign recaps to keep supporters in alignment with the continued efforts towards your mission.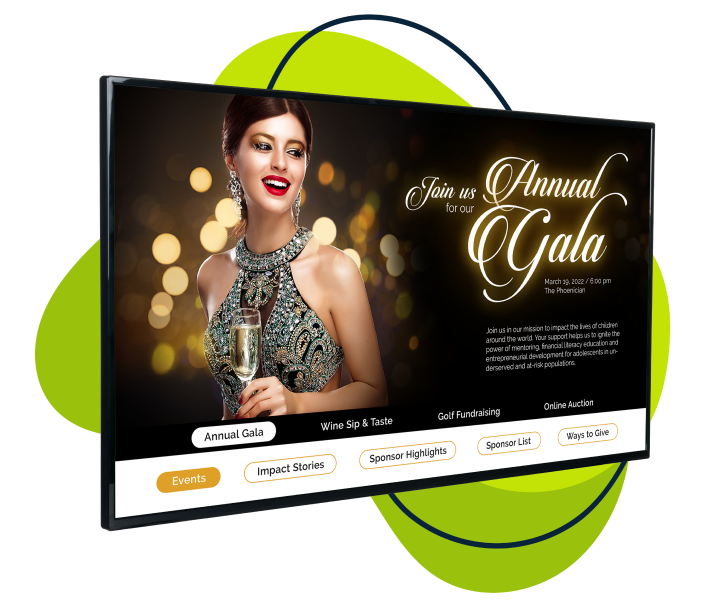 Philanthropy Events
Raise awareness of your next Gala, gain more sponsors for the next Golf Tournament, or build a bigger inventory for the upcoming Auction.
Use event announcements to build up the event, and share event results afterwards to maintain and improve buy-in from supporters of all types, enhancing your culture of philanthropy.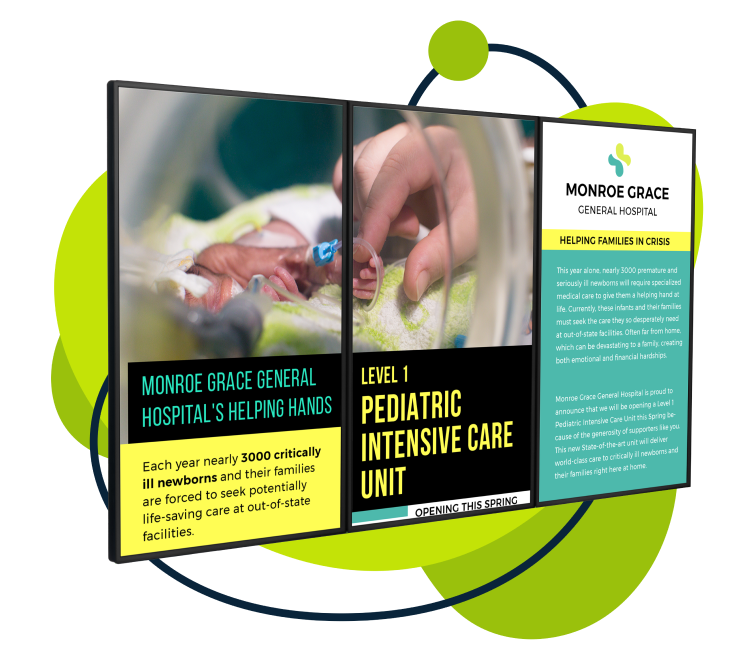 Strategic Communication
Every organization is unique, and messaging that may not be philanthropy related could still be relevant for the Digital Donor Engagement System. Use the system to attract audiences that would not typically gravitate towards the donor display with content pertinent to the situation.
Use MVP stats for your athletics stadium, daily activities announcements for the club, or any other strategic communication message pertinent to your unique situation.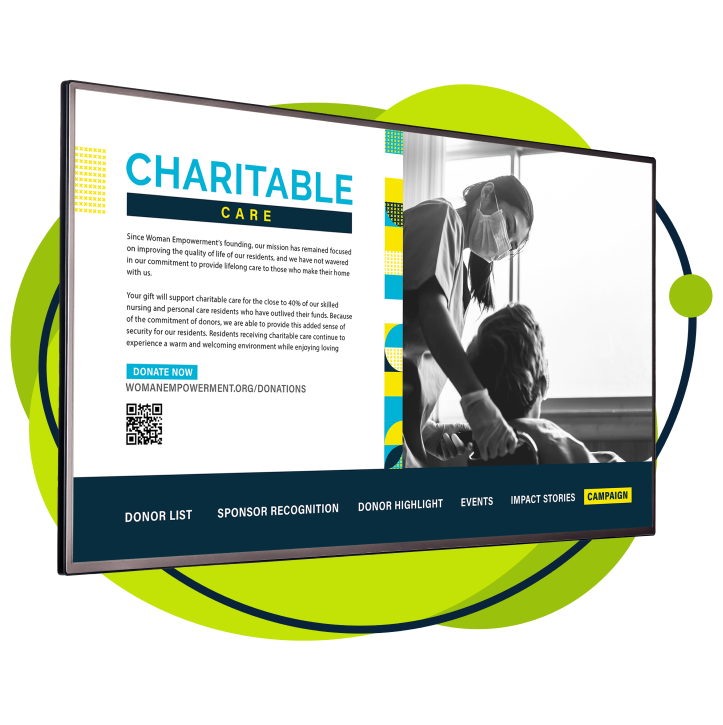 Ways to Give
You've done everything you can to ignite a culture of philanthropy, now it's time to help would-be supporters find out how to get involved.
Use a Ways to Give series to show how to support specifically towards annual funds, planned giving, capital campaigns, restricted funds, and more.
Use QR codes to navigate viewers directly to a donation page, or provide an email or phone number to talk one-on-one with a development officer about their gift.