Blackbaud Raiser's Edge for Donor Displays: Features, Benefits, and Overview
Acquiring and recognizing donors is essential for many organizations, so use the best and most effective tools to do so. Blackbaud Raiser's Edge is clearly one of the top and most comprehensive cloud based fundraising softwares. Integrating the power of digital signage seamlessly with OmniAlly to boost results, makes it essential in today's highly competitive world.
Organizations seeking donors frequently identify and search out tools which give an advantage in successfully attracting, retaining, and managing donors. When it comes to showing your appreciation it is hard to beat impressive digital screens.
There's nothing wrong with traditional static donor boards, but even the best have a limited return on the "WOW" factor. OmniAlly offers an on-premise digital donor board solution that is eye catching, dynamic, tailor-made, remotely managed, and highly effective.
Read on and learn how to drive your fundraising efforts with Raiser's Edge donor management software solution and digital donor boards. You'll show donors some love while boosting your donations with the help of OmniAlly and Blackbaud Raiser's Edge.
Discover Blackbaud Raiser's Edge NXT: How Does it Work?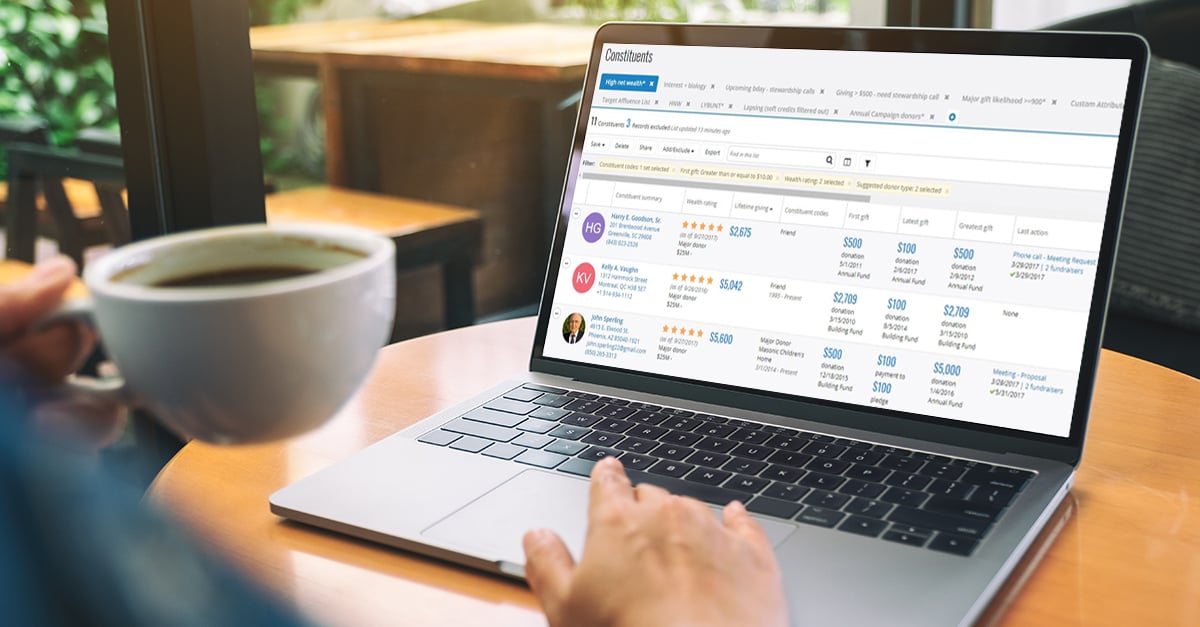 Blackbaud Raiser's Edge NXT is a web-based software solution built specifically to manage people involved in your fundraising efforts. The software can be accessed from any device's web browser with a Raiser's Edge NXT login. Entering your Raiser's Edge login info, you'll have full remote access.
Raiser's Edge has built-in functionality for online donations, and a support team (which includes real time chat support). It also has access to Blackbaud University, where all Blackbaud product details are explained through FAQs and video tutorials.
Digital vs Static Donor Boards: Which is Better?
Static donor boards might be simple and easy, but are they eye-catching enough to cut it in today's age and beyond? If you want to be competitive, relevant, and modern, the short answer is no.
Static boards aren't without their advantages— they're usually easier to maintain, they require less oversight, and they're comparatively inexpensive depending on the type.
However, the advantages of digital donor boards over traditional donor recognition walls are numerous and clear. They are more effective in how they present dynamic, eye-catching content. They're bright, versatile, high-tech, and impressive.
Static donor boards can be decorative and attractive, but what matters is getting the message across as effectively as possible. Digital screens allow for unmatched flexibility.
For example, around the holiday season, donor boards can be customized to incorporate the holiday spirit. Not only that, they can be edited, added to, or adjusted in any way you see fit—at any time. With a cloud-based CMS (content management system), you can access and make immediate changes to your donor board content.
Campaigns and Event Promotions Made Easy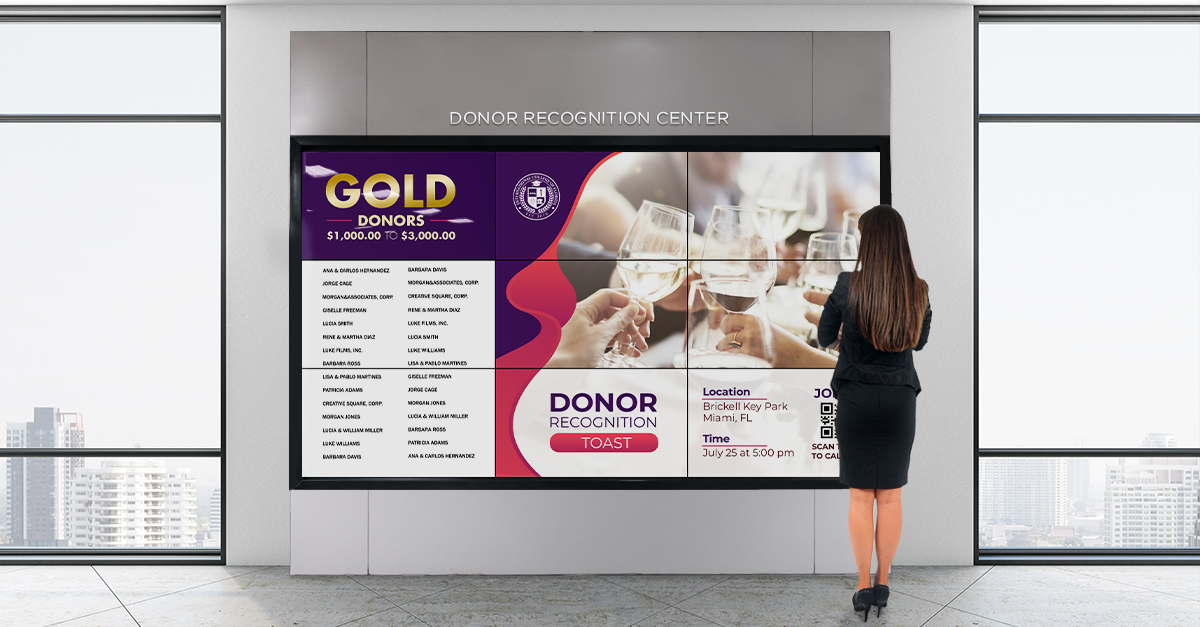 Raiser's Edge used in conjunction with digital donor displays streamlines the process of event planning, campaigns, and as an overall part of your donor cultivation strategy. Fundraising efforts connect directly through app to app relationships. Things can be neatly integrated, simpler, and faster with Blackbaud Raiser's Edge.
Digital signage for your donor displays will be updated automatically, with content being pushed out at the click of a button. Remote management makes things particularly convenient if you get news about changes to an existing event, for example. You can easily access the cloud-based CMS to tweak the content that's showing on your displays. This will reflect the new information and can be done by whomever you designate.
Effective and Convenient Donor Recognition Tool
When coupled with digital signage from OmniAlly, donation teams will use a unique set of Raiser's Edge fundraising software tools. Its suite of role based fundraising and donor management tools can provide a variety of new and valuable insights. It also provides a more efficient approach to donor database management and perks that your team may have been unaware of. Raiser's Edge training through Blackbaud University is quick and easy, allowing virtually anyone to use it.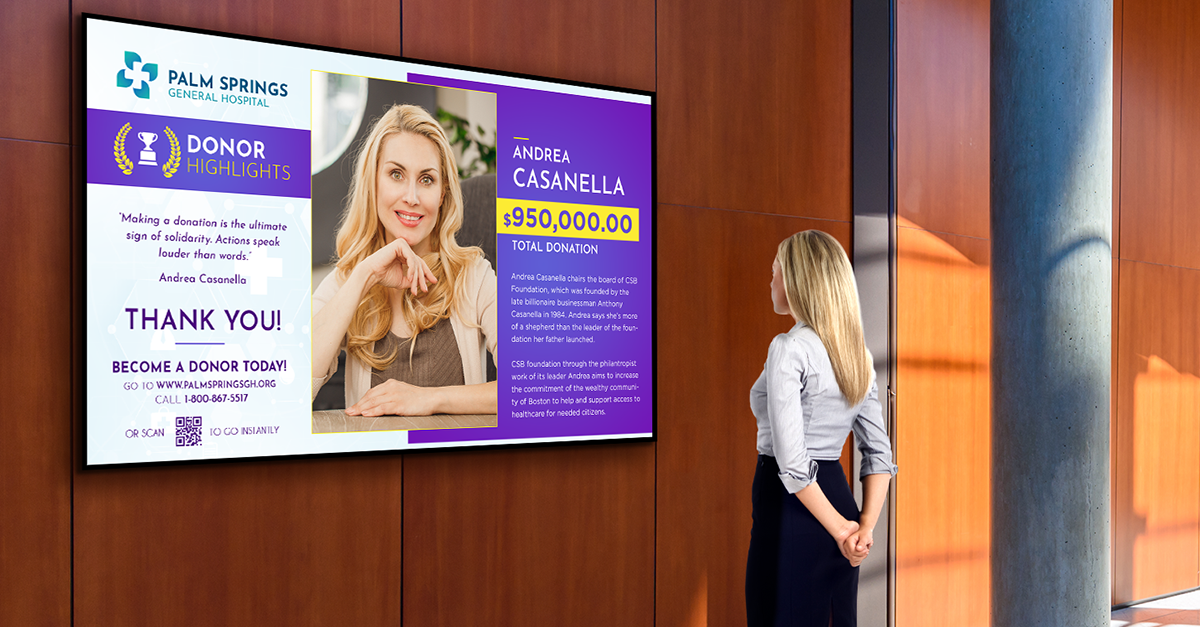 Not only do digital donor displays provide a more effective solution to donor recognition, but they entice donors as well. List advanced levels of donor recognition on your displays based on certain levels of donation to increase donor contribution. You could even offer an entire display dedicated to one donor for a certain contribution amount.
Conclusion
Blackbaud Raiser's Edge software is a versatile tool for donor management when combined with the many benefits of digital signage. Seamless donor recognition with OmniAlly's Blackbaud Raiser's Edge integration brings all of your Raiser's Edge efforts into reality.
In short, Raiser's Edge is a user-friendly management software solution built for you to work smarter and faster. Adopting digital donor displays with Raiser's Edge donor management solution provides a new set of tools to acquire and retain donors. This will make fundraising and donor recognition much easier - and with a bigger "WOW" factor than traditional approaches.
Profit/nonprofit technology attracts fundraising donations, and Blackbaud Raiser's Edge NXT and OmniAlly are the perfect solution for success. Get in touch with OmniAlly today and start optimizing your donor acquisition and retention strategy with donor recognition displays.
FAQ section
How difficult is it to setup?

Easy! Just log into your Raiser's Edge NXT account through our app and you're set.

How much ongoing maintenance is required?

The only maintenance required is to log back into Raiser's Edge NXT through our app once a year - or if you change your password.

I have a huge list, is there a limit to how many people can be listed?
Do I need to manually update the list in the app?

No. The list is automatically changed within Raiser's Edge NXT.

How much extra does this integration cost to use if I already have Raiser's Edge NXT?
Does this work with Raiser's Edge 7?

Unfortunately not. We suggest speaking with your Blackbaud representative about a migration to NXT as it's fairly affordable.

What if I don't have Raiser's Edge NXT, can I use it another way?

Sure thing. There is support for Google Sheets, Excel CSV upload, or manually entered in our Tables feature.

Can I see it in action?

Of course! Contact us today and ask for a demo of the Raiser's Edge NXT integration