Donor stewardship is arguably the most important step in the donor cultivation cycle. After all, once your donors have given so generously, the least you can do is follow through with updates, thank yous, and maybe even a token of your appreciation.
When done properly, stewardship will increase donor retention rates and result in repeat donors through creating healthy relationships.
This relationship management is crucial for both repeat and first time donors. In particular, making sure that the expectations and intentions of the donor have been met should always be a top priority.
In this post, we'll take a look at how your donor stewardship fundraising plan can get a major boost by implementing a digital signage solution.
How to Optimize Your Fundraiser with Digital Signage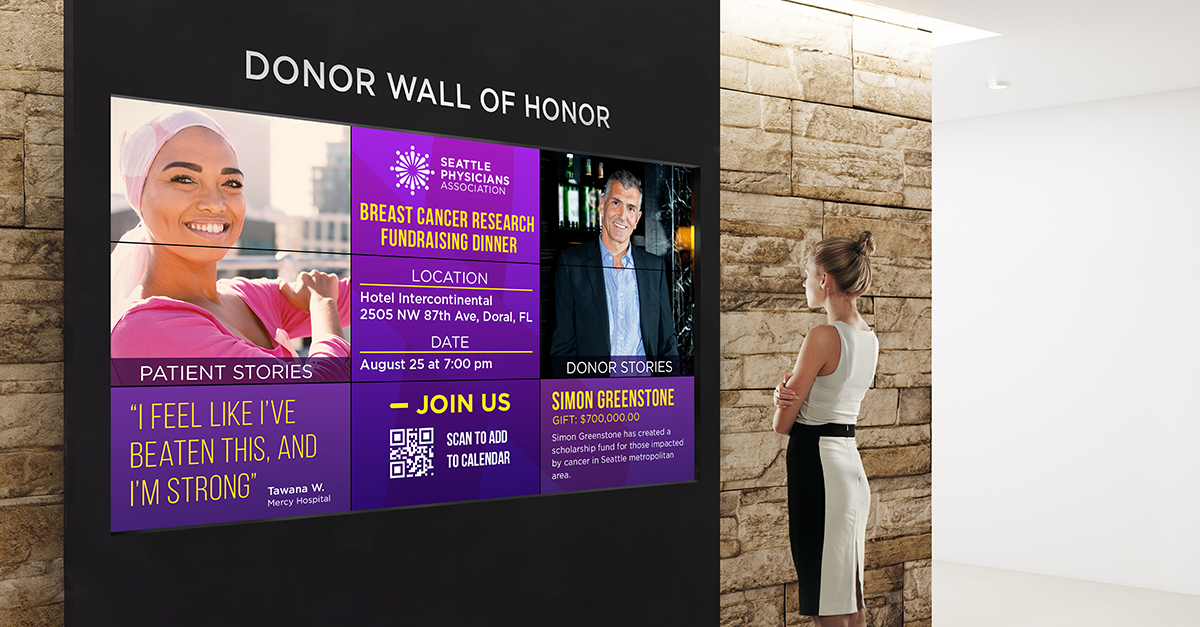 As you know, fundraisers are a great way to gain support and donations for your campaign. Digital signs provide a state-of-the-art tool to add value to your next event and help meet your fundraising goals.
Factor digital signage into your stewardship matrix to refine your annual giving strategies.
Digital screens are eye-catching, bright, and frankly, impossible to ignore. This is a major advantage in an era where people skip over post after post in their online viewing experience until something grabs their attention.
Being able to use highly engaging dynamic content will allow you to reach potential donors in new and highly effective ways.
Some of the ways digital signage can boost fundraising efforts include campaign thermometers, interactive campaign stories, donor stories, and more. These digital tools enable you to share useful information in an attractive way.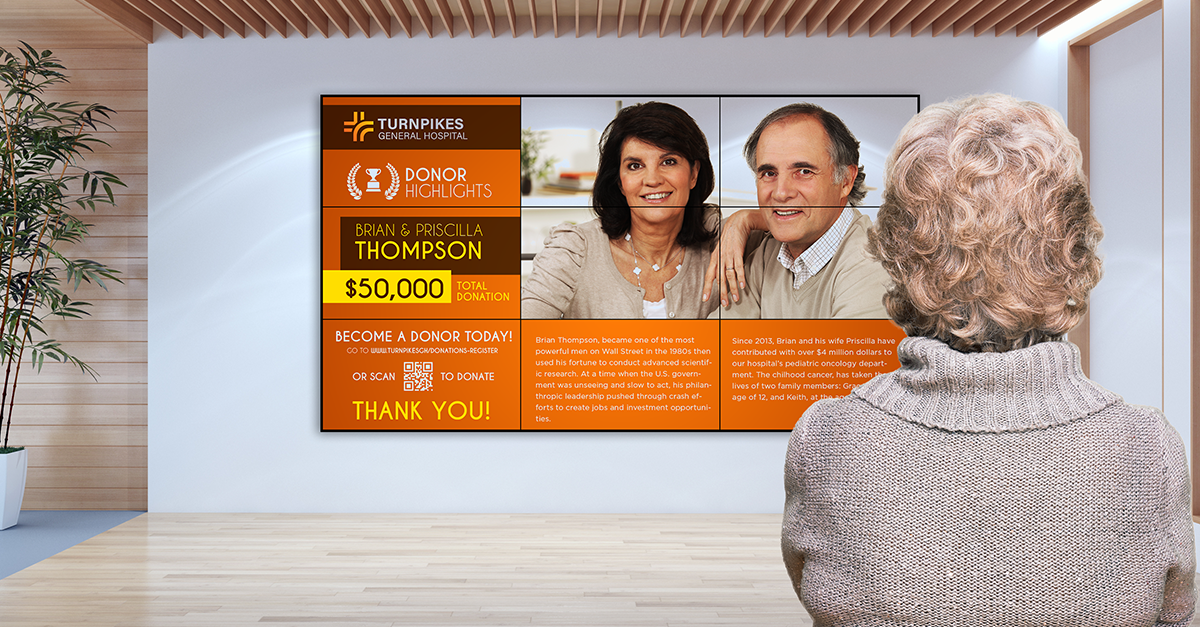 Graphics, video, images, and text can all be used together to create a content experience that captivates and touches viewers. By now, having some sort of digital presence is a must for fundraising events. Digital signage's wide range of uses makes it the perfect option.
Spread Awareness and Solicit Donations with Digital Signage
Before anyone can attend your annual fundraising event, they'll need to know about it. You can use digital signs to spread the word. Marketing for volunteer opportunities is also made easier with digital signage.
Potential participants can RSVP by simply scanning a QR code on the screen. And if they decide to make an on the spot contribution, they can also use a QR code to bring them directly to a payment processing form.
Donor Stewardship with Digital Donor Walls
Digital donor recognition walls are one of the best tools for stewardship. Fundraising event attendees will take notice that you recognize your donors in a meaningful way.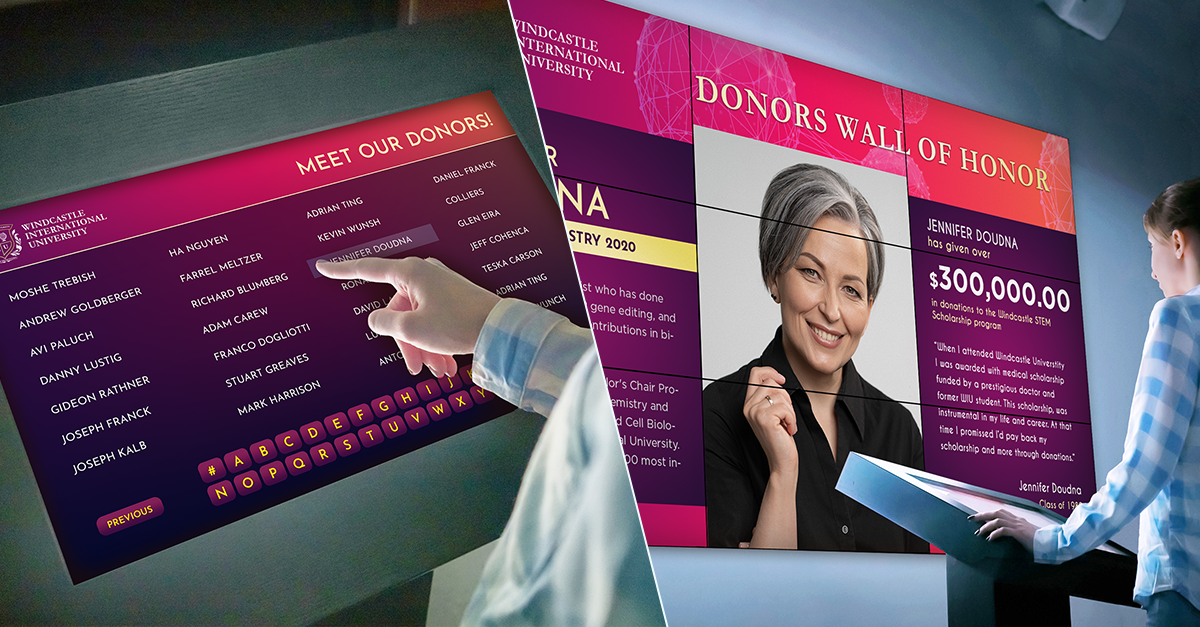 Interactive donor profiles and donor appreciation videos are a heartfelt way to show your gratitude while potentially attracting new high level donors in the process.
Digital donor recognition displays double as a key tool in your donor relations plan and a way to spark interest in potential donors.
Guidelines for an Excellent Donor Relations Strategy
Developing a solid plan is obviously key, but not all organizations have the same goals or the same means. Here are some general guidelines to developing your own curtailed approach, and where digital signage can help.
Have a Transparent Donor Stewardship Policy
Creating a donor stewardship policy will give potential donors some assurance that they'll be recognized properly. With a transparent policy that dictates benefits for donors, they'll be more confident in their donations. This can include things like induction into a membership program or VIP status at events for your annual giving campaigns.
Your policy can even be added to your digital signs by way of a content section, or a simple QR code that links the user to a place where they can read more. That way, if a prospective major donor wants some quick answers as to how their donations will be recognized, they can quickly and easily get them with their smartphone.
Make Your Mission Clear
Digital signs are a great way to deliver your mission statement. Donors want to know that their contribution will make an impact. Making your vision clear for them will help dispel any skepticism or apprehensiveness they could have about your raising money.
Get to Know Your Donors
Thanking donors in a personal way is essential. If they have a preferred name or preferences in terms of how they'd like to be recognized, this will be important to make note of. Be sure to recognize the amount they gave, which campaign it was given to, and the mission of that campaign. This can be added to a digital donor profile or be part of a list.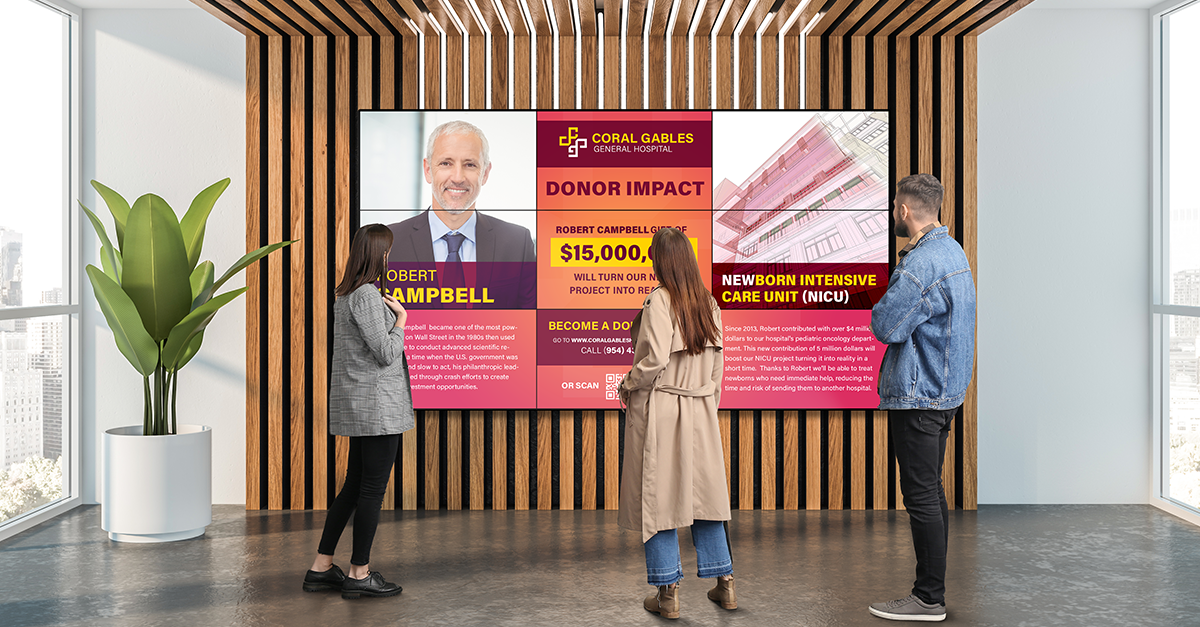 And if they don't want to be recognized at all, this of course is also extremely important to pay attention to.
Keep Them in the Loop
Keep all donors updated on the progress of your campaign. Having a communication strategy is a vital part of the stewardship process. In addition to displaying information on digital signs, newsletters, and even text messages can be a great way to touch base with your donors.
Engage with Your Donors
Hosting events, inviting donors to visit sites, and even inviting them to meet board members is a great way to nurture your relationship with them. If they want to participate, it's a good idea to ask them for feedback on various aspects of the campaign, or invite them to do a survey.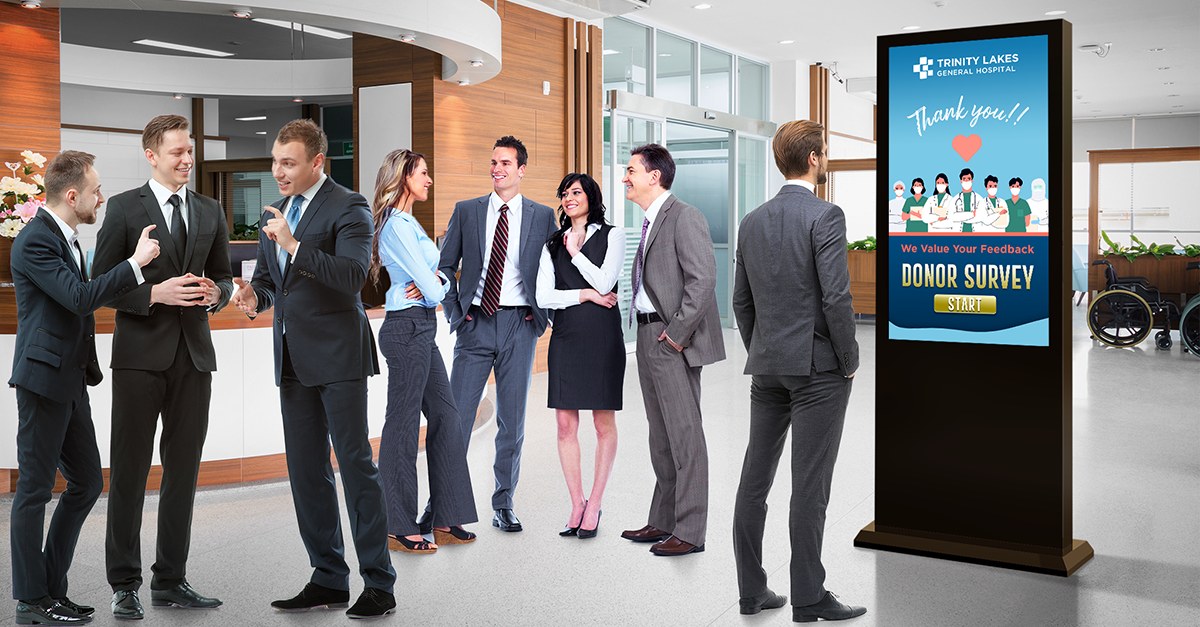 In short, letting them know that their opinion is valued can go a long way. This can be done through interactive touch screens, or in-person opportunities can be marketed on your digital screens.
Successful annual giving strategies contain a stewardship matrix like we've outlined above.
Conclusion
Digital signage is an ideal tool to augment your nonprofit stewardship plan. Digital signage solutions have low operational expenses with a high potential upside in terms of reaching your annual fund goal each year.
You can display a huge range of useful content, from customized and branded playlists, to tickers for social media, to interactive content that captivates users.
Put simply, digital signage is one of the best tools you use to enhance your donor stewardship plan.