Donor Cultivation Ideas with Digital Signage
Understanding the donor cultivation cycle is key for fundraising. You may already know each of the steps well without having ever called it the "donor cultivation cycle" or "donor cycle" before.
Even so, identifying it as a cycle and recognizing the order and importance of each step can be hugely beneficial.
Identification, cultivation, solicitation, and then stewardship are each essential to attracting and maintaining a positive donor relationship.
This translates to seeking donors out, establishing rapport and informing them about your goals, requesting a donation to meet a specific initiative, and then recognizing them.
Keeping donors engaged through steady communication is crucial throughout the entire cultivation process. Digital signage can help out with this in a wide range of modern and effective ways.
Let's take a look at each stage of the donor cycle and how digital signage can enhance your ability to connect with and manage donors.
Using Digital Signage to Augment Your Donor Cultivation Plan
Identification
First you must identify the potential donor and qualify them. In other words, use referrals or prospect research to find a person or organization that fits certain criteria— eg. they have the means to give and ideally a connection to your cause or organization somehow.
Digital signage can help identify potential donors by making first contact for you. For example, a highly targeted call to action broadcast on your digital screens can reach donors in a way that resonates.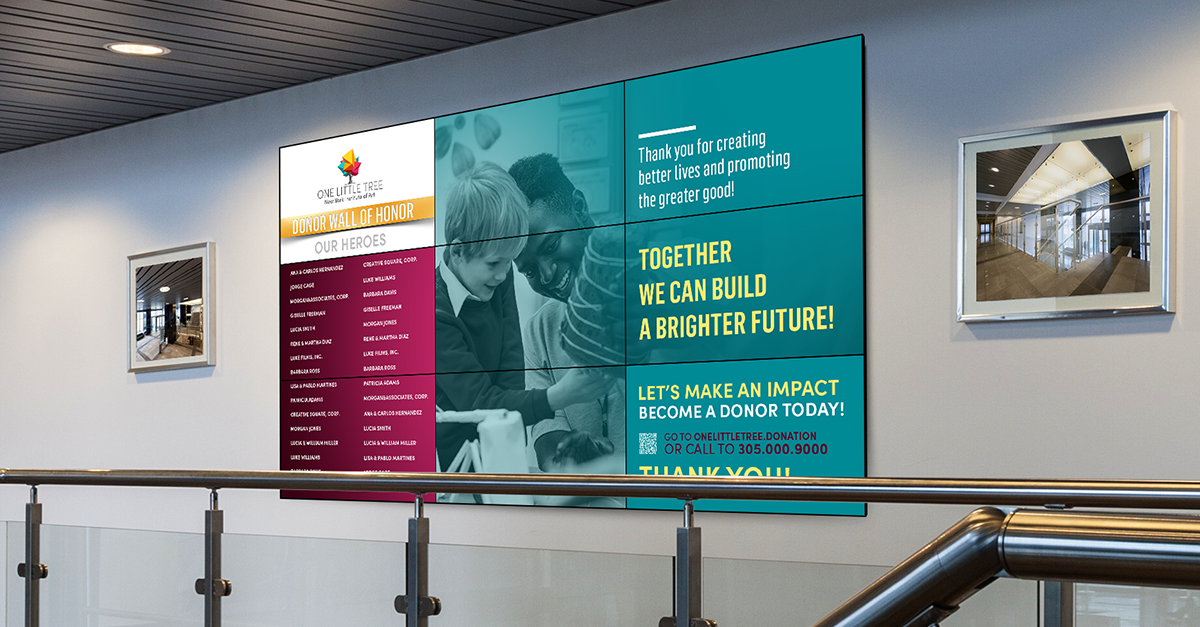 Get the conversation started by delivering a message that grabs the donor's attention. In place of actually being present to speak to them face to face, digital screens are ideal thanks to their bright, eye-catching nature.
With a high-contrast color scheme and digital signage best practices in mind, you can craft a strategic digital signage playlist that's impossible to ignore.
Not only that, QR codes in digital signage provide a way for potential donors to connect with you or your content on the spot with the tap of a button.
Cultivation
The best way to build relationships is to meet face to face. The goal is to connect with your prospect donor and educate them about your cause. This can be done through events and other opportunities to communicate. However, meeting in person is not always an option.
Digital signs offer the ideal means to communicate your initiatives in bright and bold fashion. Even if you don't have the chance to meet your donors in person, your goals and how their contribution can be a major help can be demonstrated through interactive or static multimedia.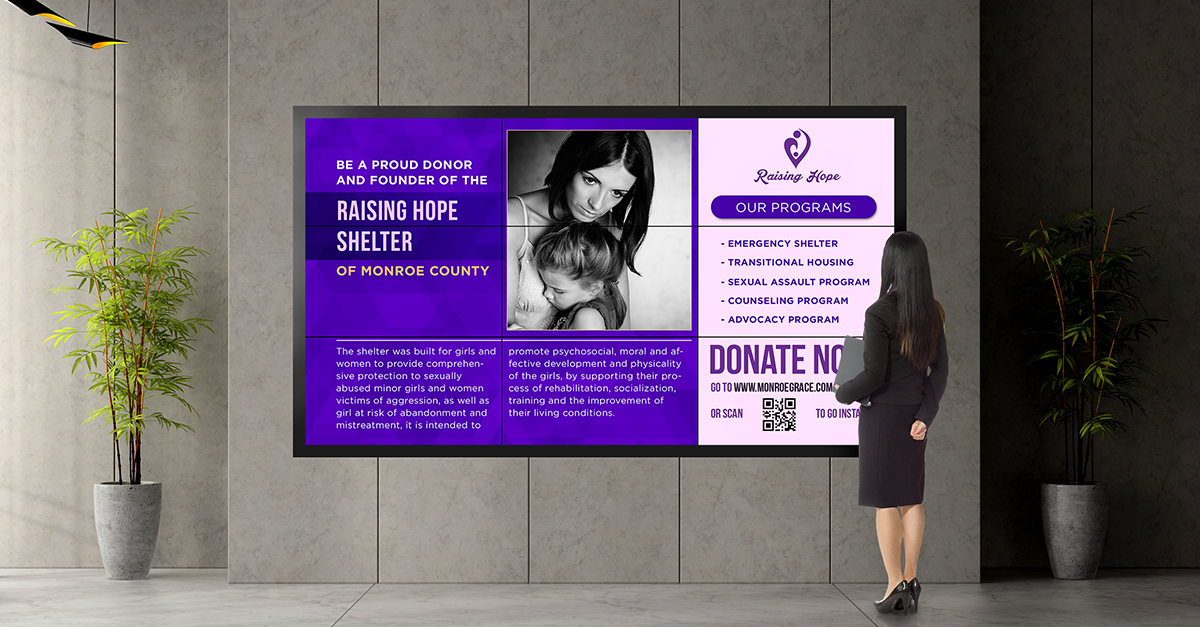 Donors can tap through a variety of enticing content that shows how your plans will help people in their community. You can also use your digital screens to inform potential donors about upcoming volunteer opportunities and other ways they can contribute.
And with custom digital signage software, your entire content playlist can be branded and customized to support your organization and help garner donor loyalty.
Solicitation
Once you've communicated the ways in which your potential donor and others can benefit from their donation, it's time to ask for a specific amount for a particular initiative. For example, if you need a new addition to an existing wing of your building that would cost $100,000, ask for $100,000 and detail why you need that amount.
Since interactive floor plans and 3D renderings are perfect for digital signage, you can pair this content with a call to action that justifies needing a specific gift size. That way, your potential donors will see how their funds will be allocated and used to make the project a reality, along with the potential impact of their gift.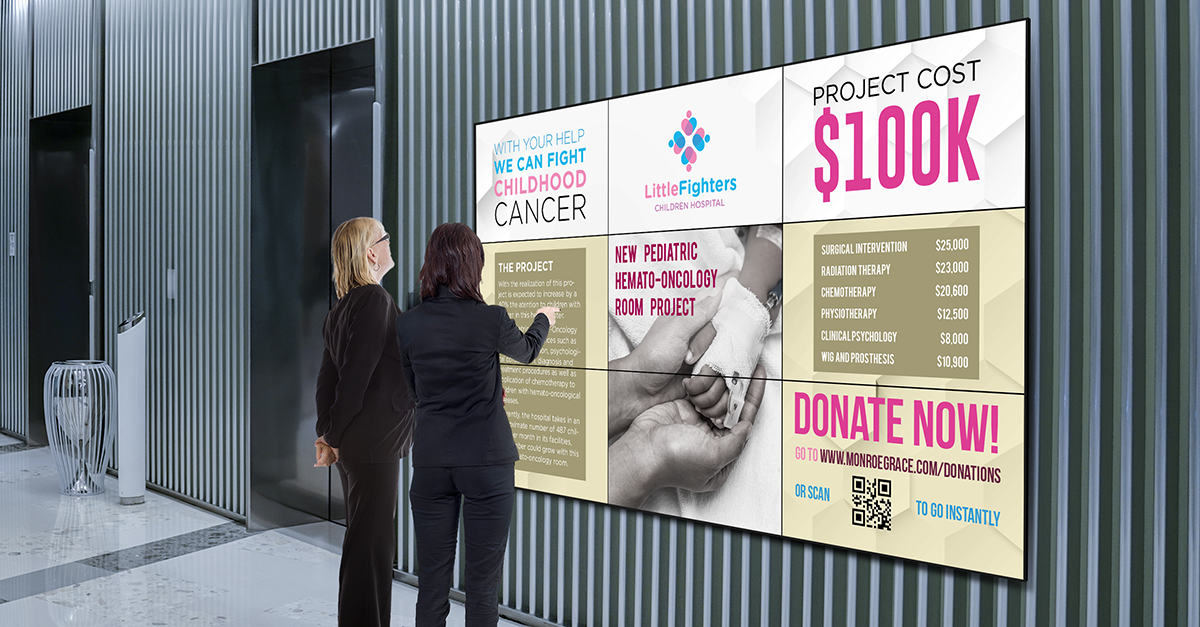 QR codes are ideal for soliciting donations big and small. First time donors can simply scan the QR code with their smartphone and make an on-the-spot contribution before they forget or before the idea gets buried by their day to day priorities.
Stewardship
Maintaining communication is crucial to establishing a repeat donor. Namely, thanking them for their generosity and updating them periodically on the progress of your cause and where their money went is essential.
You can show your progress on a campaign thermometer, and updates can be displayed on your digital signs through video, interactive media, and images. If a new wing has been completed for example, you can show it on your screens to demonstrate how it's coming along. This helps ensure that the donor feels like their money has been well-used.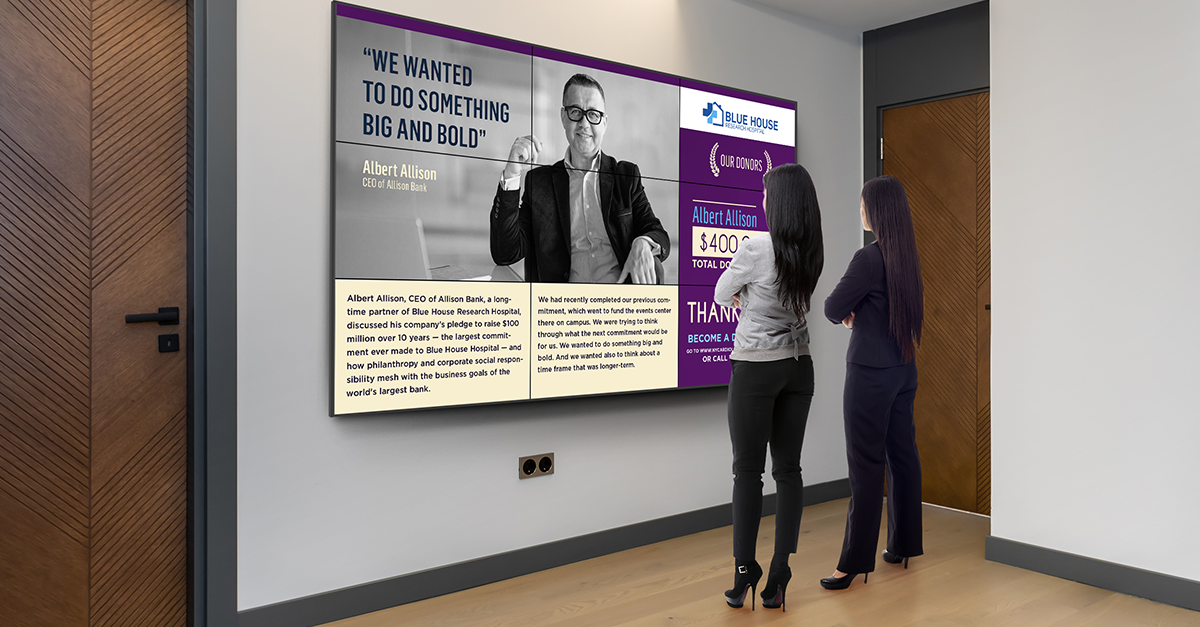 Digital donor recognition walls are the state-of-the-art way to show appreciation for both minor and major donors. From interactive donor profiles, to specifically curtailed and on-schedule content, to simple donor lists, digital signage can do it all.
A heart-warming donor story is the greatest way to thank long term and even mid level donors. It's also an effective method to attract donors who want their efforts recognized loud and clear.
Although traditional donor recognition walls can be very effective, any major donor prospect knows that digital donor recognition walls are the way of the future.
Managing a Digital Signage Network is Simple
A cloud-based content management system (CMS) makes adjusting or improvising digital signage content easily achievable from any device with a browser. The software is fully customizable, adaptable on the fly, and can even incorporate themes for holidays or special events.
App integration creates a seamless suite of tools that empower you to save time and enhance your donor management efforts. Apps like Blackbaud Rasier's Edge help with donor segmentation, donor oversight, and much more. Things like adding a board member to your potential donor list can be done on the spot through your cloud-based CMS.
With all of the functions and tools that digital signage offers, you can take your donor cultivation ideas and run with them.
Conclusion
Digital signage offers an optimized approach to the donor cultivation cycle. If you already understand how to cultivate donors, leveraging the power of digital displays will only enhance your capabilities and improve the process.
Digital signage can augment your donor cultivation plan in ways not previously possible. Therefore, one of the best donor cultivation ideas is to use digital signage to expand the possibilities. That way, you'll always be fully equipped each step of the way in the fundraising cycle.
Why wait? Contact OmniAlly today to learn more about what we offer!