Attracting donors has become increasingly more difficult over time as the donor recognition bar continues to be raised, because let's face it, they've probably seen it all already. If you want to convince them to make a contribution to your cause, you have to do something to pique their interest.
That's why it's important that your fundraising strategies are fun, unique, and engaging. Not only that, once you have donors, making them feel appreciated with something both tangible but also impressive is just as important as attracting them in the first place.
In this article, we'll discuss the most effective and unique fundraising ideas to put in your donor team's toolkit, the best ways to recognize donors with digital donor hardware of varying sizes, and some useful advice that will help you gain more donors and encourage recurring contributions.
Donor Management System Integration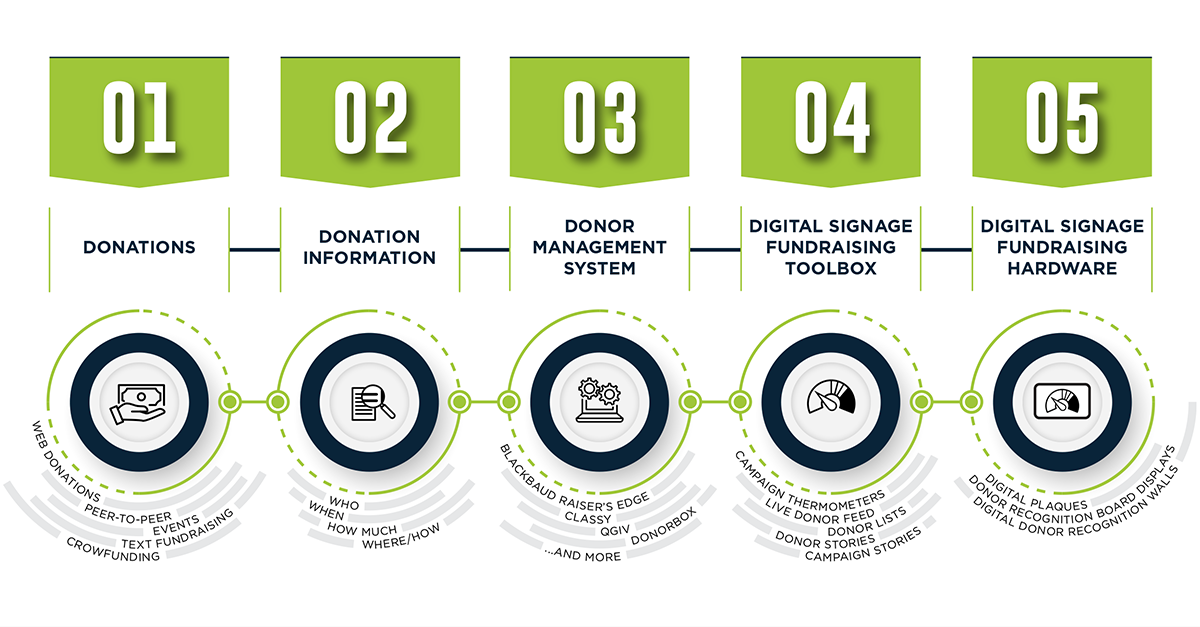 These days, fundraising management is easier than ever. Your Donor Management System's fundraising dashboard can be accessed remotely from any device. All features, including payments, can be synced and streamlined, making it easy to access data and figures on the fly. It all gets updated live automatically and allows you to save valuable time.
Some of the better recognized Donor Management System options out there include Blackbaud Raiser's Edge NXT, Classy, Donorbox, Qgiv, Little Green Light, DonorSnap, and more. Each of these give you ways to host and promote fundraising events, keep track of donors, and find other creative ways to build great fundraising strategies.
Donor Management Systems are also a source of information for digital signage systems that can integrate with them. These digital signage systems will automatically pull in campaign thermometers, live feeds of donations, display donor lists (even by ranking!), and tell donor or campaign stories - all to drive more donor dollars. The systems will pull this information in automatically - you don't have to do a thing.
Campaign Thermometer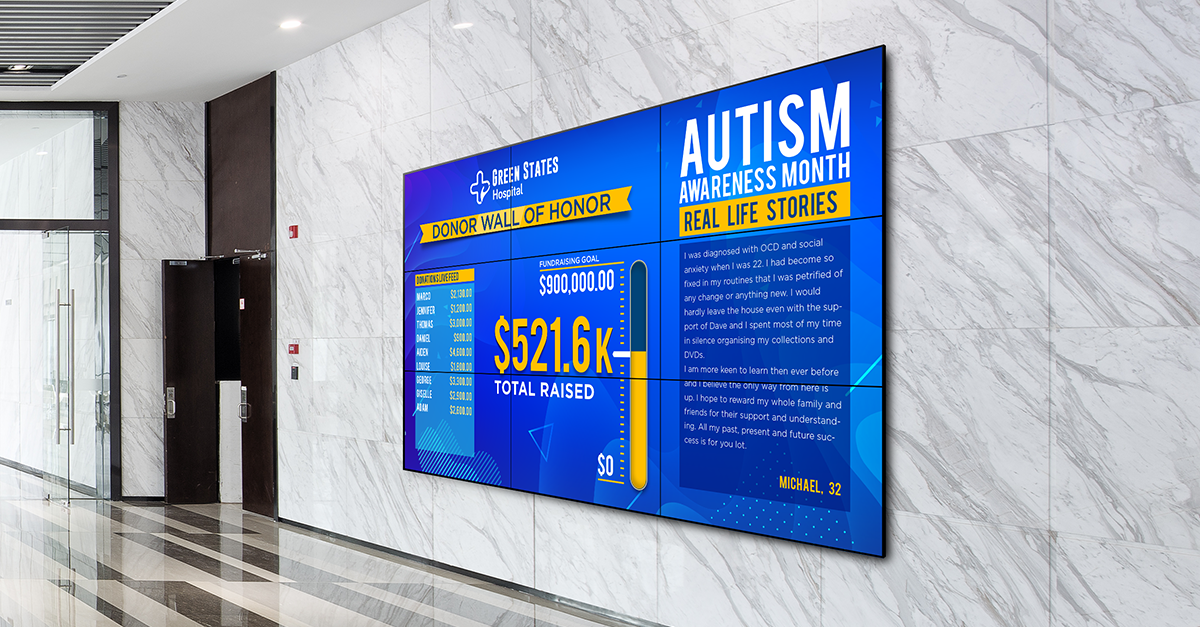 One of the most commonly recognized features for fundraising with digital signage is the Campaign Thermometer. This displays the dollar amount of your goal, the current amount already raised, and other metrics that help motivate people to donate.
Seeing a live increase in the total raised is exciting, and will give everyone involved the assurance that their donation is going to make a difference.
Live feed of donations
When a donation is made, show the name and/or donation amount on screen to encourage viewers and passersby to engage with the screen by also making a donation.
Donor lists
Show off your donors in a way that grabs attention and lets everyone know how much you appreciate their help. The bright, eye-catching nature of digital signage provides the perfect platform to display donors' names while being effortless to update.
Set up breakpoints to recognize different donation tiers like Platinum, Gold, Silver and Bronze to entice would-be donors to be recognized at a certain breakpoint, or to simply recognize and provide public appreciation for existing donors.
Donor stories
According to The Nonprofit Recurring Giving Benchmark Study conducted by NextAfter and Salesforce.org, of the organizations they surveyed, 77% failed to provide tangible benefits for repeat donors.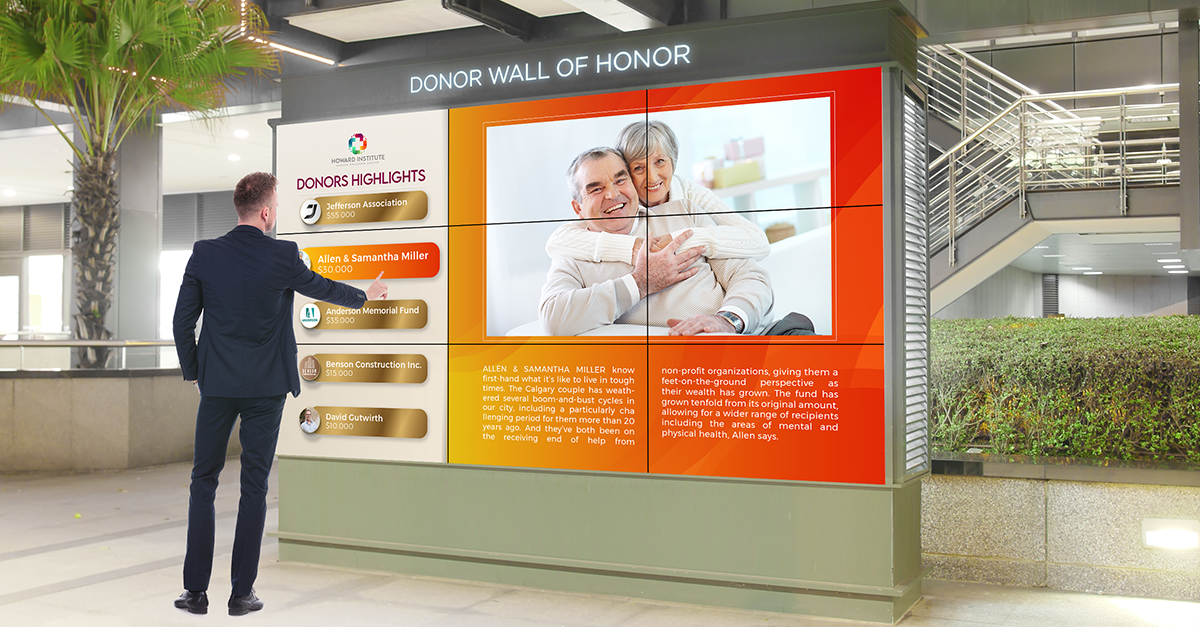 In addition to a membership or benefits program for donors, you should show a deeper appreciation for those who have contributed the most by putting together a series of interactive donor stories, or non-interactive donor story videos.
Viewers can pinch and zoom, click on certain sections of donor story content to learn more, or simply watch the story unfold.
This level of effort won't go unnoticed by current and future donors who will be touched by the gesture.
Simply put, donors like to know that their contributions make a difference. And since content can be added into your stories at any time through your dashboard, managing them is quite easy.
Campaign stories
One of the most important parts of your fundraising campaign is its story. What its purpose is, what goals it will help to achieve, and how it will all be done is essential information for someone who's considering making a generous donation.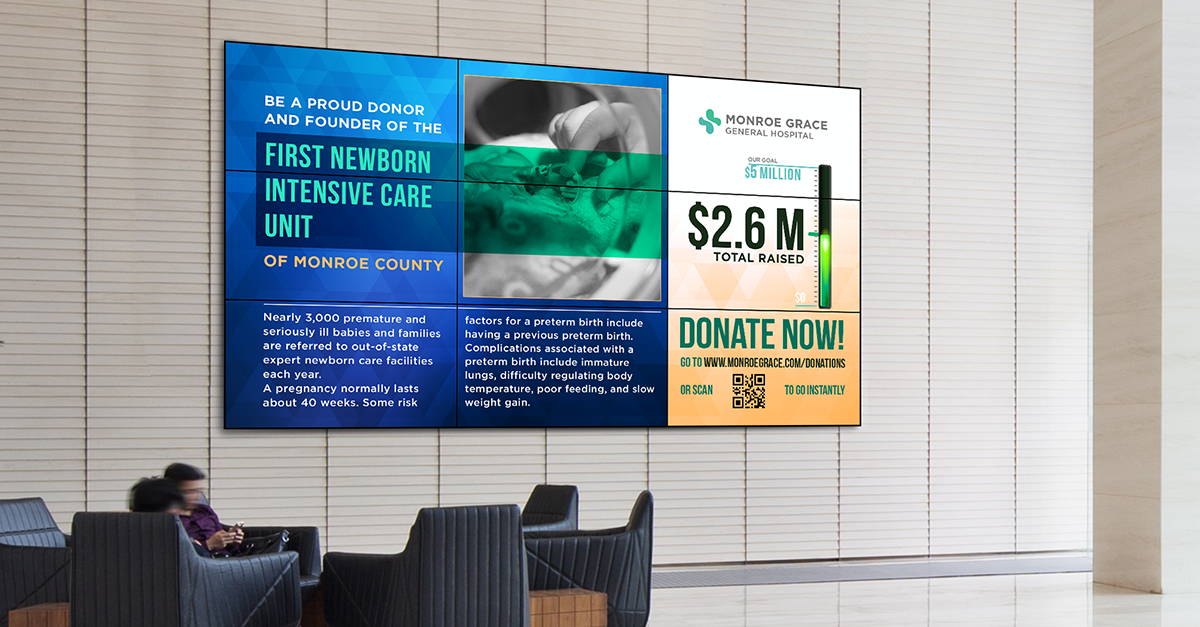 Use interactive campaign stories or non-interactive campaign story videos on your digital signs to draw donors into your cause and justify their contribution. From where it all started to where it's going to be years in the future, a campaign story is an ideal way to convey key information about your cause.
Donation and Peer-to-Peer QR code
A survey from Classy in The State of Modern Philanthropy: Trends in Return Donor Behavior found that 94% of repeat donors provided a one-time donation again as their second contribution.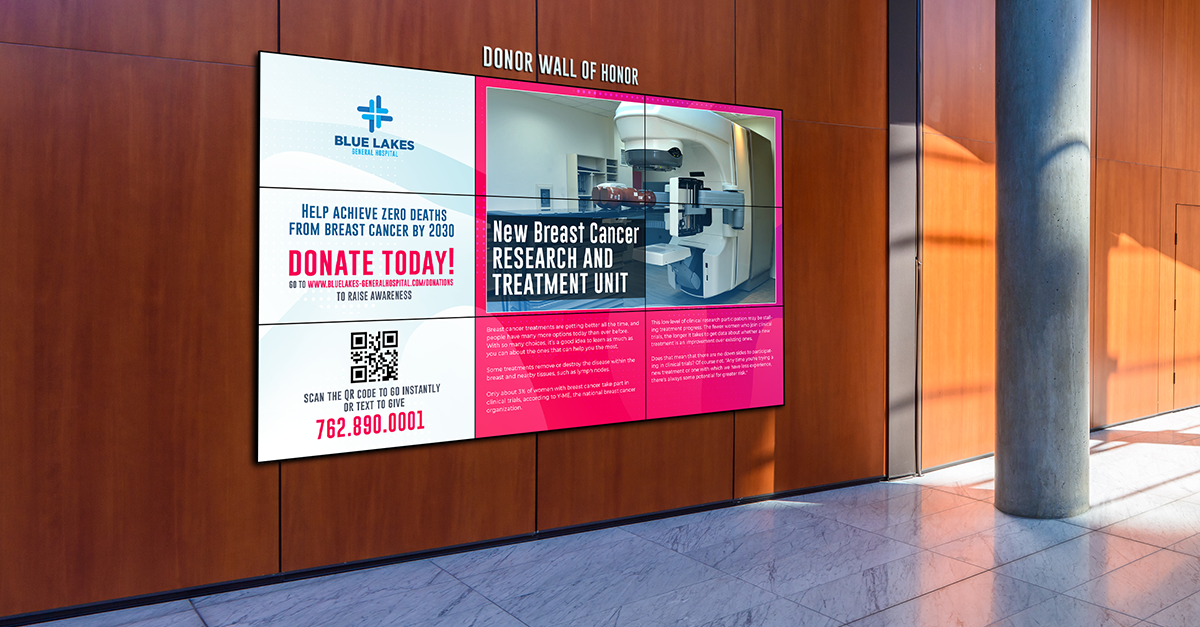 Whether it's on your digital donor recognition wall or on any other content related to raising money for your cause, having a quick and simple way for potential and returning donors to make an on-the-spot contribution, or pick up the cause as their own is a must.
Don't lose out on donations by failing to provide a hassle-free way to give. Also, don't forget to provide the link to your donation page in case they want to donate later or don't have the ability to read a QR code on the spot.
Donor Recognition Display Options
Once you have donors, it's crucial to show your thanks in a way that makes them feel greatly appreciated. It should also be obvious to them that their donation is being put to good use. Donors will wonder where their hard-earned dollars went, after all.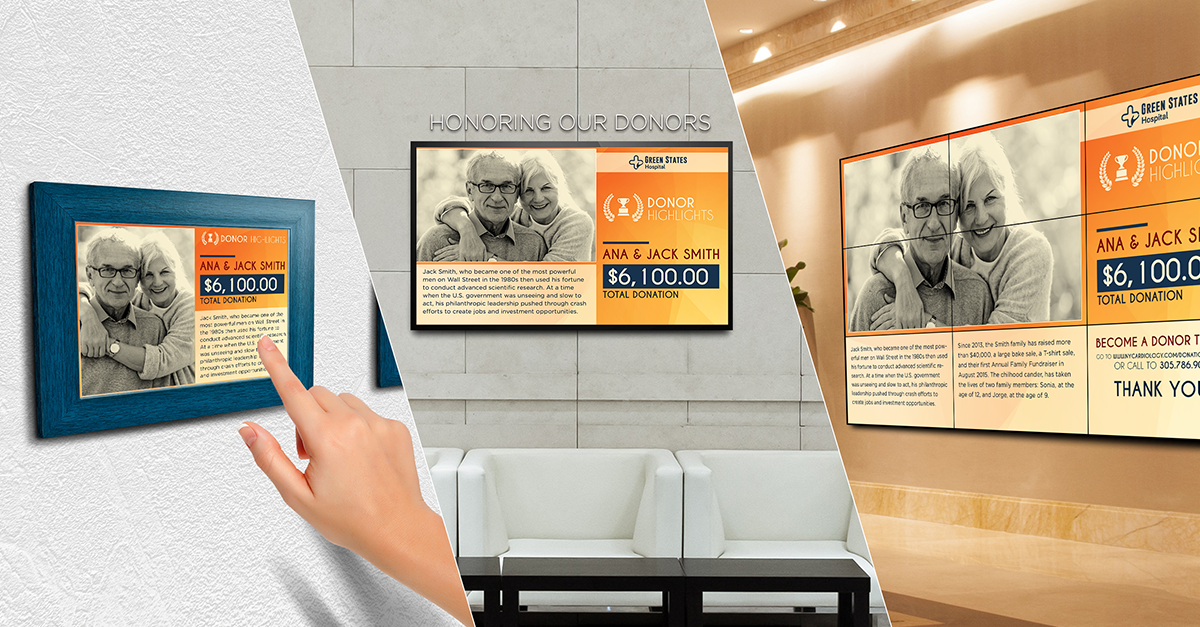 Whether it's with metal memorial plaques, mosaic tile donor walls, or digital donor recognition walls, paying close attention to how you show your appreciation in the right form factor is also essential.
Here are some of the options that allow you to leverage digital technology to thank and attract more donors using campaign thermometers, live feeds of donations, displaying donor lists, and telling interactive or non-interactive donor and/or campaign stories.
Digital Donor Plaque
Conventional donor plaques can be nice, but they're not dynamic. Having the flexibility to make adjustments to your donor plaques at will allows you to do things like add holiday themes, create special decorations on a particular donor's birthday, add or remove names, tell the donor story, videos and much more.
Metal memorial plaques are the traditional way to show your appreciation in an artful way. These can be beautiful, but they lack thought. Anymore, what you want are clearly legible donor plaques that do more than just harbor the names of donors.
That's not to say that traditional donor plaques aren't great, but they simply aren't as eye-catching as their counterparts in the digital age.
Donor Recognition Board Display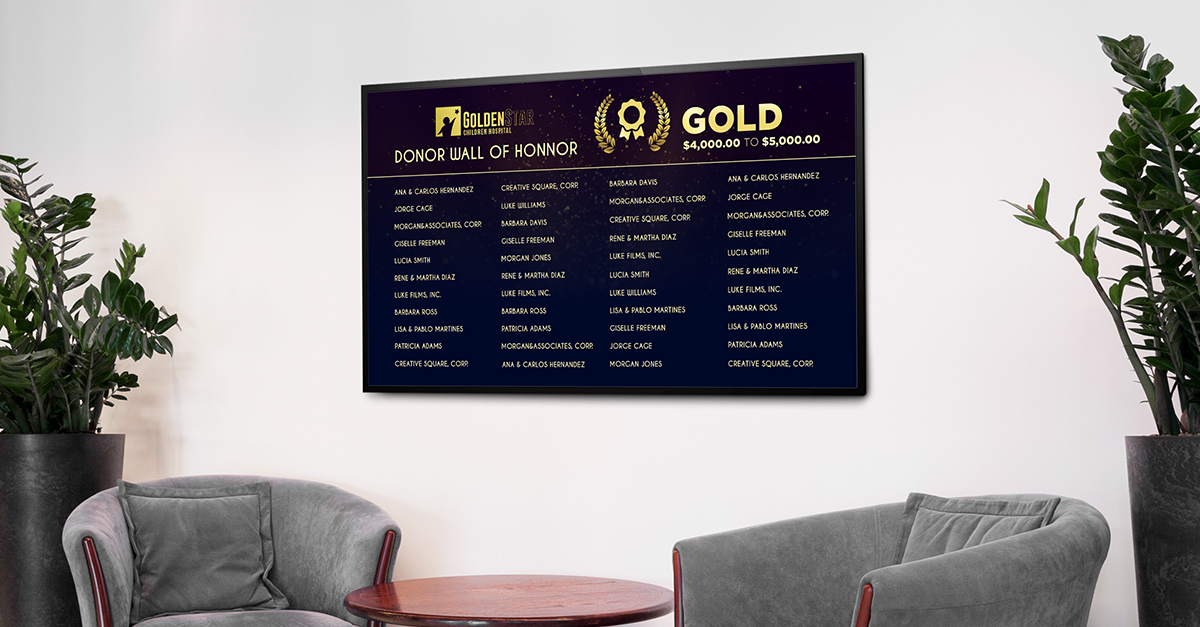 Go digital with your entire donor recognition board display using a simple single LCD. Use the whole gamut of options to display campaign thermometers, live feeds of donations, display donor lists, and tell interactive or non-interactive donor and/or campaign impact stories. It's similar to digital donor plaques, but bigger. Bigger is better, or at least more impressive, and if we're not aiming for impressive then how are we enticing donors?
Digital Donor Recognition Wall
If bigger is better, then a donor wall is the best way to demonstrate how you appreciate the generosity of your donors. There are tons of possibilities when it comes to a donor recognition wall. For example, general art like a digital mosaic with virtual tiles that rotate in and out is an artful way to attract attention to your donors and the help they've provided.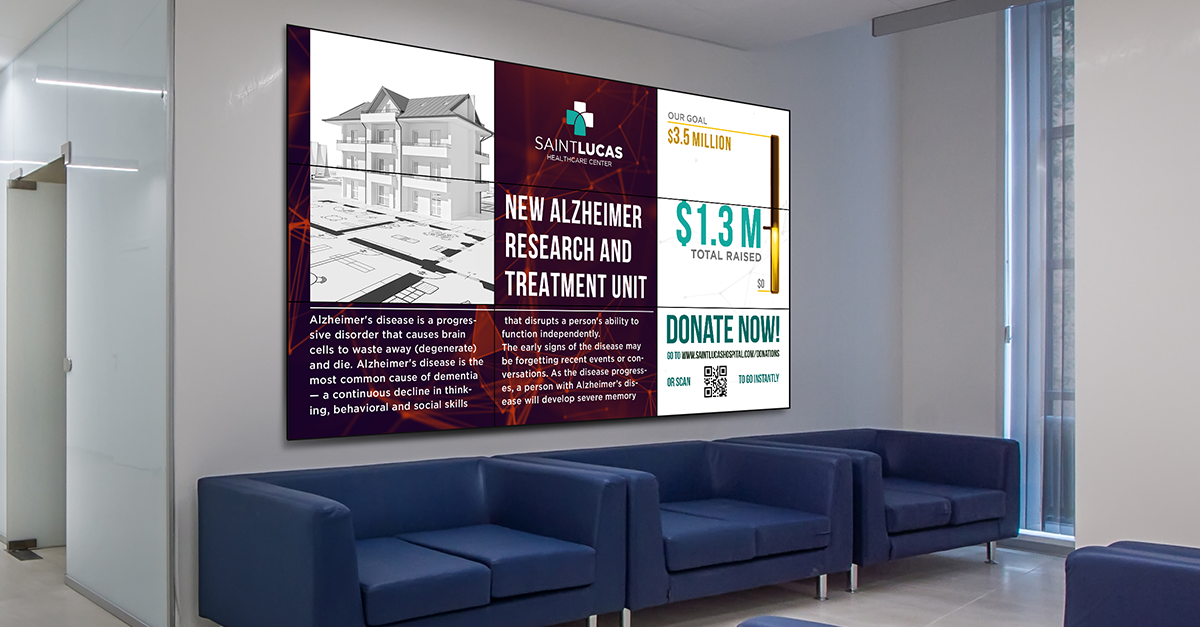 You can even add a digital screen or multiple screens to an existing donor wall as a centerpiece or something to enhance and supplement it. This allows you to retain any picture plaques or metal memorial plaques you might already have while adding the interactivity and engaging nature of digital signage.
There are endless donor wall ideas to choose from, so just make sure you leverage the power of digital technology to enhance your fundraising strategies and make the most of your donor recognition efforts.
Donor Partnerships and Fun Ideas
Think outside the box in finding ways to receive donations. Partner with local restaurants and grocery stores to advertise your fundraising drive. Schedule a golf tournament, or reserve a local park for a bake sale to sell baked goods, play board games with suggested donation prizes, and even lay out a fun obstacle course where the winners donate to your cause. The ideas are endless, and the best part is that donors have fun, which will lead to repeat donations.
How to get started with a digital donor recognition system
In order to create a digital donor recognition system to raise funds, you'll need to identify budgets, the location(s) you want it/them installed, and how you want to use it.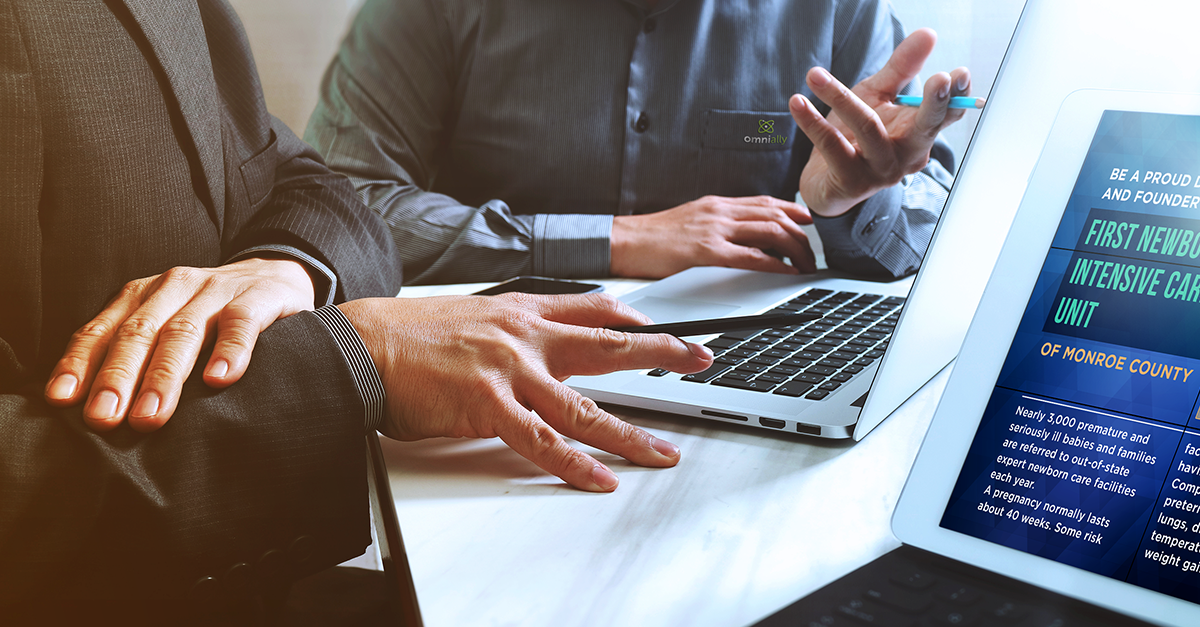 Once you're passed the idea stage, it's about product specifications. Find out what combination of digital donor plaques, donor recognition boards, and digital donor recognition walls works best for the space and with a raw assumption of your budget.
Next, get that information in front of people that understand what you're looking for. At this point the company should be looking to work with you on the content specification for the equipment. Do you want campaign thermometers, peer-to-peer fundraising, donor lists, or donor stories? They should all be ideas you will work through with them.
Once it's all put together, you can simply manage it remotely for updates, additions, and changes at a moment's notice.
Keep in mind that your donor recognition wall is a dedication to your donors and a tool for fundraising - not a place for ads or general announcements.
Conclusion
Digital signage donor recognition and fundraising is a powerful tool in any fundraising team's toolkit to provide tangible benefit to would-be high value donors, and increase engagement in active fundraising efforts by enticing would-be donors on premise and allow them to spread the word.
With the right tools, apps, features, display options, and hardware, you'll have everything you need to offer unique fundraising ideas that attract donors, and show your gratitude in a way that truly resonates.
OmniAlly offers all of the digital signage solutions you need! Don't wait, reach out to us today here.