Digital donor signage ideas are the key to raise funds for any hospital or healthcare facility, while attracting and retaining donors. Long-term financial success is built on one-time small-value traditional donors and huge multi-million dollar donations. Every donation idea counts.
Here's our take on donor acquisition best practices for healthcare fundraising:
Get the most out of your digital donor recognition boards and other digital signage content aimed at acquiring donors. Hospital fundraising best practices and donor management are a good fit. This helps formulate a well thought out donor acquisition strategy powered by your network of screens. Otherwise it's no more useful than recognition donor plaques.
Always combine hospital digital fundraising best practices and digital donor acquisition strategies with your existing or expected digital signage system. This maximizes existing donor retention rates, improves methods of acquiring new donors, and places next-level in your digital acquisition strategy.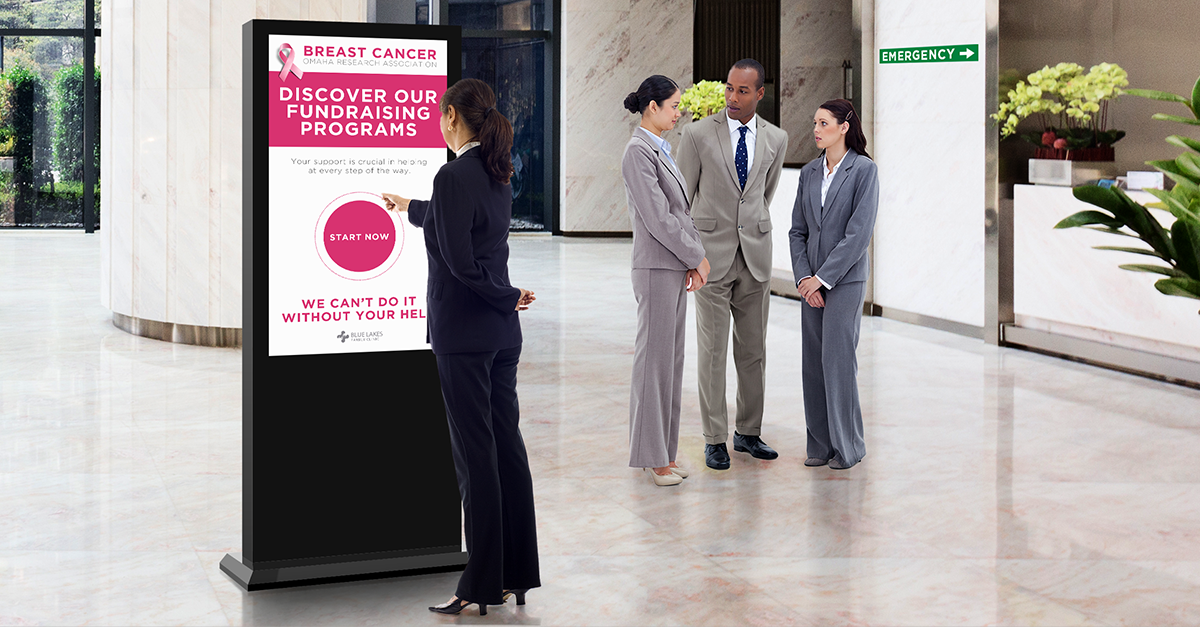 Most likely, your facility will need to incorporate a mix of independent and interactive fundraising strategies across your digital displays. Independent donor acquisition with digital signage can be everything. From marketing campaigns, donor highlights, donor stories, and project updates, to online fundraising awareness.
On the interactive side, visitors, patients, and staff can connect with your touchscreen displays. They can explore fundraising initiatives and future hospital projects. As well as past charitable donations, donation forms, and the impact those past donations had on your facility.
Hospital acquisition and retention with digital signage comes down to three key hospital fundraising best practice pillars:
Fundraising campaigns that build awareness

Marketing content that draws donors in

Donor recognition boards that show appreciation
Here are five specific ways to utilize your hospital digital signage and digital donor recognition displays to encourage charitable donations.
1) State Your Fundraising Mission
For potential donors to know that you have a fundraising need, you obviously need to tell them. You should broadcast everything from fundraising project details to overall objectives across your hospital's screens. Use eye catching digital graphic designs. For example, what is the project, why is it needed, and how will it help your hospital?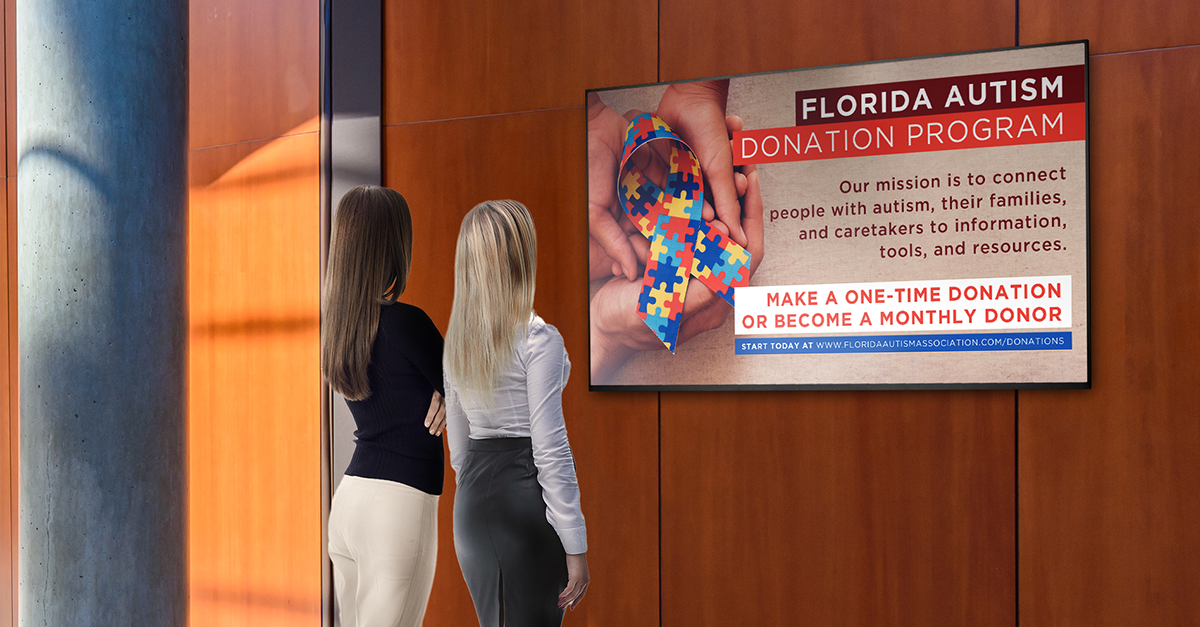 Answer these questions for potential donors across your digital signs. You will simultaneously build awareness and excitement for your fundraising campaign or project.
Make sure that you push content that boasts your mission and objectives on all your screens. Not just your interactive digital donor walls and digital donor recognition displays. Now all your staff, visitors, and patients can see your fundraising needs wherever they happen to be in your healthcare facility.
2) Push Potential Donors to Action
Now you've built awareness of an ongoing or upcoming fundraising campaign.
It's time to utilize calls-to-action that drive donor engagement. For this, you need to craft digital signage content that moves them. The best way to do this is by asking them to give. The hospital or healthcare facility will benefit from their donation.
Donations for a new wing of your building shown as a graphic tells them the specific impact a donation will have. It shows them what the new wing will look like and the difference it will make in people's lives. And how cost effective it will be.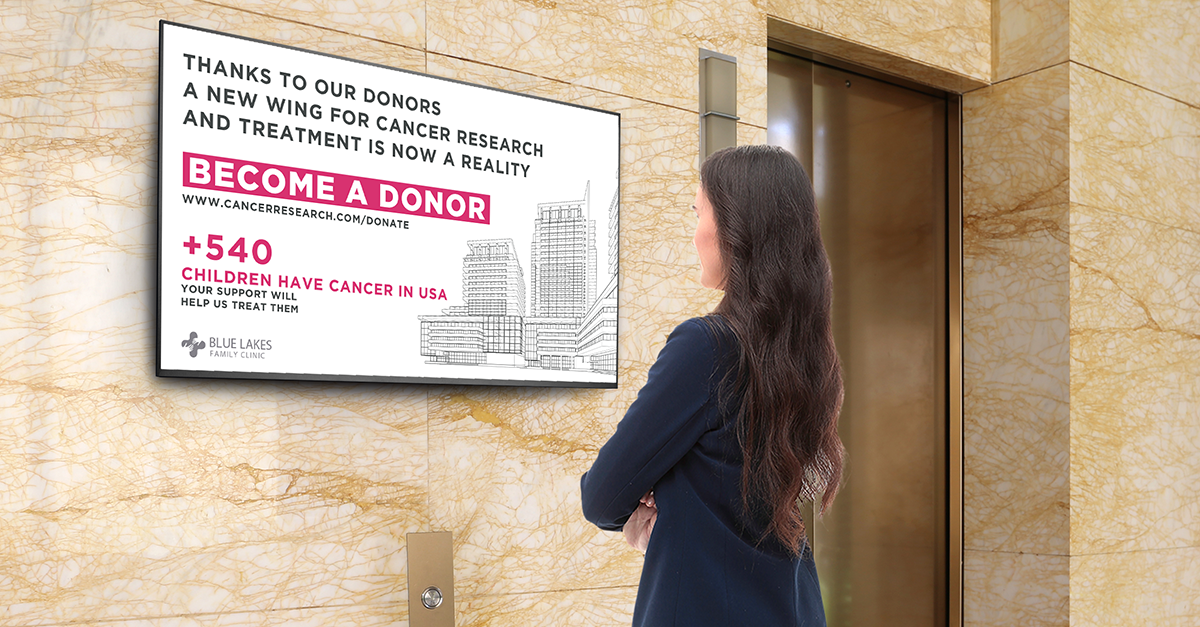 People want to know exactly how their hard-earned donations will be spent, so give them an idea. Allow them to visualize where their contributions are going to justify making a donation of a certain amount. The right information will get that donation.
3) Innovative Donor Campaigns
Acquiring donors is never an easy task. That's why it's always best to explore every avenue for donor acquisition, not just general and generic donor drives.
Get creative
Interactive donor recognition walls

Interactive wayfinding kiosks with a donation page

Market your online donation page or fundraising events on static digital signage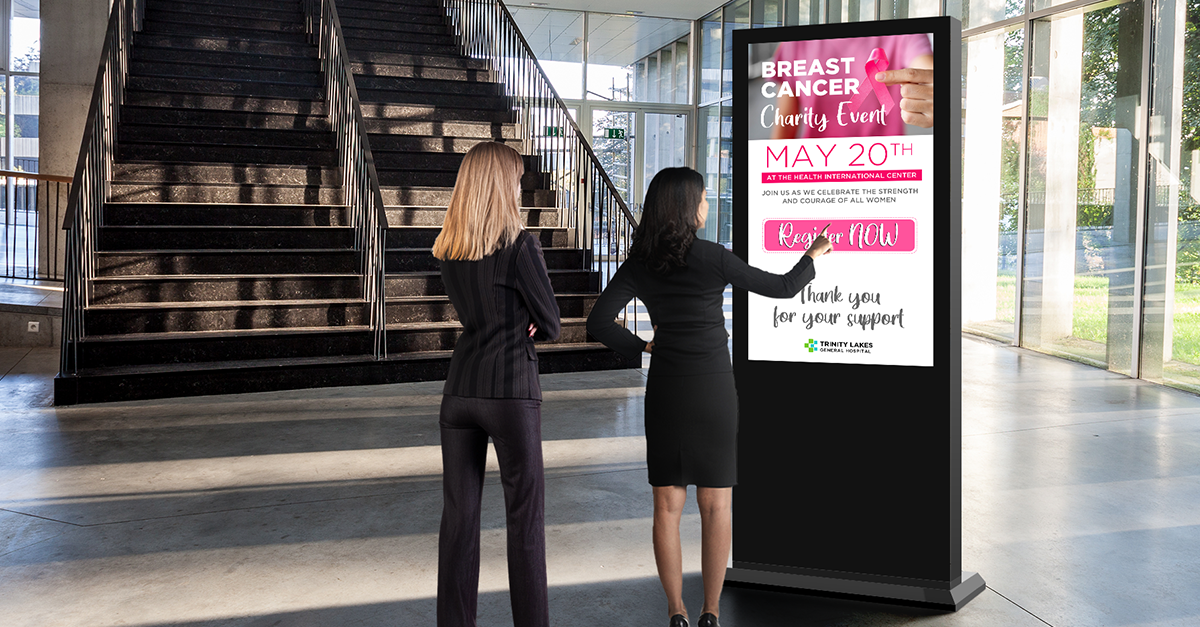 Use unique examples to drive donations with healthcare digital signage. Annual fundraising events, corporate or foundation partnerships, campaigns aimed at grateful patients, and campaigns targeting physicians and other employees are effective. If you're looking for innovative campaign ideas, consider your audience. Understand potential donors and how your hospital can attract them.
4) Donor Recognition
Digital donor recognition boards boost healthcare philanthropy for your hospital with digital signage and build donor relationships. They pay tribute to those who have donated to your fundraising campaigns. After their generous contribution, it's the least you can do to show thanks. And, on a practical level, it'll encourage more people to donate if they know their contribution is being recognized.
Show appreciation to your donors in creative ways. Interactive digital donor boards, donor recognition displays, donor profiles, video donor stories, and other donor recognition programs will impress them.
Highlight aspects about donors, like their backgrounds, motivations for giving, and the impact of the donation. You can show them that you and the fundraising teams care. Their donation really did make a big difference for your hospital or healthcare facility.
Donations are gained through interactive donor recognition displays. They can be recognized on online fundraising, Facebook advertising, peer to peer fundraising, and a litany of other digital advertising strategies can be recognized on these interactive donor recognition displays.
Conclusion
Healthcare donor acquisition with digital donor recognition systems start by drawing in potential donors with eye-catching content. It markets your fundraising needs and projects. If you want to keep donations coming, use digital signage to build relationships and show them thanks at every opportunity. Since digital signage is dynamic, eye-catching, and designable, it's the best tool to attract donors to your healthcare facility.
Like the idea, but can't rationalize a digital signage purchase without having more uses for it? Check out our Donor Recognition page for more information.