By this point, you've probably heard about how digital signage for donor recognition can be a gamechanger. It's the digital age after all, so it's only natural to go with the momentum of the digital transformation.
If you didn't know, digital screens are effective at boosting donor relations. It's even more effective at donor stewardship initiatives.
A Strategic Donor Stewardship Plan is Crucial
Recognizing past donors in ways that touch them is the key to converting them into repeat donors. A targeted and strategic approach is essential to securing repeat donors.
They need to feel like they're making a difference with their contributions. Appreciation can lead to repeat donations.
Internally, board members will appreciate the planned gifts which appear in the capital campaigns annual report.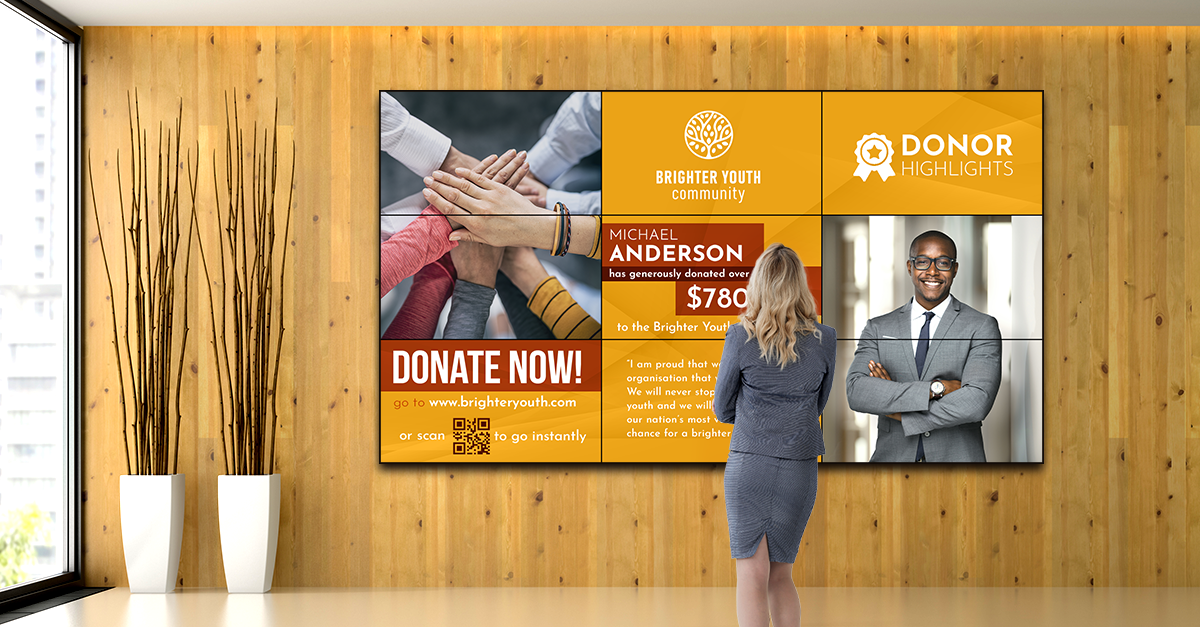 Why Some Donors Prefer to Remain Anonymous
Donors can prefer anonymity for a number of reasons. The most common being that they don't want organizations to start soliciting more donations, possibly including your own.
They might be uncomfortable being publicly recognized, especially if they don't want people knowing the extent of their wealth.
Religious reasons could play a factor in their decision to remain anonymous. Whatever their reason, respecting their decision is an absolute must.
How to Acknowledge Anonymous Donors
For donors who prefer to remain anonymous, the advantages of digital signage recognition aren't always an option. Recognizing them with direct communication is usually the best way to go.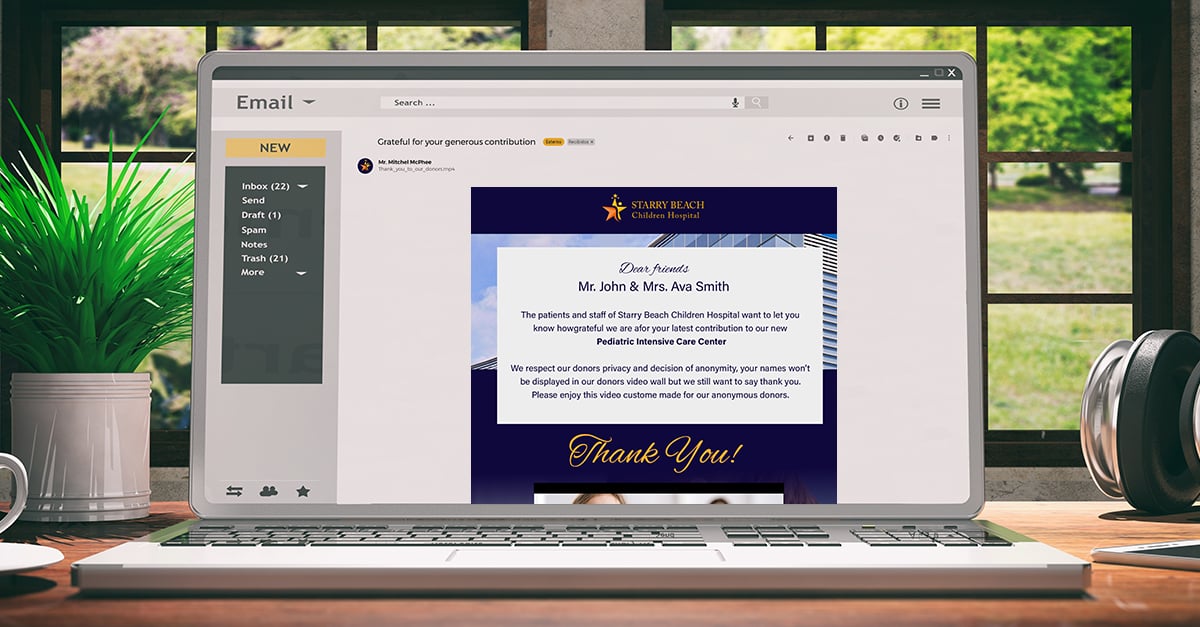 A hand-written letter shows that you care. You could also have one of your staff members call them directly to thank them. With the help of a script, this can be an excellent method.
Send them a short video made just for them, such as a video of your program director thanking them specifically.
As long as it's personal and direct, effectively thanking anonymous donors making them feel appreciated is very much achievable.
Digital Signage as Part of an Effective Donor Recognition Program
The ways mentioned in the previous section are great for recognizing all kinds of donors. If your donor gives their permission to be recognized, digital signage solutions are an excellent addition to your donor recognition program.
Static donor walls, metal plaques, and any other traditional form used for donor recognition do have a certain classy charm. They're also usually weather resistant, and they require virtually no maintenance.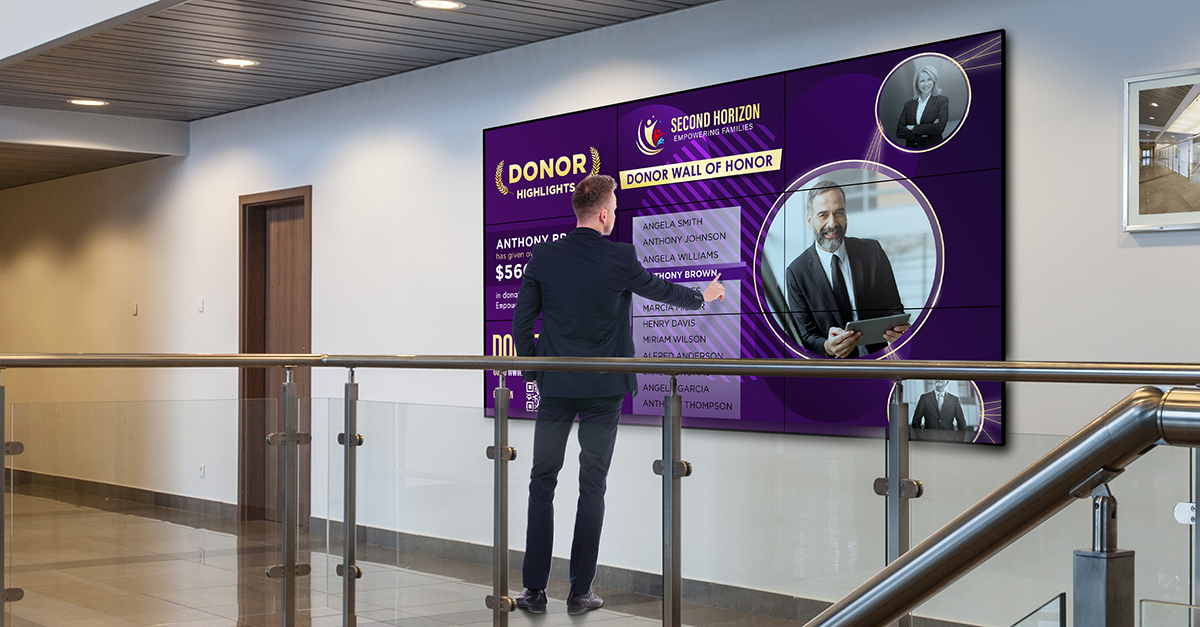 These days, attention spans are shorter than ever. That's why it's important to choose a medium that grabs people's attention. Something eye-catching, dynamic, and modern is ideal, and digital signs are just that.
Flexibility is a Major Advantage for Your Donor Recognition Wall
Donor recognition walls with digital signage can also be easily updated with new information, and donors can remain anonymous. A cloud-based content management system (CMS) offers total flexibility as well as complete custom processing. You can even integrate your donor recognition displays with industry-leading software such as Blackbaud Raiser's Edge NXT.
Any changes to static plaques must be physically altered if a donor changes their mind on their anonymity.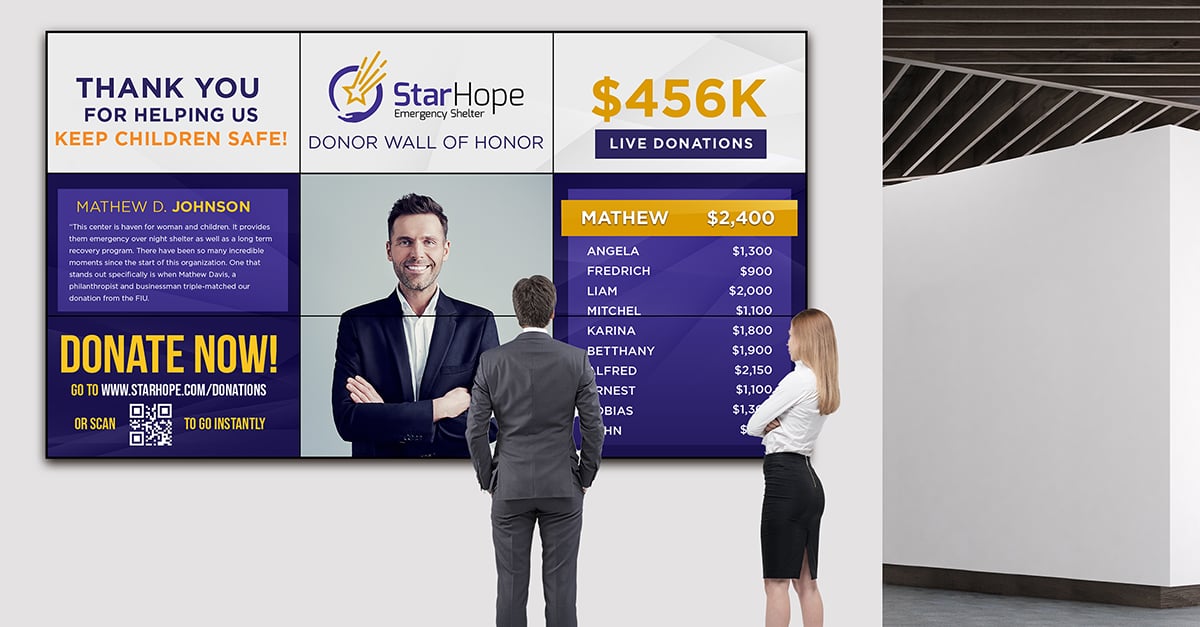 Digital signage provides enough leeway to discover the most effective approach to your donor recognition displays. Targeting content couldn't be easier.
If major donors will visit your location on a specific day, adjust the playlist for your donor recognition digital displays. It will then show content that recognizes them more, which is a touching gesture.
Planning a Donor Recognition Event with Digital Signs
By implementing digital signage for donor recognition, you can access a huge variety of useful tools. This makes an impact not previously possible with static donor walls. This ability enhances donor recognition, making events and other scenarios where donors will be present advantageous.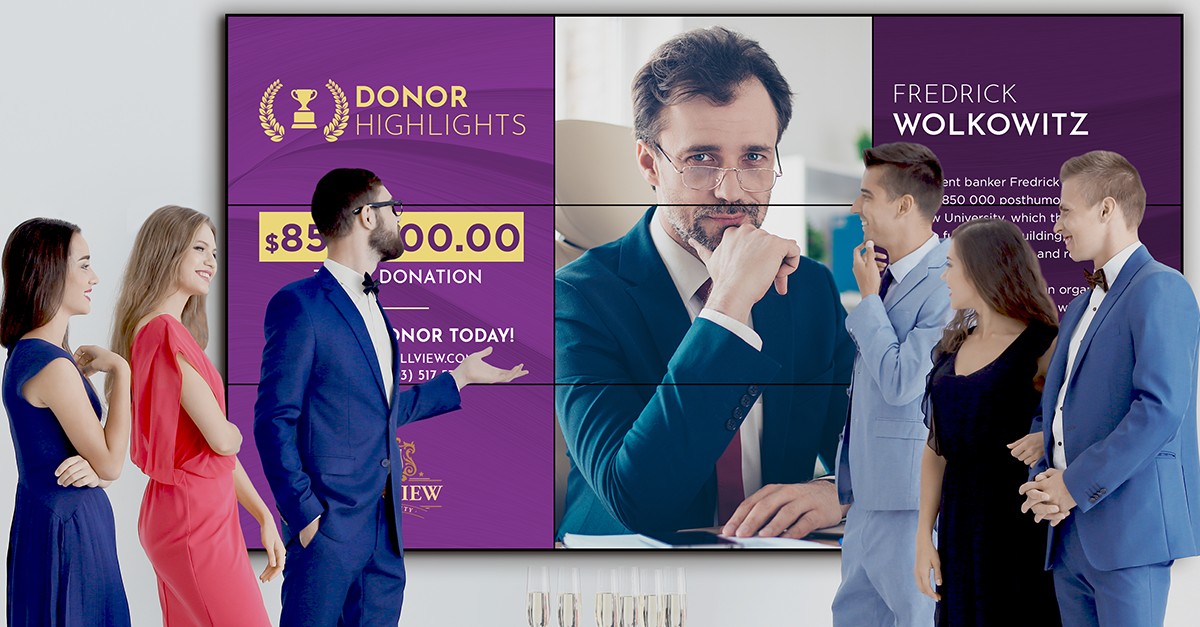 At your fundraising event, QR codes can allow on the spot donations and quick access to up to date information. Interactive campaign stories can show renderings of your project in beautiful high definition. And donor stories can thank donors in a way that does much more than recognize their name.
Digital signs are ideal for any donor appreciation event, membership meeting, peer to peer nonprofit fundraisers, and more.
Digital Donor Recognition Wall: A Key Component of a Greater Plan
Having well-defined stewardship goals is essential to determining your plan. This helps you identify what ways to use your digital signage and other tools in order to optimize your approach.
You should set specific, time-based goals, such as having 'x' amount of repeat donations by the end of the year. Once in place, track a variety of metrics, not just how many repeat donations you got or what amount you raised.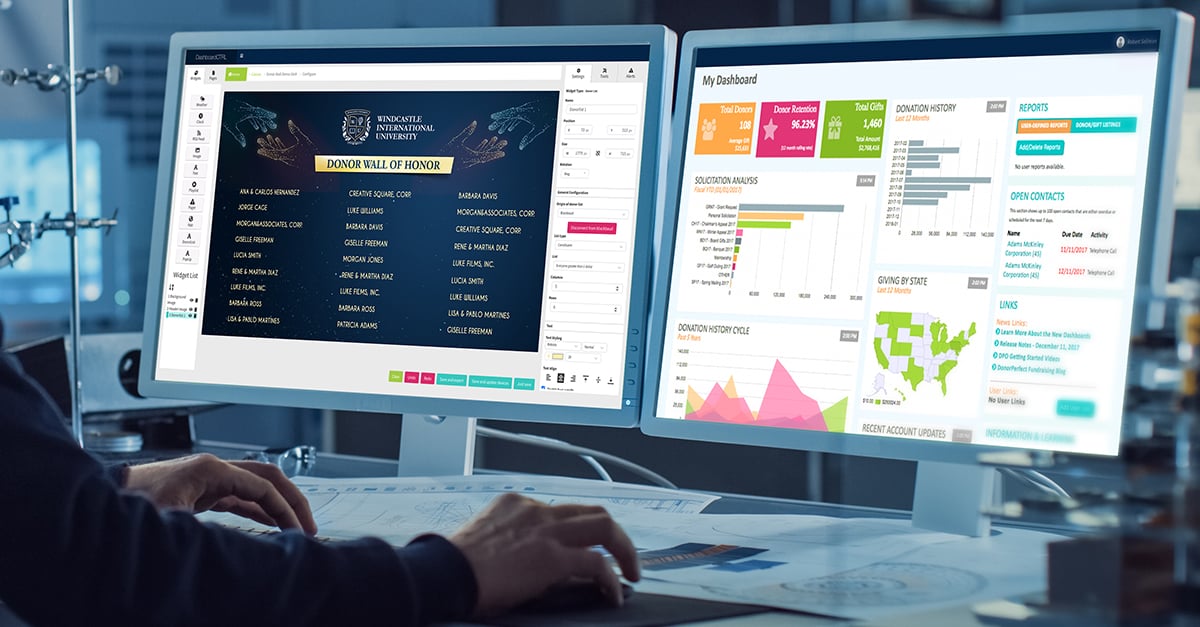 Consider a variety of data points to more accurately measure donor engagement. Including the number of attendees at fundraising events, or the frequency and quality of communication you're having with them.
Your digital signage software can help track engagement data for your interactive signage. Take campaign stories as an example. You'll be able to see automatically processed data that shows which areas of your campaign people are more interested in. That's a major advantage in understanding how to best present your goals.
Effective donor recognition programs are formed by identifying the strengths and weaknesses of your approach. Be sure that you're experimenting with a variety of ways to recognize donors together with your digital donor walls.
Use social media content that thanks them by name, membership programs or giving societies, branded gifts, and even virtual events.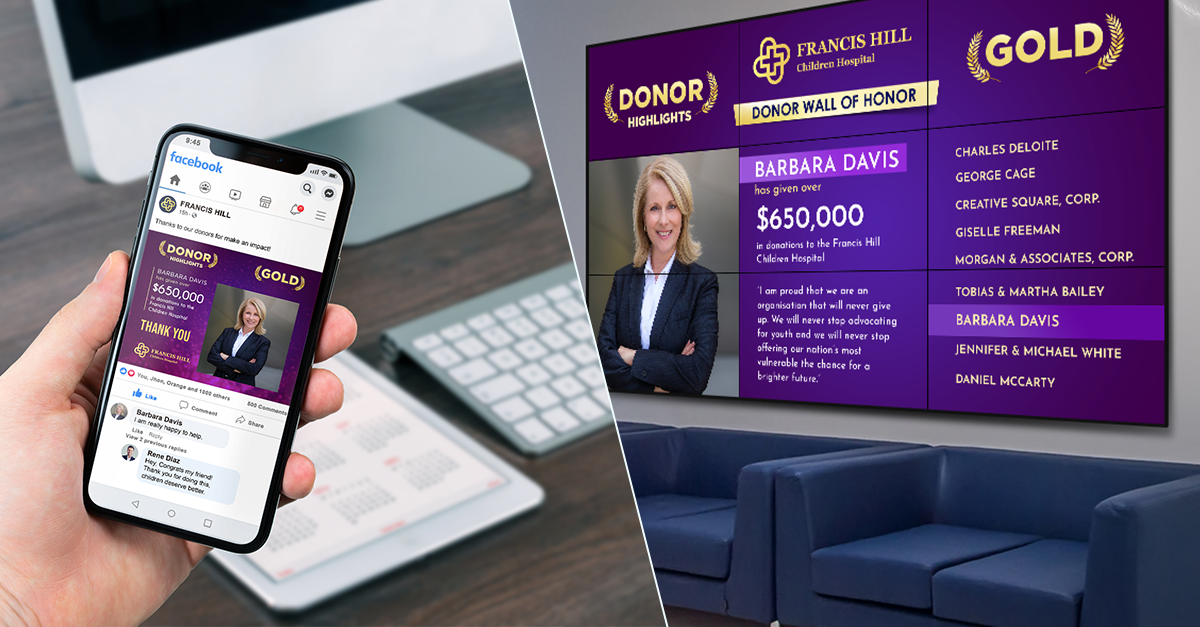 Lastly, be sure you are using specific strategies that match specific tiers and types of donors. You can group them into categories to better understand what might appeal to them.
Then, the digital signage content you show them, or any other communication, can be more strategic, and in turn, more effective.
Conclusion
These days, effective donor recognition programs should include the use of digital signage. It could be a wall design that incorporates non-digital elements as well if you'd like a hybrid approach. Creating a donor wall is a highly effective way to show appreciation. Especially when you can easily incorporate graphic design elements, a variety of media, and other eye-catching imagery.
Long time donors, first time donors, or anonymous donors are vital. Thanking them adequately is critical, and digital signage is the ideal complement to any donor recognition strategy.
Learn more about all of the donor recognition solutions that OmniAlly offers here.